I should ima­gine that 90 per cent of the pop­u­la­tion of Sheffield have heard of the Assay Office, and are vaguely aware of its role in hall­mark­ing items of pre­cious metal, but few fully appre­ci­ate its sig­ni­fic­ance on the national and world stage.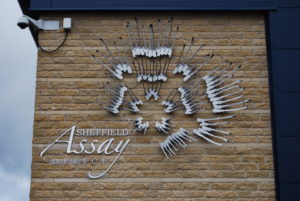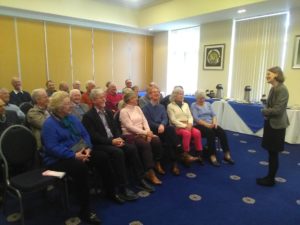 Sheffield Assay Office has been making its mark since 1773 when local sil­ver­smiths, des­pite oppos­i­tion from the Goldsmiths' Company of London, suc­cess­fully peti­tioned Parliament for the right to assay silver in the city, and whilst it is not the oldest of the four sim­ilar estab­lish­ments still in exist­ence – the others are in London, Edinburgh and Birmingham – it is today the biggest and most influ­en­tial.
Interestingly, des­pite that early oppos­i­tion from the Goldsmiths' Company, there are many London-based busi­nesses who choose to send their pre­cious goods to Sheffield to be assayed, and some of those cli­ents have global repu­ta­tions to uphold.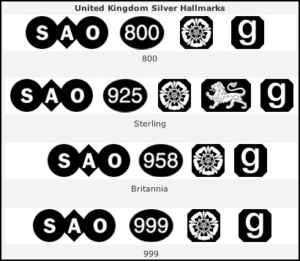 A party of 28 mem­bers and guests from Stumperlowe Probus Club enjoyed a two and a half hour visit to the Assay Office, where we were priv­ileged to be given an intro­duct­ory talk, fol­lowed by a tour of the ultra-modern premises, by Emma Paragreen, the cur­ator, lib­rar­ian and arch­iv­ist.
Emma is a lead­ing figure in the world of pre­cious metals and jew­ellery. Apart from her Assay Office work, she is a com­mit­tee member of the Silver Society and editor of their news­let­ter, and a member of the Society of Jewellery Historians and, in the last three years, has com­pleted her Professional Jewellers' Diploma through the National Association of Jewellers. She also recently became a Freeman of the Goldsmiths' Company.
Michael Portillo fans will have heard of Bradshaw's, the famous ref­er­ence book of rail­way timetables. The sim­il­arly named equi­val­ent for pre­cious metals (the dif­fer­ence being that this one is still going strong), is the snap­pily titled Bradbury's Book of Hallmarks: A Guide to Marks of Origin on English, Scottish and Irish Silver, Gold, Platinum, Palladium and on Foreign Imported Silver and Gold Plate 1544 to 2020. Daniel Bradbury was the first Sheffield Assay Master; the book is pub­lished by the Sheffield Assay Office, and Emma is the editor.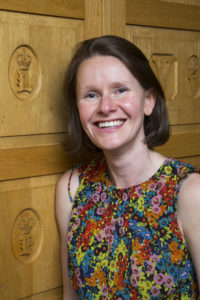 In short, we couldn't have wished for a more know­ledge­able person to bring us up to speed on the work of the Assay Office, whose senior staff were and still are known as the Guardians of the Standard of Wrought Plate in the Town of Sheffield. Even in 1773, Sheffield had an estab­lished tra­di­tion of fine sil­ver­ware pro­duc­tion, but the number of guard­i­ans who were also sil­ver­smiths was restric­ted in number to ten to ensure that the Assay Office offered an inde­pend­ent and impar­tial ser­vice, for the bene­fit of the cus­tomer rather than the man­u­fac­turer.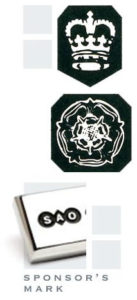 The hall­mark, then, is the oldest form of con­sumer pro­tec­tion that exists, and the cur­rent Assay Office premises on Beulah Road at Hillsborough are known as Guardians' Hall. But des­pite having almost 250 years of his­tory behind it, the office is a hi-tech sci­entific estab­lish­ment where hall­marks are just as likely to be applied (depend­ing on the item being assayed) by laser tech­no­logy as by the tra­di­tional hardened-steel dyes.
The tra­di­tional busi­ness of hall­mark­ing con­tin­ues to provide cus­tom­ers both nation­ally and world­wide with an assur­ance of qual­ity and purity. The instantly recog­nis­able Sheffield mark of the Yorkshire rose is care­fully applied to items of pre­cious metal which can range from the most del­ic­ate chain to a stun­ning one-off table centrepiece cre­ated by a con­tem­por­ary designer. Whatever the item, who­ever the cus­tomer, the inde­pend­ence and strin­gent stand­ards of The Sheffield Assay Office ensure accur­acy and inspire con­fid­ence.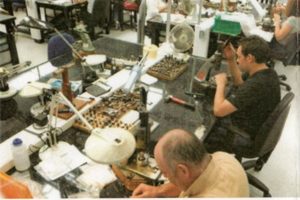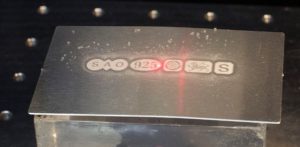 The ori­ginal aim of the intro­duc­tion of hall­mark­ing was to pro­tect the public against fraud and the trader against unfair com­pet­i­tion. That prin­ciple is as import­ant in Sheffield in 2020 as it was when the first UK legis­la­tion relat­ing to hall­mark­ing was intro­duced in 1238.
You can find fur­ther read­ing on the his­tory and work of the Sheffield Assay Office on their own web­site: www.assayoffice.co.uk