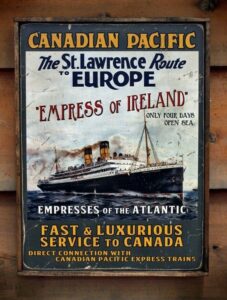 The Empress of Ireland, an ocean going 14,500-ton liner, was launched in 1906 to oper­ate the trans – Atlantic route between Liverpool and Quebec. She was a licensed mail ship and mainly car­ried immig­rants from Great Britain (includ­ing Ireland), Scandinavia and Russia look­ing for a better life in Canada. Her capa­city was 1,536 pas­sen­gers and fol­low­ing the Titanic dis­aster her life­boats were increased to accom­mod­ate 1,965.
The cap­tain of the ship, Henry Kendall had an inter­est­ing claim to fame. In 1910 he was com­mand­ing the ship SS Montrose, and recog­nised a cer­tain Dr Crippen, who was wanted for the murder of his wife, onboard. After alert­ing the author­it­ies, Crippen was arres­ted at Quebec. Crippen allegedly told Kendall "You will suffer for this treach­ery" and this became known as the Crippen curse.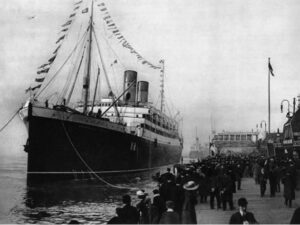 On the 28th May 1914 the Empress set sail from Quebec at 16:30 local time with a com­pli­ment of 420 crew and just over one thou­sand pas­sen­gers. Eighty seven people were in first class, about one quarter full, with two hun­dred and fifty three in second class of which one hun­dred and sixty seven were mem­bers of the Canadian Salvation Army band.
Barbara Beard, our speaker, has a par­tic­u­lar interest in the Salvation Army as her father was a Salvation Army band­mas­ter for many years, and her grand­par­ents and great grand­par­ents were also prom­in­ent mem­bers. In third class or steer­age were seven hun­dred and sixty four pas­sen­gers – almost full capa­city. Many of these were return­ing immig­rants who had decided Canadian life wasn't for them.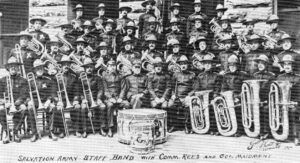 It was a warm even­ing as the ship slipped her moor­ings and made her way up the St Lawrence seaway. There was much excite­ment on board as pas­sen­gers found their way around the ship and many had opened portholes to let in fresh air.
At 1.38 am on the 29th May the SS Storstad, a fully loaded Norwegian col­lier, was sighted about eight miles away. Captain Kendall decided to pass this ship star­board to star­board not the usual method of nav­ig­a­tion. On board the Storstad the first mate decided to pass port to port in the absence of cap­tain Anderson who had retired to his cabin.
Fog now envel­oped the two ships. Captain Anderson sig­nalled to stop the engines and cap­tain Kendall ordered their engines to be reversed. Too late the Storstad hit the Empress of Ireland mid­ships caus­ing a huge hole on the star­board side. Sea water poured into the lower decks. Captain Kendall sig­nalled to the Storstad to start her engines to plug the gap but to no avail.
In six minutes, the power failed and all lights extin­guished. In ten minutes, the ship turned over onto its star­board side as water entered through the open portholes. Only five life­boats were able to be launched because of the ship's list. Most of the pas­sen­gers and crew on the lower decks drowned very quickly. Captain Kendall was thrown from the bridge into the water but man­aged to reach a life­boat and sur­vived. In four­teen minutes, the ship had sunk.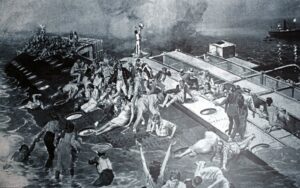 The Storstad launched her life­boats and was able to save sev­eral pas­sen­gers. The pilot boat Eureka and mail ship Lady Evelyn also res­cued sur­viv­ors from the water and from the Storstad.
In all four hun­dred and sixty five were saved and one thou­sand and twelve per­ished. Many pas­sen­gers drowned asleep in their cabins. Of one hun­dred and thirty eight chil­dren on board only four sur­vived. Only seven mem­bers of the Salvation Army band were saved.
The enquiry into the dis­aster held in June 1914 found that the Storstad was to blame for the col­li­sion by alter­ing her course in the fog. This was rejec­ted by the Norwegians who blamed Kendall for not adher­ing to the rules of nav­ig­a­tion. No defin­it­ive con­clu­sion has ever been estab­lished.
The Canadian Pacific Steamships Company ordered a sal­vage oper­a­tion shortly after the dis­aster to recover mail bags and silver bars to the equi­val­ent value of one mil­lion dol­lars. Bodies were how­ever left on the wreck. This tragedy was then largely for­got­ten due to the start of World War 1, but the fam­il­ies of those who died or sur­vived have always wanted the sink­ing to be more widely known.
Barbara presen­ted a most inter­est­ing and inform­at­ive talk and we are very grate­ful to her for filling in at short notice.