In a ref­er­ence to the often com­plic­ated tac­tics involved, cycle racing has been described as 'chess on wheels'. So it was per­haps appro­pri­ate that Dr Phil Judkins' present­a­tion on tech­no­lo­gical devel­op­ments in air war­fare during WWII should include an illus­tra­tion of a rather Heath Robinson adapt­a­tion of an upturned bicycle used to rotate a radar aerial through the required 360 degrees.
We wel­comed back Dr Judkins, who had spoken to us only seven weeks earlier and who kindly agreed to stand in at short notice when our sched­uled speaker became ill. Phil's latest talk, Chess — Europe's 'Wizard War' in the Air, to give it its full title, was a follow-up to his equally fas­cin­at­ing present­a­tion on the Atlantic ship­ping con­voys.
Phil is an inter­na­tion­ally acknow­ledged expert on the his­tory of radar, radio inter­cep­tion and elec­tronic war­fare. Retiring from a suc­cess­ful busi­ness career, he gained a PhD in the his­tory of radar from Cranfield University, taught the MA in the History of Military Intelligence at the University of Buckingham and cur­rently researches inter­war elec­tron­ics as a Visiting Fellow at the University of Leeds. He chairs the Defence Electronics History Society.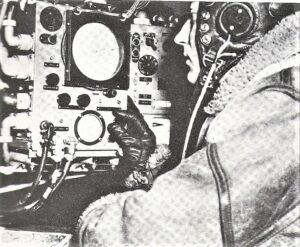 Phil gave us a hint of what was to come when he told us: "I'd like to recount the story about the air war which you don't usu­ally hear — the moves in the deadly chess game between German and British sci­ent­ists, and between British and German air com­mand­ers, fought out for six years in the night skies over Europe, where all the chess moves decided who would live and who would die."
It was chilling stuff. As Phil added, neither side had all the good ideas and neither side made all the mis­takes. But Britain, he poin­ted out, had a strange defin­i­tion of the word 'secret.' Tight secrecy sur­roun­ded radar devel­op­ment, and man­u­fac­tur­ers were rig­or­ously checked for for­eign con­nec­tions — or so we were told.
Prior to 1939 the annu­ally pub­lished RAF List con­tained the address and all staff details of our secret radar research sta­tion at Bawdsey, in Suffolk, and this was pub­licly avail­able from HM Stationery Office. For good meas­ure, a free copy was delivered each year to the German Embassy in London.
We built huge radar aer­i­als, 360 feet high, which fea­tured on hol­i­day post­cards. In Arthur Ransome's "We didn't mean to go to sea", the chil­dren sailed back from Holland by look­ing for the tall radio towers at Bawdsey! And there was no restric­tion on where our man­u­fac­tur­ers bought their parts, so we bought from Italy, Austria and — yes — Germany.
Britain saw radar as essen­tially defens­ive. We guessed early in the war that the Germans might try to jam our radar, and our future head of Fighter Command, Air Marshal 'Stuffy' Dowding, had writ­ten orders as early as 1934, when he was in charge of research and devel­op­ment, that our sci­ent­ists must find a way of stop­ping enemy jam­ming.
In August 1939 the Germans loaded a Graf Zeppelin air­ship with sens­it­ive radio receiv­ers and flew it up and down the British North Sea coast, paus­ing near all the big towers of our radar sta­tions. They heard noth­ing iden­ti­fi­able as radar because they were search­ing for a system like their own VHF, send­ing out power­ful radio pulses every second. But all they found was a con­stant, low crackly hum.
The Germans looked at their map of the British national grid, and guessed that the hum came from badly-designed insu­lat­ors on the grid pylons. But by autumn 1940, as the nights drew in, the Blitz began and here the Germans were better pre­pared with not one but three accur­ate radio bomb­ing beams to aid their nav­ig­a­tion. This was a sig­ni­fic­antly better cap­ab­il­ity than the RAF would pos­sess for another three years.
In a game of chess, the final out­come depends on a sequence of moves that limit your opponent's options and may result in tan­gible gain. In the battle of the boffins in World War II, it was thank­fully the British who even­tu­ally emerged as Grandmasters.