Probus this week enjoyed an enter­tain­ing and inform­at­ive talk by the Lord — Lieutenant of South Yorkshire former soli­citor and account­ant Andrew Coombe. He was born in Sheffield into the Spear and Jackson family went to Wellington School fol­low­ing which he bypassed uni­ver­sity and trained as an account­ant at Cooper Brothers (now PWC ) in Sheffield. After an invit­a­tion joined Keeble Hawsons and retrained as a soli­citor spe­cial­ising in the cor­por­ate law arena.
Following retire­ment in addi­tion to his extens­ive char­it­able works, he stood as High Sheriff ofSouth Yorkshire in 2011 – 2012. After this pres­ti­gi­ous role, he was look­ing for­ward to having more time for his family and hob­bies. However, in early 2015 he received, from Downing Street, a letter invit­ing him to apply for the post of Lord – Lieutenant and was induc­ted into role in April 2015 for a term until his retire­ment from the post on the date of his 75th birth­day, at the time of his visit this left 30 months remain­ing.
Whilst the pos­i­tion dates back to the 1500's he informed us that the role was and remains little under­stood and one of his aspir­a­tions is to get greater under­stand­ing across the whole of the South Yorkshire region. Andrew did not go into the post entirely blind, so to speak, as he had stood as a Deputy for 20 years prior to his induc­tion.
We were told that the Lord – Lieutenant stands as a rep­res­ent­at­ive of the Queen and wider Royal family and is unpaid and non-political. Whilst unpaid there is an ele­ment of repay­ment of expenses, how­ever, the incum­bent has to provide ele­ments of the pos­i­tions formal attire this being as a Major General incor­por­at­ing a cere­mo­nial sword, hand made in Sheffield, sashes, and medals.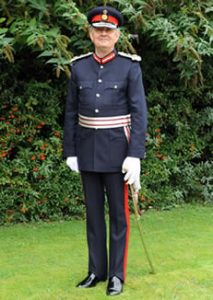 The role requires con­sid­er­able com­mit­ment with the Lieutenant attend­ing 400–500 events in any one year although some but by no means the major­ity being under­taken by the Deputy Lieutenants of which there are some 40 at the present time with some 35% being women and coming from across a wide range of eth­ni­cit­ies.
The Lieutenant is also sup­por­ted by an office in Barnsley where his PA sits with others and runs his diary and assists with the organ­isa­tion of royal visits four of which have already been com­pleted this year. In addi­tion, the post holder has respons­ib­il­ity for award­ing hon­ours and Royal Awards for both Citizenship and Enterprise and hopes to raise the pro­file of South Yorkshire within the wider busi­ness com­munity.
Mr Coombe is also keen that through­out his tenure com­munity cohe­sion can be improved this being done via meet­ings with local groups across the social spec­trum pro­mot­ing con­tacts and cre­at­ing an envir­on­ment for cross-culture con­tacts and under­stand­ing of dif­fer­ent social mores. He is also involved in visits to schools across the region explain­ing his role and also has an interest in Cadet and Scout groups and the bene­fit the mem­ber­ship can have on indi­vidual mem­bers some of whom have dif­fi­cult social and eco­nomic back­grounds.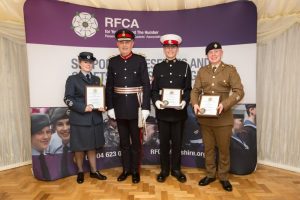 Mr Coombe has obvi­ously thrown him­self into what is a demand­ing but reward­ing pos­i­tion with a vigour that I sus­pect not many of us share and is I believe a great ambas­sador for the region and the post of Lord- Lieutenant about which we are all now much better informed.
Another excel­lent and enlight­en­ing talk.