Roger kicked off S10's Probus 2021 with a fas­cin­at­ing talk about the devel­op­ment of The Brent Oil field by a UK/Dutch joint ven­ture com­pris­ing of Shell UK and Exxon Mobile. Roger qual­i­fied as a mech­an­ical engin­eer and joined Shell in 1972 and after an appren­tice­ship in Holland went on to work on oil rigs around the world includ­ing in the North Sea.
Roger com­menced his talk by show­ing a video of an oil plat­form exper­i­en­cing a severe storm and illus­trat­ing that what we all might have thought as a solid struc­ture actu­ally was affected by the wave pat­terns pitch­ing not only up and down but also rotat­ing reveal­ing what a com­plex pro­cess it is to drill in such a hos­tile envir­on­ment.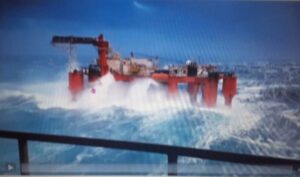 The UK sector of the North Sea fol­low­ing the dis­cov­ery of recov­er­able oil and gas reserves was divided into quad­rants and blocks which were then put up for tender achiev­ing at that time in 1964 prices of between £1million and £2million pounds. Oil depos­its were to be found in the middle to north of the sea with gas fields to the south, nearer to Holland and Norway. The first UK rig to be built was in 1964 but unfor­tu­nately this was posi­tioned in an area of the North Sea that was unpro­duct­ive and did not pro­duce any oil. A costly exper­i­ence though later in his talk Roger did tell us that only one in three wells drilled would pro­duce suf­fi­cient oil to be eco­nom­ic­ally viable.
Roger then explained the vari­ous types of plat­forms which were developed over time as the industry got gained exper­i­ence and expert­ise in con­struc­tion meth­ods. Initially rigs were Jack Up designs and or semi-submersible how­ever it seems that many of the early designs had bad ends with the sink­ing of Sea Gem built in 1965 and Sea Quest oper­ated by BP in the Forties Field this going down off the African coast after being sold off. The design of the early rigs had the drill head placed on the edge of the plat­form how­ever this proved to be unstable and later models had the drill head in the centre of the deck with the whole plat­form being sta­bil­ised via bal­last tanks in the "legs". Building of the early rigs was under­taken in the North East and in Scotland how­ever the first plat­forms had to be towed across the Atlantic until con­struc­tion facil­it­ies were com­pleted in the UK.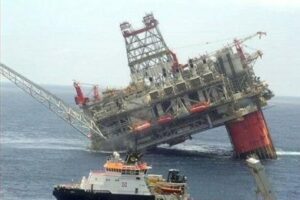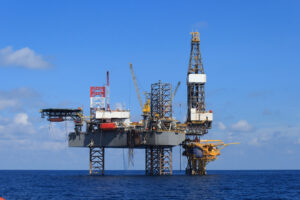 Shell's first oil field was ini­tially named Field A UK how­ever this was soon changed to Brent to reflect the name of the geo­lo­gical form­a­tion in the region but also Shell chose names of water birds for this and other fields where they oper­ated.
Having been posted to Aberdeen in 1973 Roger worked on the Brent field for some time with travel out to the rigs being by heli­copter dressed in those days in ordin­ary clothes i.e. with no sur­vival suits though the heli­copters had been adap­ted for long range flight it being some 150 miles from base to the rigs, the fuel capa­city was lifted to give a range of 500 miles and addi­tional adapt­a­tions were made to allow ditch­ing in the sea in the event of an emer­gency.
Early trips had to be nav­ig­ated without the bene­fit of GPS and pilots used a radio tri­an­gu­la­tion system before a series of marker bouys were laid to improve accur­acy GPS not being avail­able until the 1980's.
Before oil extrac­tion could start it was neces­sary to under­take core test­ing to ascer­tain likely pro­duc­tion levels. These cores could be as much as 450 feet in length and were gen­er­ally clay and in the case of the Brent Field often drip­ping with oil. The field itself was approx­im­ately 25 miles long and 4 miles wide with the four rigs loc­ated equidistant down the centre line of the field able to drill down two miles ver­tic­ally and one mile side­ways.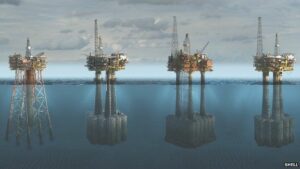 As time passed con­struc­tion of many of the rigs moved over to the use of con­crete these being built from the ground up at deep water loc­a­tions such as Nigg Bay with the lower sec­tions poured in dry docks then floated out to deep water for com­ple­tion. These rigs weighed some 300,000 tons and are sig­ni­fic­antly higher when com­pleted than the Eiffel Tower the work­ing plat­forms being built to ensure that they would not be inund­ated by a 100 year event storm wave.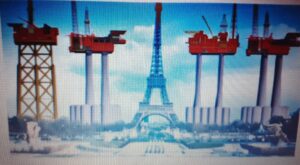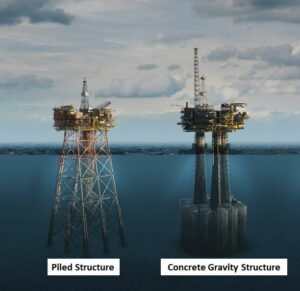 Once oil pro­duc­tion star­ted the oil was stored in ballasted/floating tanks some 93m long and then trans­ferred to tankers for distribution/refining one such example was the well known Brent Spar which you may recall was occu­pied by Greenpeace prior to being broken up the ori­ginal plan being to leave it in situ. Pipelines even­tu­ally super­seded this meth­ods with gas lines being laid in 1978 and oil pipe lines in 1982.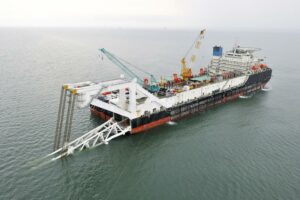 Pipe layer
Oil was taken from the Brent Field from 1976 until 2010 with pro­duc­tion peak­ing in 1985. During the course of its life the price of crude oil fluc­tu­ated from $10 a barrel in the 1970's to $147 a barrel in 2007. In 1985 rev­enue from the North Sea peaked at £20 bil­lion fall­ing to £4 bil­lion. Tax rev­enue from the oil and gas fields has been £20 bil­lion a great boost to the UK's eco­nomy. Wind down costs are estim­ated at £53 bil­lion the tax­payer foot­ing a bill of £24 bil­lion.
Roger then showed a fas­cin­at­ing video show­ing the com­plex­ity of rig dis­mant­ling using spe­cial­ist twin hull barges/ships to lift the work­ing plat­forms off the con­crete legs which will remain in situ over the now sealed off well heads.
A most inform­at­ive and inter­est­ing talk about an industry that has bought great fin­an­cial bene­fit to the UK and one which Roger thinks will con­tinue on for many years until renew­ables can at last provide suf­fi­cient power for the future.
Photographs cour­tesy of : Shell UK, Dreamstime, Drilling&Contractors News,Drillingformulas, Morrispeter,Commons Wikimedia,Offshore-fleet and MSImages