This week we enjoyed a very inform­at­ive and well-presented talk on a for­got­ten Antarctic explorer
Barbara ori­gin­ally trained as a nurse then train­ing as a mid­wife first coming to Sheffield in 1971 she then worked in Switzerland and Canada return­ing to the city to work on the renal trans­plant pro­gramme after some time she then retrained and taught pal­li­at­ive care nurs­ing at Hallam University. She has been a volun­teer at St Luke's for over 25 years. Barbara has had a long interest in Antarctica and her talk today gave us a detailed insight into the life of one of the main play­ers in the ini­tial explor­a­tion of this cold con­tin­ent in the early 1900's — one Tom Crean.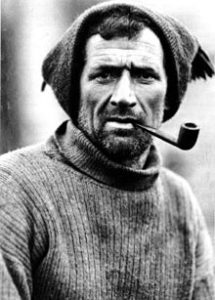 Tom was born into a poor farm­ing family in Southern Ireland on the Dingle pen­in­su­lar he was one of 10 chil­dren who lived a dif­fi­cult life during the potato famine. Much to his father's dis­gust Tom who had no interest in farm­ing joined the navy. He was ini­tially posted on HMS Ringarooma sail­ing to New Zealand in 1900.
When docked in Christchurch an oppor­tun­ity arose to volun­teer to take part in Scott's first Antarctic Exhibition. The ship on arriv­ing in Antarctica was marooned in the ice for 2 years. During this time the crew prac­ticed skiing and even­tu­ally set out on foot man haul­ing sledges for 149 days in an attempt to reach the South Pole. This attempt was ulti­mately unsuc­cess­ful and the party returned to their base and even­tu­ally home where Tom who had played a major role in the exped­i­tion party who made the bid for the pole Scott, Wilson, and Crean and Shackleton having been left behind as he was suf­fer­ing from scurvy.
Following this Shackleton determ­ined to reach the South Pole and set off on a fur­ther exped­i­tion along with Tom Crean and others, get­ting to within 97 miles of their target before having reluct­antly to turn back.
In the spring of 1909 Captain Scott out together an Expedition set­ting off in the Terra Nova from Cardiff trav­el­ling via Melbourne where Scott received a tele­gram telling him that Amundsen had set off on his attempt to reach the pole. Scott then set off but before set­ting off on his ulti­mately failed attempt had to over winter in the hut at base camp.
In April 1911 Scott chose his team how­ever Tom was not chosen to make the final push and was left at the inter­me­di­ate camp. Scott and his team as we know did not return, Tom and his com­pan­ions left to return to base requir­ing an ardu­ous trek of 730 miles, Evans who was part of this team got scurvy and had to be left with Tom making a solo bid to get help walk­ing 35 miles for 18 hours through bliz­zard con­di­tions with min­imal food i.e. 3 bis­cuits.
Evans was res­cued the her­culean effort by Tom being recog­nised on their return home with The Albert Medal (now The George Cross). In the summer of 1913 Tom returned to Ireland and bought a pub how­ever Shackleton was put­ting together the Imperial Trans-Antarctic Expedition 1914–1917. Setting off in The Endurance via South Georgia arriv­ing in Antarctica once again the ship became ice bound. Tom as part of his duties was respons­ible for the dogs that they had been taking for sledge haul­ing and became very attached to them.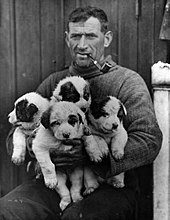 The ship even­tu­ally broke up and sank the party being left with only 3 life­boats. Shackleton knew that they had to search for help and rescue and a small party was put together and the three boats set off for South Georgia a mere 800 miles across open ocean with only basic nav­ig­a­tion equip­ment. They even­tu­ally landed but on the wrong side of the island this neces­sit­at­ing another long march in harsh sur­round­ings requir­ing steep and dif­fi­cult climbs and des­cents through water­falls arriv­ing at Stromness then via Port Stanley and Punta Arenas, the Yelcho then set off to recover the remain­ing crew in Antarctica. Most amaz­ingly no mem­bers of the party lost their lives and this is one of the most heroic res­cues of recent times.
When Tom got back home he re-joined the navy and in Sept 1917 mar­ried Nell with whom he had 3 chil­dren. Tom opened his pub but his heart was not really in it and it was run in large part by his wife, Tom spend­ing much of his time walk­ing in the hills with his beloved dogs. Tom also spent time build­ing his own tomb where he is now buried fol­low­ing his death in July 1937 of appen­di­citis. Nell his wife died in 1968.
A brave and heroic man whose story was excel­lently presen­ted by Barbara a talk that was much appre­ci­ated by all.
(Photos cour­tesy of Wikipedia.)