This week we enjoyed a very informative and well-presented talk on a forgotten Antarctic explorer
Barbara originally trained as a nurse then training as a midwife first coming to Sheffield in 1971 she then worked in Switzerland and Canada returning to the city to work on the renal transplant programme after some time she then retrained and taught palliative care nursing at Hallam University. She has been a volunteer at St Luke's for over 25 years. Barbara has had a long interest in Antarctica and her talk today gave us a detailed insight into the life of one of the main players in the initial exploration of this cold continent in the early 1900's –  one Tom Crean.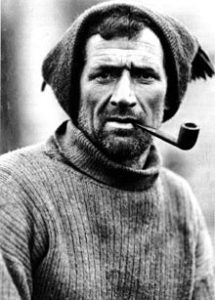 Tom was born into a poor farming family in Southern Ireland on the Dingle peninsular he was one of 10 children who lived a difficult life during the potato famine. Much to his father's disgust Tom who had no interest in farming joined the navy. He was initially posted on HMS Ringarooma sailing to New Zealand in 1900.
When docked in Christchurch an opportunity arose to volunteer to take part in Scott's first Antarctic Exhibition. The ship on arriving in Antarctica was marooned in the ice for 2 years. During this time the crew practiced skiing and eventually set out on foot man hauling sledges for 149 days in an attempt to reach the South Pole. This attempt was ultimately unsuccessful and the party returned to their base and eventually home where Tom who had played a major role in the expedition party who made the bid for the pole Scott, Wilson, and Crean and Shackleton having been left behind as he was suffering from scurvy.
Following this Shackleton determined to reach the South Pole and set off on a further expedition along with Tom Crean and others, getting to within 97 miles of their target before having reluctantly to turn back.
In the spring of 1909 Captain Scott out together an Expedition setting off in the Terra Nova from Cardiff travelling via Melbourne where Scott received a telegram telling him that Amundsen had set off on his attempt to reach the pole. Scott then set off but before setting off on his ultimately failed attempt had to over winter in the hut at base camp.
In April 1911 Scott chose his team however Tom was not chosen to make the final push and was left at the intermediate camp. Scott and his team as we know did not return, Tom and his companions left to return to base requiring an arduous trek of 730 miles, Evans who was part of this team got scurvy and had to be left with Tom making a solo bid to get help walking 35 miles for 18 hours through blizzard conditions with minimal food i.e. 3 biscuits.
Evans was rescued the herculean effort by Tom being recognised on their return home with The Albert Medal (now The George Cross). In the summer of 1913 Tom returned to Ireland and bought a pub however Shackleton was putting together the Imperial Trans-Antarctic Expedition 1914-1917. Setting off in The Endurance via South Georgia arriving in Antarctica once again the ship became ice bound. Tom as part of his duties was responsible for the dogs that they had been taking for sledge hauling and became very attached to them.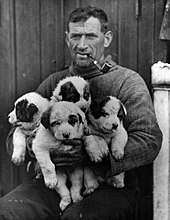 The ship eventually broke up and sank the party being left with only 3 lifeboats. Shackleton knew that they had to search for help and rescue and a small party was put together and the three boats set off for South Georgia a mere 800 miles across open ocean with only basic navigation equipment. They eventually landed but on the wrong side of the island this necessitating another long march in harsh surroundings requiring steep and difficult climbs and descents through waterfalls arriving at Stromness then via Port Stanley and Punta Arenas,  the Yelcho then set off  to recover the remaining crew in Antarctica. Most amazingly no members of the party lost their lives and this is one of the most heroic rescues of recent times.
When Tom got back home he re-joined the navy and in Sept 1917 married Nell with whom he had 3 children. Tom opened his pub but his heart was not really in it and it was run in large part by his wife, Tom spending much of his time walking in the hills with his beloved dogs. Tom also spent time building his own tomb where he is now buried following his death in July 1937 of appendicitis. Nell his wife died in 1968.
A brave and heroic man whose story was excellently presented by Barbara a talk that was much appreciated by all.
(Photos courtesy of Wikipedia.)