David Templeman's excel­lent talk was about the his­tory of a hand­ful of the mul­tiple ancient sub­urbs of Sheffield which, prior to the indus­trial revolu­tion, had remained tran­quil agri­cul­tural set­tle­ments, and of some of sig­ni­fic­ant beauty – dif­fi­cult to ima­gine today.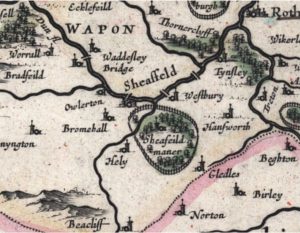 Speed's map of Sheffield 1645 shows some of these places already estab­lished cen­tur­ies before. Place names were recor­ded phon­et­ic­ally, with dif­fer­ent spellings, and some had Viking (e.g. –thorpe is an addi­tional set­tle­ment in a vil­lage) and Saxon ori­gins. For instance –ley is a forest clear­ing, -ton an enclosed farm. Examples are Hackenthorpe, Owlerton and Tinsley.
Curiosities on the map led to debate over the unknown Westbury. According to Joseph Hunter (Hallamshire: The History and Topography of the Parish of Sheffield), the Don was bridged at Washford at the Sheffield end of Attercliffe, where Speed rein­ven­ted it as Westbury vil­lage. Attercliffe was men­tioned in the Domesday Book as Ateclive, Attercliffe grew on an escarp­ment on the Don. Christ Church, des­troyed in World War II, was at the top of it and the escarp­ment is no longer vis­ible. The first church there was Attercliffe Chapel 1629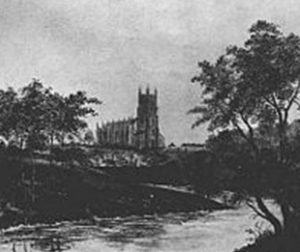 Even in 1860, apart from small artisan work­shops (e.g. pen and pocket knife makers), there were farms, small shops, and the canal. It was an isol­ated rural com­munity with some large houses (Old Hall, New Hall, Carlton House and a wind­mill, and "no pret­tier place for miles around". New Hall was con­ver­ted into pleas­ure gar­dens in the 19th cen­tury with a cricket ground, race­course, maze and lake, and was well known for its fire­works and con­certs. Carbrook Hall has under­gone extens­ive renov­a­tion recently and Starbucks have moved in. There was a bear bait­ing pit from Tudor times and cock fight­ing.
A turn­pike through Attercliffe provided access between Sheffield and the Don ter­minus at Tinsley. The Sheffield canal skir­ted the south side; a pity that pro­pos­als to widen it to form the Sheffield Ship Canal failed (Manchester's gain!). Benjamin Huntsman, inventor of cru­cible steel, had a cot­tage, now demol­ished, along the Handsworth Road. In recent times another lack of city coun­cil foresight was fail­ure to con­vert the Don Valley into a massively impress­ive aes­thetic cor­ridor into the city. If anyone's been to Stuttgart recently (a city of sim­ilar size with seven hills as Sheffield but with a lot more cash – Bosch, Mercedes, Porsche) they'll under­stand.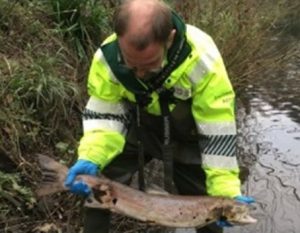 The Don was a rich food source before indus­trial times. But good news! Salmon are back after a major river clean-up. This fish was caught recently at Salmon Pastures in Attercliffe (just behind the City Sauna).
Attercliffe had mixed memor­ies for David Templeman: he grew up there with the daily din of steel­works ham­mers but after his father won the treble chance the family moved up in the world to Woodhouse.
Your non-Yorkshire blogger's only long term memory of Attercliffe was the Attercliffe Palace where his father once played alto sax in the Bobbie Gray orches­tra in the 50s. A bit later, the band audi­tioned Gerry Dorsey aka Englebert Humperdinck and turned him down!
Richmond was a small set­tle­ment with a few cot­tages together with Hall Farm, built in 1668 and demol­ished in the Sheffield bru­tal­ist period. The farm gate­posts, pre­vi­ously mark­ing the entrance to Sheffield Deer Park (hence the name Richmond?), sur­vive within a hous­ing estate.
Hackenthorpe craf­ted 30,000 sickles a year in the mid-19th cen­tury. Thomas Staniforth was its largest employer. Birley Spa was the site of a min­eral water spring, built by Earl Manvers in 1843. The dilap­id­ated Grade II listed bath house and grounds are cur­rently up for sale by the city coun­cil. Full res­tor­a­tion is planned once again if (ever) funds become avail­able.
Tinsley was ori­gin­ally "Tingas-Leah", mean­ing Field of Council. The Domesday Book refers to it as "Tirneslawe and Tinelawe", at the time owned by Roger de Busli but even­tu­ally part of the Wentworth Estate. The church, built in 1125 and rebuilt in 1878, houses Arthur Dyson's remains after his murder by Sheffield's Charles Peace, who was then executed in Leeds. After the Don became nav­ig­able in the 1730s with a turn­pike con­nec­ted to Lady's Bridge in 1764, mines, steel and wire took over and its rural charm was gone forever. When the river was linked to the canal in 1819, the event was cel­eb­rated "with unbridled feast­ing" at the Tontine Inn in the city centre. All the ship­ping hype soon faded as rail took over.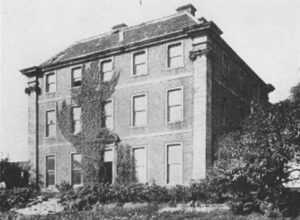 Darnall, ori­gin­ally a hamlet, was ori­gin­ally "Derne Halh" (a secluded nook). Landowners were the De Darnall family in the reign of Henry III. William Walker, a res­id­ent, is reputed to have been Charles I's exe­cu­tioner. Darnall Hall, built by the Staniforth family in 1723, became a lun­atic asylum. Staniforth and Chappell were the main local employ­ers involved in coal mining.
A cricket ground was ini­tially owned by a Mr Steer from 1821 and the fol­low­ing year the stand col­lapsed killing two spec­tat­ors. A larger ground was ready by 1824, and con­sidered to be the "second finest after Lords", with ter­ra­cing for 8000 spec­tat­ors. Its claim to fame is that over­arm bowl­ing was intro­duced here.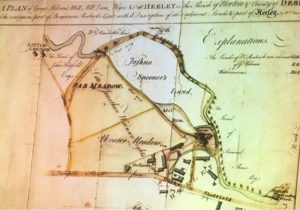 Heeley, ori­gin­ally "Heah Leah" (wood­land clear­ing), was first doc­u­mented in 1343 and developed from three vil­lages: Top, Middle and Lower.
Heeley Tilt Mill, ini­tially known as Holm Wheels in 1747, was a cutler's wheel and wire mill. It was then con­ver­ted into a tilt forge. A rolling mill was installed in 1875. The dam and build­ings, shown towards bottom right on the map, were even­tu­ally demol­ished and built over. The A61 was the turn­pike (foot of map) to Derby in 1757. A Toll Bar was built over the Meers brook at the bottom of Albert Road on the Yorkshire/Derbyshire bound­ary. The 15th cen­tury Heeley Hall, behind Ye Olde Shakespeare Inn, was demol­ished years ago.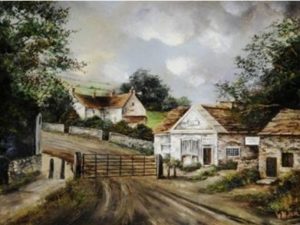 Crookes was a Viking set­tle­ment "Krkur", foun­ded 980AD, and recor­ded in the Domesday book as "Crokkiss". It lies near the Roman Templeborough-Brough course. There were medi­eval fields "in remark­able state" until the 1790s, when a turn­pike was opened. It was a day out in clean air for city centre res­id­ents. In 1887 a bronze age Cinerary urn with human bones and a knife were found at the Rivelin end of Crookes. In the 1700s Sheffield was sup­plied with fresh(ish) water chan­nelled through wooden, and later iron pipes, from reser­voirs at Crookesmoor down to Division Street. From there it was wheeled around town in 50 gallon casks and sold by the pail. From 1830 the new 5.5 acre Hadfield Service reser­voir kept pace with pop­u­la­tion expan­sion.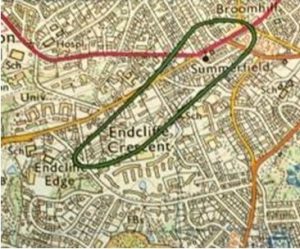 The best view of Sheffield Races (1711–1781), with cups and prize money, was from a 34 x 54ft grand­stand at Lawson Road. The races were an attempt to divert interest from cock fight­ing and bear bait­ing. The course ran between Crookes and Endcliffe, and almost through our back garden, as shown on the map.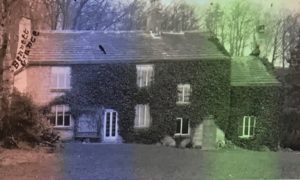 Fulwood was an Anglo-Saxon set­tle­ment "Ful Wuda" (wet marsh­land), part of the massive estate of Earl Waltheof. After the Norman inva­sion it passed to Roger de Busli. In 1297 Thomas de Furnival estab­lished the Burgery of Sheffield; the inhab­it­ants of "Folewood" to be gran­ted herb­age and foliage through­out Rivelin Chase. There was a pop­u­lar min­eral spa near Whiteley Lane in the 17th cen­tury. 15th cen­tury Fulwood hall was built by the Fox family. The first Stumperlowe Hall was built by the Mitchells in 1397, then rebuilt in 1854 by Henry Isaac Dixon. Whiteley Wood Hall in Common Lane was built in 1662 and bought by Thomas Boulsover, inventor of Sheffield plate. The hall was demol­ished in 1959 and the out­build­ings remain as an out­ward bound centre. Bennet Grange, in Harrison Lane from 1580, ini­tially belonged to Helen Hall, passed to the Hinds and then to Mary Bennet. It's now under­go­ing extens­ive and expens­ive renov­a­tion.
Sir Nathaniel Creswick (1831–1917) was a Sheffield soli­citor who, as a member of Sheffield Cricket Club, joined other crick­eters in informal foot­ball matches from 1855. He co-founded Sheffield FC in 1857 and estab­lished the Sheffield Rules. Sheffield FC is recog­nised by FIFA as the oldest foot­ball club in the world
David Templeman's talk was a feast of local interest and beau­ti­fully seasoned with spicy blood-curdling anec­dotes. The past was not a good time to live unless of course you were very rich and disease-free.