Our Speaker this week worked as a Biomedical Scientist for the NHS. One of his many interests before and since retire­ment has been the res­tor­a­tion of the Chesterfield Canal. He is cur­rently Vice Chairman of that waterway's res­tor­a­tion soci­ety, the Chesterfield Canal Trust. We had pre­vi­ously enjoyed two talks on this fas­cin­at­ing topic from other speak­ers and Michael's talk was to make that a happy treble as he explored an import­ant aspect of our local Economic History.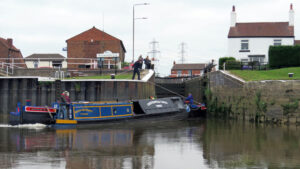 " Canal entrance at West Stockwith "
With illus­tra­tions through­out, our Speaker was to take us on a 'before and after' trip -both vir­tual and historical- along the near 46 miles of the canal. We star­ted at the canal's junc­tion with the River Trent and its entrance at West Stockwith tidal Lock, and fin­ished with a glimpse of Chesterfield's famous twis­ted spire viewed from a spot which is now becom­ing the 'Waterside' devel­op­ment off the A61.
Michael opened his talk with a resume of the dif­fi­culties faced by the canal's con­struc­tion. The land­scape is fairly flat east of Worksop: there­after the topo­graphy no longer per­mit­ted fol­low­ing con­tours. There is a rise west­wards to over 240 feet above river (Trent) level reach­ing a summit at a point where the course runs under the M1 motor­way. A 74ft drop towards Staveley fol­lows with a final 40ft rise before Chesterfield. All this required the con­struc­tion of no less than 65 locks, two aque­ducts, sev­eral 'feeder' reser­voirs, a minor tunnel at Drakeholes and the major 2284 yard effort at Norwood. There were also other tun­nels which linked dir­ectly with coal work­ings. Norwood was the scene of a major col­lapse in 1907 due to mining sub­sid­ence, effect­ively cut­ting the canal in two, isol­at­ing Chesterfield and thus losing much trade.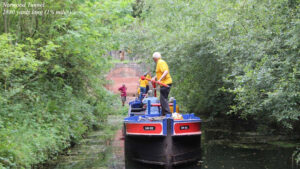 "Eastern Entrance to Norwood Tunnel near Kiverton Park"
The Chesterfield Canal was con­struc­ted between 1771 and 1777 at the height of the Industrial Revolution, with its rap­idly increas­ing use of steam power. These two devel­op­ments, together with numer­ous tech­nical and mech­an­ical innov­a­tions, res­ul­ted in a grow­ing and insa­ti­able appet­ite for coal, Iron and other heavy raw mater­i­als. Likewise, the car­riage of fin­ished products to home and export mar­kets was being hampered by the trans­port logist­ics of the day: access to main artery of the North Midlands, the Trent, was lim­ited to horse and cart or sub­ject to the whims of the Idle and other small rivers. Under the Leadership of the Duke of Newcastle and sev­eral other large land­lords, who owned min­eral rights – and with the sup­port of local towns along the pro­posed route- "The Company of Proprietors of the Canal Navigation from Chesterfield to the River Trent" was incor­por­ated in 1771. The share cap­ital raised was £100,000. The Company appoin­ted James Brindley as its Chief Engineer. Originally the plan had been for 'narrow boats' (requir­ing 7ft locks) only, but nine share­hold­ers funded the extra cost of installing 'broad locks' (14ft) as far as Retford. Apart from allow­ing a far cheaper deliv­ery of coal (which halved in price), the canal was also to build up a thriv­ing trade a wide range of car­goes includ­ing iron, lead, sand, cement, gravel, bricks, timber and later, 'wark' (a kind of mud used in the cut­lery and other trades). And it was carry stone from the South Anston quar­ries to the Trent (and hence to London via the coast and Thames) which was used to con­struct the then new Houses of Parliament we know today. The busi­ness traded prof­it­ably up to around 1845, at one point paying a dividend of 7%!
Before the Norwood tunnel col­lapse, the main turn­ing point in the canal's for­tunes was the advent of what became the Manchester, Sheffield and Lincoln Railway (from 1890 the Great Central), which effect­ively took the busi­ness over in 1845. The MSL did not, how­ever, use part of the Canal as a track-bed as ori­gin­ally pro­posed. It was to remain in rail­way oper­a­tion and own­er­ship (LNER from 1923) up to nation­al­isa­tion in 1948 thence becom­ing the respons­ib­il­ity of British Waterways. By that point, rap­idly devel­op­ing and more flex­ible road trans­port was to take over the vast major­ity of freight traffic, lead­ing to formal clos­ure in 1960. Under the Transport Act of 1968, the east­ern Worksop-Stockwith sec­tion (which remained in water but in parts clogged by weed), was des­ig­nated for leis­ure use, but this was only after much cam­paign­ing, led by the Worksop and Retford Boat Club. Sadly, the sec­tion west of Norwood was to be sold off in parts for devel­op­ment. Years of neg­lect were to follow together with some destruc­tion of locks etc and the con­struc­tion of new over bridges with insuf­fi­cient head­room to allow a boat or horse to pass.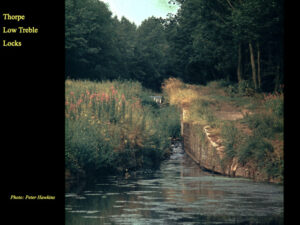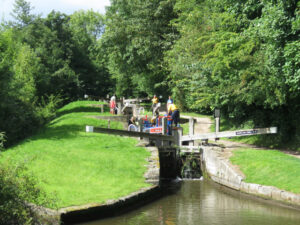 "Transformation: Turnerwood locks before and after res­tor­a­tion in 2002"
Michael Edwards then went on to out­line how the Canal Society came into being in 1978 (It became the Chesterfield Canal Trust in 1998) to spear­head res­tor­a­tion. The Trust ini­tially sought to extend the sec­tion beyond Worksop, but when pro­gress was slow, moved to work­ing on the Chesterfield end. Over five miles of canal, includ­ing five ori­ginal locks and a brand new lock at Staverley Basin were nav­ig­able by 2017. The east­ern end was restored from Worksop to the mouth of Norwood Tunnel at Kiverton Park between 1995 and 2003, funded by Derelict Land Grants, English Partnerships and the Heritage Lottery Fund. Three new mar­i­nas have been con­struc­ted. Old build­ings have been restored and sev­eral tra­di­tional 'hump-backed' over bridges have been rebuilt to replace the more recent ''flat' intru­sions. The canal now boasts a new scratch built 'Cuckoo Boat' the 'Dawn Rose' not men­tion the tow–horse "Charlie". There are 4 'trip' boats.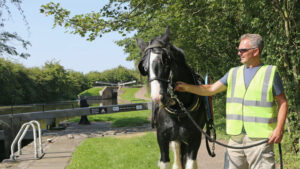 "Charlie" with his keeper Dean
Less than nine miles of the ori­ginal route towards Chesterfield remain to be restored to link the two nav­ig­able sec­tions but this will require some new lengths of the canal to be built to bypass the hous­ing devel­op­ment at Killamarsh. While the west­ern end is still in good con­di­tion, there will be a need to replace most of Norwood Tunnel which cannot be restored. Michael explained some of the options which might bring this about.
"Inside Norwood Tunnel look­ing east toward col­lapse"
The Eastern sec­tion here is man­aged by the Canal and River Trust and the west­ern end by Derbyshire County Council, includ­ing the vis­itor centre at Tapton. The Trust's centre is loc­ated at Hollingwood. It's worth a visit to see the amaz­ing devel­op­ments and regen­er­a­tion around with more work to come.
Michael con­cluded his talk by look­ing ahead to the future. In the longer term there are pro­pos­als to make a link with the Sheffield Canal via the Rother Valley Country Park. In the shorter term, while the Chatsworth Estate had been very sup­port­ive, any fur­ther sig­ni­fic­ant pro­gress around the Burrow Hill/Trebor/Staverley Irons works site is cur­rently unclear. This is due to cur­rent fund­ing con­straints, and decisions over the route and main­ten­ance depot for the HST2 Birmingham Leeds sec­tion. Funding is also a prob­lem at the waterway's Terminus, the 'Waterside' marina devel­op­ment in Chesterfield, which may have to be scaled down. But few pro­jects of the size of restor­ing 46 miles of canal go without prob­lems and set-backs. The Trust has raised nearly £200k in dona­tions and £20m in public funds. It now has 2000 members- new mem­bers always wel­come! The Trust has recently appoin­ted its first paid man­ager, George Roberts, ex Cromford Canal.
While much remains to be done, there has been immense sat­is­fac­tion in restor­ing a derel­ict ditch into an attract­ive public amen­ity. The canal now attracts not only nature watch­ers and fish­er­man but cyc­lists and walk­ers (0ver 1000 a week at the latest count). We would be very wel­come to join them and thought will be given to a canal walk fol­lowed by a pub lunch when Covid per­mits.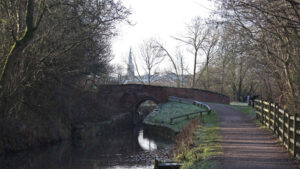 The Spire in the dis­tance.
Our talk –via Zoom- was appre­ci­ated by a record audi­ence of 54, includ­ing one member in California and three guests.