This was the third visit (1st on Zoom) by Prof. Ian Rotherham of Sheffield Hallam University, who is an author, broad­caster and cam­paigner on envir­on­mental issues.
With the pro­spect of the plant­ing of the Great Northern Forest, between Liverpool and Hull, extend­ing down into South Yorkshire, todays talk was very top­ical.
To begin with, some defin­i­tions:-
Forest – a land­scape with a high dens­ity of trees.
Woodland or woods – a low dens­ity forest, which arose nat­ur­ally, but then was man­aged, and may include clear­ings, shrubs, shade, and grassy areas.
Ancient Woodland – Woodland that has exis­ted at least since the 1600s.
Timber – The large size pieces used in e.g. con­struc­tion, mainly oak, as in cruck houses or box framed dwell­ings.
Wood — The smal­ler pieces e.g. small dia­meter poles cut from cop­pice and used for fuel and wattles etc.
Coppice – Trees cut down to ground level so that they regen­er­ate and ''spring'' into regrowth. Hence in Sheffield, ''Ladies Spring Wood '', ''New Field Spring Wood'' and ''Parkwood Springs'' where the cop­picing was used to make char­coal into the 1880s.
Pollard – Trees cut down for shap­ing or regen­er­a­tion, at a point above where an animal can get at it.
Shredding – har­vest­ing of fire­wood and animal fodder,
Herbage – leaves from when pol­lard­ing or cop­picing takes place. Preferred by cows, rather than grass.
Standards – Trees grown in the open with no man­age­ment.
Wavers – young stand­ards
In 1992, there was a National Woodlands Conference instig­ated by the Peak National Park, between Ecologists, Foresters and Archaeologists to dis­cuss the his­tory, and to co-ordinate future pro­tec­tion, of our ancient wood­lands. The pro­ceed­ings were recor­ded as ''Ancient Woodlands – Their Archaeology and Ecology''. Inspir­a­tion was drawn from pub­lic­a­tions by Prof. Oliver Rackham, our own Prof. Mel Jones. Also, from a 1600s pub­lic­a­tion by John Evelyn entitled ''SYLVA'', which told how wood was pro­cessed, and a Welshman Thomas Pennant, in 1772, who wrote about how trees and local resources are used throughout the coun­try.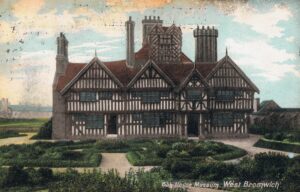 If we were to go back to medi­eval times we would find a very dif­fer­ent land­scape. Peoples lives were dom­in­ated by the nat­ural mater­i­als around them, and wood­lands were vital resources and busy places, where anim­als for­aged, people lived, and there were even paved tracks for pack­horses. The peoples names reflec­ted the trades and crafts that fed their life­style – Carter, Cartwright, Wood, Underwood, Croft, Fletcher, Warren etc.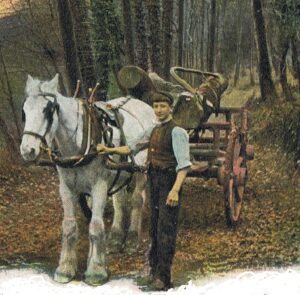 There were char­coal makers, besom makers, bow and arrow makers, wheel­wrights etc, and all the build­ings were built using loc­ally sourced mater­i­als.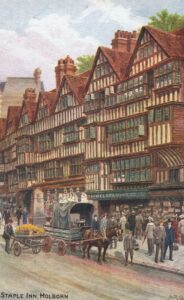 Styles of con­struc­tion around the coun­try depended on the type of timber avail­able. Uplands had birch but in the fens with no timber they used mud, with­ies, turf, and reeds. Nothing went to waste. Clay, bracken, fungi, wattle and daub, and stone were used. (Wharncliffe was the biggest sup­plier of Quern stones for grind­ing in the Roman Empire). Bark was used for tan­ning, which was best in spring when the sap was rising, and timber was felled in winter after leaf fall, chosen by a master crafts­man. Structural tim­bers were felled when the tree was 50 – 150 years old. This was then box halved with cross saws in a saw pit, (hence top dog and under dog). Some large trees are thou­sands of years old and have been pol­lar­ded and har­ves­ted about every 15–20 years, but have to be retired even­tu­ally, due to old age. They can be cored to find out when they were last pol­lar­ded. They then develop their own eco­sys­tems and become status sym­bols. In Japan bamboo is used, and in North America log cabins abound, as timber was plen­ti­ful, and the pur­chase was fin­anced by potash sales.
Examples of local old pol­lar­ded trees are
— The Old Man of Longshaw which is an oak, with bent branches and roots, with the spread­ing having been encour­aged delib­er­ately, to allow acorns to fall over a bigger area for pigs to forage.
— In Yarncliffe Wood in Padley Gorge, where cut­ting was last done in 1822, some trees are dis­tor­ted and are lying over them­selves.
Ecclesall Woods, an ancient wood­land, has evid­ence of Neolithic activ­ity, through to the late Saxons, and a sub­sequent his­tory of being a medi­aeval and deer parkwhere cop­picing took place. Once, lots of cows and pigs for­aged there too.
The ancient wood­land of Holmesfield Park Wood has holly, indic­at­ing its ori­gins as a deer park.
Under the flex­ible Saxon law, people were allowed to go any­where and there was only tribal own­er­ship. In the Domesday book of 1086, the Normans intro­duced the Feudal System and Dukedoms across England. The Dukes were alloc­ated wood­land and trees, and areas such as wood­land pas­ture, open land, and large land­scapes, with everything con­trolled by the mon­arch. Castles e.g. Conisborough were erec­ted to enforce this.The peas­ants were now con­fined to small areas of common land. Some areas became deer parks and were used for sport or hunt­ing, so wooded and for­es­ted land­scapes were con­tested because of dif­fer­ent demands. The Act of Commons in 1235 con­sol­id­ated this admin­is­trat­ive struc­ture, fixing par­ishes, manor estates, and who had what rights. Hedges date from this time. This system endured until the 1800s, when the unen­closed com­mons were enclosed. There was conflict between the landown­ers and com­mon­ers, who turned to poach­ing and riot­ing. The owners of the land allowed the peas­ants access for 2 days a year to gather wood, either off the ground or from the tree that could be reached with a shep­herds crook. Hence the term ''By hook or by crook''.
From the 1600 and 1700s the iron barons of Sheffield man­aged their wood­lands on an Industrial cycle, with intens­ive cop­pice man­age­ment for smelt­ing and mining, until dif­fer­ent meth­ods were dis­covered. Pollarding/coppicing took place depend­ing on the type of tree, from 15 year cycles to 70 year cycles. The peas­ants did have some rights to har­vest bark for tan­ning, and wood for build­ings, clogs, potash and char­coal, and anim­als were allowed to forage for acorns and leaves. People seek­ing nuts, called ''nut­ters'' were 'dis­cour­aged', as repor­ted loc­ally in 1809. More people came to the cities, as the lands had been enclosed, and altern­at­ive work was avail­able in the new indus­tries. Less resources and more rules gave prob­lems to the com­mon­ers who rioted as they were starving and dying of cold. The Lord was all power­ful as he made the rules, managed the woods and was the judge in any dis­putes. There was no justice and the people became slaves to the Industrial Revolution. There was a cul­tural sev­er­ance from coun­try life. Forestry in the 20th cen­tury even­tu­ally was intro­duced to replen­ish the dwind­ling stock of timber to cater for mod­ern­isa­tion and urb­an­isa­tion.
Despite all the above, Sheffield has 80 ancient wood­lands and 180 woods which cover 10% of the city area and make us the most wooded and treed city in Britain. The fol­low­ing pub­lic­a­tions give fur­ther inform­a­tion.
''The Historic and Heritage Trees of Sherwood Forest in myth and legend, in life and death'', by Ian Rotherham
'' The Woodland Heritage Manual'' by Ian Rotherham
''Sheffield Woodland Heritage'' by Mel Jones.
The morn­ing was a most enlight­en­ing and inter­est­ing insight into our Woodland Heritage.