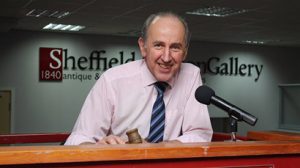 Michael sur­veyed the assembled audi­ence and came to the con­clu­sion that none of them were likely to fetch much at auc­tion, so he com­menced his lec­ture about the real antiques trade.
Michael Dowse ori­gin­ally hailed from Scunthorpe. His grand­father was Arthur Edward Dowse, his father was Edward Arthur, but his mother defied the family tra­di­tion and called him Michael.
His father sent him to col­lege to train as a chartered sur­veyor how­ever, Michael's girl­friend lived 40 miles away so he spent much of his time trav­el­ling back and forth to see her. Subsequently he failed his exams.
He was then sent off to Sotheby's in London as an appren­tice, and spent most of the time clean­ing silver. He left after four weeks and was then art­icled to Bolton and Cooper auc­tion­eers who had offices in Malton. They auc­tioned prop­erty, fine arts and also live­stock and agri­cul­tural machinery. After a move to their Scarborough branch he returned to Sheffield as his father was unwell. He bought his father's busi­ness of E.A. Dowse off him, and developed the busi­ness by making con­tacts with soli­cit­ors and pro­bate depart­ments which offered a way into obtain­ing items for auc­tion. He related a tale of a lady soli­citor who was to value the house of a deceased woman, he wondered if there were any items in the house that he could sell. The soli­citor greeted him wear­ing a mask! He wondered why? On enter­ing the house he was over­come by the dread­ful smell. The deceased woman had cared for stray cats and when she died the cats still gained access through a broken window. The smell was unbear­able. He took only two items of fur­niture to the sale­room which he washed down out­side for over four weeks but the ingrained smell was still obvi­ous when the items were even­tu­ally sold.
At one clear­ance house they found a safety deposit box which was empty. It did, how­ever, have a list of instruc­tions to where a cache of £3000 gold coins would be found. The instruc­tions read like a treas­ure map — so many paces left, right, upstairs, etc. which led them to a remov­able floor­board. Underneath the floor­board were the coins. These were sold for £25,000.
Michael stressed the import­ance of having proven­ance of items for sale. He quoted the sale of seven medals awar­ded to Squadron Leader Clayton. The medals were accom­pan­ied by photos and details of all the 145 mis­sions he had flown, first as a nav­ig­ator and then as a pilot. He was regarded as a hero and a dare­devil. The medals on their own would have fetched £3–5000 but, with the accom­pa­ny­ing proven­ance, fetched £28,000.
Another find was a paint­ing found in a toilet. In those days there was no inter­net so Michael had thou­sands of post­cards of the pic­ture made and posted them all over Europe to museums and art gal­ler­ies in the hope that it could be iden­ti­fied. The paint­ing was authen­tic­ated as being by Jerome. It was put up for auc­tion with an estim­ate of £3–5000 but was sold for £160,000. (Michael still has hun­dreds of post­cards left!)
Michael gave us an insight into "deal­ers' rings". Three or four deal­ers would col­lab­or­ate on the pur­chase of an item, three of whom would refrain from bid­ding against each other in the hope that they could stop higher bids on the item. Later, amongst them­selves, one of them would pur­chase it.
The club mem­bers then retired to Hall Golf Club for a lunch to cel­eb­rate forty years of Stumperlowe Probus Club. Michael Dowse had brought five items for the diners to exam­ine and to estim­ate the age, use and value of each object. This pro­duced wildly dif­fer­ent answers — only a few being near to the mark.
Michael came to the con­clu­sion that our mem­bers, apart from being "unsale­able" were use­less as valu­ers!
The mem­bers much appre­ci­ated Michael's enjoy­able and enter­tain­ing present­a­tion and he was warmly thanked by every­one.