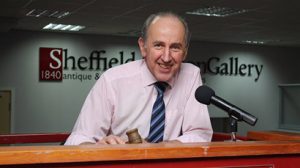 Michael surveyed the assembled audience and came to the conclusion that none of them were likely to fetch much at auction, so he commenced his lecture about the real antiques trade.
Michael Dowse originally hailed from Scunthorpe.  His grandfather was Arthur Edward Dowse, his father was Edward Arthur, but his mother defied the family tradition and called him Michael.
His father sent him to college to train as a chartered surveyor however, Michael's girlfriend lived 40 miles away so he spent much of his time travelling back and forth to see her.  Subsequently he failed his exams.
He was then sent off to Sotheby's in London as an apprentice, and spent most of the time cleaning silver.  He left after four weeks and was then articled to Bolton and Cooper auctioneers  who had offices in Malton.  They auctioned property, fine arts and also livestock and agricultural machinery.  After a move to their Scarborough branch he returned to Sheffield as his father was unwell.  He bought his father's business of E.A. Dowse off him, and developed the business by making contacts with solicitors and probate departments which offered a way into obtaining items for auction.  He related a tale of a lady solicitor who was to value the house of a deceased woman, he wondered if there were any items in the house that he could sell.  The solicitor greeted him wearing a mask!  He wondered why? On entering the house he was overcome by the dreadful smell.  The deceased woman had cared for stray cats and when she died the cats still gained access through a broken window.  The smell was unbearable.  He took only two items of furniture to the saleroom which he washed down outside for over four weeks but the ingrained smell was still obvious when the items were eventually sold.
At one clearance house they found a safety deposit box which was empty.  It did, however, have a list of instructions to where a cache of £3000 gold coins would be found.  The instructions read like a treasure map – so many paces left, right, upstairs, etc. which led them to a removable floorboard. Underneath the floorboard were the coins.  These were sold for £25,000.
Michael stressed the importance of having provenance of items for sale.  He quoted the sale of seven medals awarded to Squadron Leader Clayton.  The medals were accompanied by photos and details of all the 145 missions he had flown, first as a navigator and then as a pilot.  He was regarded as a hero and a daredevil.  The medals on their own would have fetched £3-5000 but, with the accompanying provenance, fetched £28,000.
Another find was a painting found in a toilet.  In those days there was no internet so Michael had thousands of postcards of the picture made and posted them all over Europe to museums and art galleries in the hope that it could be identified. The painting was authenticated as being by Jerome.  It was put up for auction with an estimate of £3-5000 but was sold for £160,000.  (Michael still has hundreds of postcards left!)
Michael gave us an insight into "dealers' rings".  Three or four dealers would collaborate on the purchase of an item, three of whom would refrain from bidding against each other in the hope that they could stop higher bids on the item.  Later, amongst themselves, one of them would purchase it.
The club members then retired to Hall Golf Club for a lunch to celebrate forty years of Stumperlowe Probus Club.  Michael Dowse had brought five items for the diners to examine and to estimate the age, use and value of each object.  This produced wildly different answers – only a few being near to the mark.
Michael came to the conclusion that our members, apart from being "unsaleable" were useless as valuers!
The members much appreciated Michael's enjoyable and entertaining presentation and he was warmly thanked by everyone.