With so many members having been involved directly or indirectly in Sheffield's industrial scene, there was a palpable frisson of expectation as our Chairman introduced this week's speaker, Bryan Peters. We were not to be disappointed.
Bryan was to take us on a journey through a career spanning fifty-five years and, in so doing, remind us of a world before Meadowhall and Leisure Centres: of companies, products and places now in many cases no more (but not forgotten). At times we could almost sense vibrations from the forges, sniff the smoke of pollution and inside, machine shop cooling liquid, see the sparks flying from grinding wheels and feel the heat of the furnaces. It was a world where men, typified by Bryan, worked their way up and acquired skills and knowledge through apprenticeships and practical experience.
Having completed his education at Owler Lane Technical and Abbeydale Grammar School. Our speaker's career commenced in 1958 when he joined, aged 17, Brown Bayley as a Works Trainee. The firm, based on what became the Sheffield Arena site, at the time employed over 3500 employees. It produced a wide range of both finished products -such as railway tyres –to specialist sheet, ingot, rod and bar steels which provided the raw materials for everything from the aeronautical to surgical instrument industries. Brown Bayley proved to be the ideal company to train, providing a solid foundation for his future career. Over the next six years under the care of Harry Kelford – Training Manager Bryan gained, in six month stints, exposure to each of the main production processes and to the metallurgical labs (where there was a large picture of Harry Brearley to inspire) test house and creep testing lab. He continued his education through day release and evening classes, studying metallurgy at Sheffield Tech. It was Harry Brearley who set up the Freshgate Trust in 1941. Bryan won a place on it in 1963 and visited Mannesman and Mercedes in Germany. In 1964 Bryan was promoted to assistant to the Chief Inspector, work he found interesting but his aspiration was a career in sales.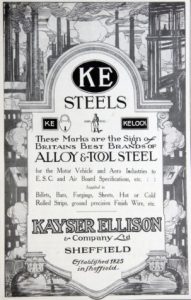 In 1965 Bryan joined Kayser Ellison & Co to sell tool, high speed, stainless and engineering steels. This was to be his start in technical selling and valuable further experience. The Company had a strong reputation for its technical assistance to customers in such areas as alloy selection and heat treatment.. In 1966/7 He helped to set up a new warehouse for KE in west London which processed, stocked and distributed tool steels to this important and growing market with its concentration of specialist manufacturers. In early 1972 KE formed a group sales team. Bryan was expected to sell finished products as well as steel. He had to handle an inquiry for hacksaw blades and files for the workshop in a large regional prison. One problem: the customer specified that his order should be packed in sausage rolls!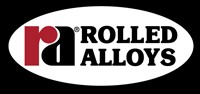 Deciding that selling finished products was no longer for him, Bryan seized an opportunity later in 1972 to join Detroit based Rolled Alloys Inc , major suppliers of wrought heat resistant alloys (especially for applications in the 600-1200 degrees C range) to the US car industry. After six weeks training in America, He became "their man" in UK and Europe. Over the years, warehouses and offices were to open or relocate as the business expanded. The company was to enhance its reputation as a provider of technical advice and solutions.
In 2000 Bryan left his facility management position to work directly for the owners who had plans to grow the business in Europe and SE Asia by acquiring other companies and new start- ups. Locations were to stretch from the UK to Singapore. Bryan's activities mainly centred around assisting with acquisitions, training new sales staff, resolving problems in companies that had been acquired and giving technical presentations at conferences.
In the later stages of his career Bryan began to spend more time in areas where the present was giving way to the future. Power generation and waste incineration were presenting interesting technical problems and business opportunities. We were shown illustrations of examples of these. A customer in France called one day to ask about alloys for use in equipment for the incineration of an inexhaustible supply of goat's dung!
In 2013 Bryan gave a paper on nickel alloys at the Harry Brearley Centenary Conference held at Sheffield University. Now at the age of 72 and after over half century in the special steels business, retirement was beckoning. Having started his career under a picture of the great man Harry Brearley this seemed as good a time as any to call it a day on a fascinating career. It was a story of which members much enjoyed as clearly shown by the range of questions and observations made at the conclusion of a most interesting and entertaining session.