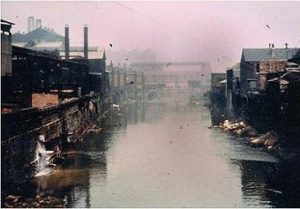 Sheffield and Rotherham were once known as two of the dirtiest cities in the UK due to both general pollution and smoke pollution. I worked at a firm called Edgar Allen Steel Ltd., and one of the special steels we produced was called AlNiCo, a permanent magnet steel. It had a very low carbon content of less than 0.02% and the only way we could achieve this was to blow oxygen into the molten steel, prior to tapping. This caused enormous amounts of carbon dioxide to be given off which was then followed by vast clouds of iron oxide, resulting in  dust particles  raining down over the East end of Sheffield unchecked. Most of the steel companies employed similar techniques without giving it a second thought. They also used river water for cooling and dumped chemical waste into them.
The forges  used steam hammers and the rolling mills were driven by steam engines;  all this steam was produced by burning coal. In addition to this every household had at least two coal fires because central heating was a luxury.
This all began to change however when the "Clean Air Act" of 1956 came into force. Clean air zones came into force prohibiting the burning of coal; firms had to install dust collection and gas washing systems, and if water was extracted from rivers  for cooling purposes it had to be returned to the river cleaner than when it was taken out.
Time has passed now and Sheffield and Rotherham are very n cities, looked over by the "Sheffield and Rotherham Wildlife Trust". There are 47 such trusts throughout the UK which are normally related to the county in which they operate but, Sheffield and Rotherham district are the exception.
The district has at present, thirteen nature reserves which the trust manages.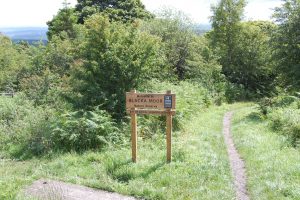 Blacka Moor, consisting of 181 hectares of moorland and wood is the largest and most spectacular of the Wildlife Trust's nature reserves. Here you can see red deer, the UK's largest and most majestic mammal.~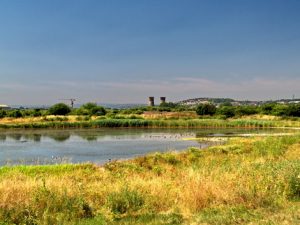 Blackburn Meadows was once the site for the Tinsley sewage farm which processed all the sewage from Sheffield. Now it is a stunning nature reserve with two lakes, attracting over 140 species of birds. Nestled in the industrial heartland it is definitely a place to visit.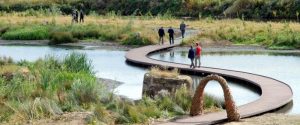 Centenary Riverside was constructed on the site of one of the largest steel producers in the area. It acts as a flood plane to minimise flooding in both the residential and industrial area of Rotherham. The past has not been forgotten. Large blocks of steel which have been dug up have been used to create "Steel Henge" and old industrial foundations have become habitats for many species of birds.
Other nature reserves within the region are:
Woodhouse Washlands
Fox Hagg
Wyming Brook
Greno Woods
Crabtree Ponds
Moss Valley Woodlands
Salmon Pastures
Sunnybank
Carr House Meadows
Carbrook Ravine
The Trust manages the nature reserves by building and maintaining footpaths, fences, bridges, gates and many other things so that the public can visit and enjoy the reserves whilst at the same time making them places for wild life to flourish.
The Trust depends upon its members and volunteers and actively encourages membership to further there cause.
Ken is a very enthusiastic and knowledgeable speaker and kept the club's attention throughout.
To really appreciate how lucky we are, living in this region it is worthwhile visiting the website of the Sheffield and Rotherham Wildlife Trust at www.wildsheffield.com