Five months after he gave us a talk on part two of his career – as a surveyor for Lloyd's Register – Brian Smith, a member of the Barrow upon Humber Probus Club, returned by popular demand to give us part one, covering his years as a ship's engineer.
Brian's career change was forced upon him when, after just over 18 years in the Merchant Navy, he was made redundant, largely as a result of containerisation. One container ship could replace half a dozen ordinary cargo ships in terms of load carrying capacity, and today they are even bigger. One reason why Britain cannot compete in the building of these huge vessels is that there is virtually nowhere in UK waters where they can be launched.
Not that the ships Brian worked on were exactly tiddlers. He sailed in 15 different vessels, and at the peak of his first career he was chief engineer of a ship of 76,000 tonnes. He was away for up to nine months at a stretch, sailing the waters of the world with cargoes ranging from bananas to cars.
Brian, despite having no family seafaring history, was inspired to seek work in the marine world when, as a young boy being driven for days out at the seaside with his parents to either Redcar or Saltburn, he would pass the large docks in Middlesbrough. He left school at the age of 15 in 1960 and obtained his first job as a messenger boy at the local Furness shipyard.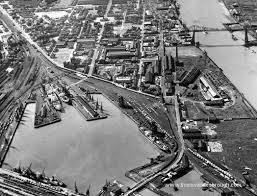 "As I walked around the docks area delivering documents I would see every aspect of the trade, from shipwrights to porters, and being an inquisitive type I would always ask them what they were doing.
"I was soon indentured as an apprentice, which involved two years in a fitting shop and three in a machine shop, operating lathes and other equipment, and at 18 you were allowed to go outside to work in the maintenance department, working on the ships.
"One day I saw somebody who everybody was taking notice of – he was obviously very important – and I had it explained to me that he was the Lloyd's surveyor inspecting the ship."
Plucking up courage, Brian asked the man from Lloyd's: "How do I get your job?" He replied: "Easy son, go to sea and get your qualifications," and took a note of Brian's name and address.
"I didn't really expect to hear anything, but one day I got a letter from the Board of Trade telling me that I would have to go to sea." Brian told his manager that he wanted to leave his job ashore, and after initially being refused because of his apprenticeship he was allowed to leave the following January to pursue his chosen career in what was then the world's largest merchant navy.
He was told to report to his first ship at Avonmouth, and he started work as a junior engineer in 1966.
Brian worked first for the Hain Steamship Company, which was established as a public company in 1901 but could trace its roots back to 1816. The company was acquired by the P&O Steam Navigation Company in 1917, continuing to operate as a separate entity, although Brian later worked for the P&O Tramp Company, based in London.
A ship engaged in the tramp trade is one which does not have a fixed schedule or published ports of call, as opposed to a freight liner.
After joining another ship sailing the North Atlantic, Brian came home on leave and went to college to gain his Certificate of Competency as an engineer. He rejoined the ship as a fourth engineer, and celebrated his 21st birthday off the coast of West Africa.
He returned to college to gain his second engineer's ticket and then joined the Tyne-built general cargo ship Trewidden, bound for the French island of Réunion in the Indian Ocean where, off the coast of South Africa, the captain was mysteriously lost overboard.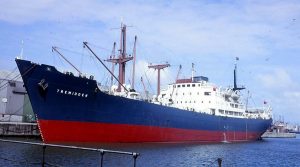 Brian regaled us with colourful stories of his voyages around the world, ranging from the time a ship was left to pick up the tab when crew members visited a house of ill repute in Mombasa, to his unwitting part in the so-called Great Grain Robbery of 1972 when the Soviet Union covertly purchased 10 million tons of United States wheat and corn but were unable to use Russian ships to transport it.
Brian's presentation coincided with a very successful first meeting in our new temporary home at the Hallam Community and Youth Association hall while construction work is due to get under way at the Fulwood Church Hall.