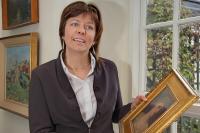 Vivienne is an inde­pend­ent antiques valuer and auc­tion­eer, based in Great Longstone, near Bakewell, Derbyshire. This means that she is not tied to one auc­tion house and will put client's goods in the best auc­tion for its genre ensur­ing that the optimum price is obtained.
A lot of her work is for cli­ents who are 'downs­iz­ing', for insur­ance valu­ations and pro­bate pur­poses. She likes to think that her cli­ents can bene­fit from the true value of their pieces rather than the people spe­cial­iz­ing in house clear­ances. It is quite sur­pris­ing how some incon­sequen­tial look­ing pieces can have a very high value.
Apart from work­ing for private cli­ents she also gives talks to vari­ous organ­isa­tions includ­ing Probus and the U3A about the chan­ging fash­ions of the antiques auc­tion world, and invari­ably she asks that her audi­ence bring along their own pieces for valu­ation; a sort of private, 'Antiques Road Show'. This was the format of her talk to us.
She star­ted by dis­play­ing a slide of a typ­ical 1960's lounge con­tain­ing min­im­al­istic fur­niture, show­ing tubu­lar steel dining chairs and table, a ladder book­case, a simple stand­ard lamp and a high winged arm­chair. Ten years ago, this type of fur­niture would have been vir­tu­ally worth­less. Before this period most fur­niture was made entirely from wood but in the 60s many more mater­i­als were intro­duced includ­ing steel and plastic and now young people can't get enough of it caus­ing its value to go right up.
A wall unit man­u­fac­tured in the 60s sold for £750.00 a few weeks ago and a side­board, dining table and six chairs sold for £3,500.
She sells for cli­ents all over the coun­try because vari­ous parts of the UK have interests in dif­fer­ent styles. As an example, she said that G Plan fur­niture might fetch a few hun­dred pounds in Yorkshire but in Essex it would be more like thou­sands of pounds, simply because the style is desir­able there.
She talked about the effect of China on the market and espe­cially on Chinese goods and by that she was not refer­ring to Chinese goods made for export. During the Chinese cul­tural revolu­tion, the vast major­ity of the people suffered ter­ribly and were exceed­ingly poor. Now that the eco­nomy of China is becom­ing one of the lead­ing eco­nom­ies in the world people are want­ing to own Chinese arte­facts which have found their way into the Western world and their value has increased many times over. One mono glazed vase sold for £26,000 and a jade Tarchens thumb ring sold for £21,000.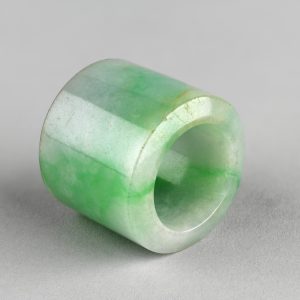 A Jade Tarchen Thumb ring used by Chinese Archers.In the access­ory market goods fetch a high price as well provided that they have a designer label. Recently a Chanel hand­bag cost­ing between £12,000 to £15,000 when new sold recently for £2,500. A pair of black brogue Shoes made by John Lobb would cost about £4,000, because they be made to a model of the pur­chasers, foot would cost about £4,000 new, sold at auc­tion for £750.00
Silver and gold jew­ellery also can com­mand a high price. An amber neck­lace fetched £25,000 because of its Chinese intent. A single stone 3 carat Diamond ring sold for £11,000.
Northern art is also in demand. A small paint­ing by Arthur Delaney in the style of Lowry sold for £6,800.
Tin plate toys made by Mettoy of Northampton are also col­lect­ors' items. The firm was star­ted in 1933 by the German, Philip Ullman who had a toy com­pany in Nuremburg called Tipp & Co. He fled Germany in 1933 when Hitler came to power because he was a German Jew.
The last half an hour of the morn­ing was given over the valu­ation of some mem­bers items, like the 'Antiques Road Show'. Some mem­bers were pleased with what they were told but I have no doubt that many were dis­ap­poin­ted.
The morn­ing was very edu­ca­tional, enter­tain­ing and very well presen­ted and the club mem­bers showed their interest and appre­ci­ation by the ques­tions they asked and the applause they gave Vivienne at the end of the meet­ing.