Sheffield Victoria to Kiverton Park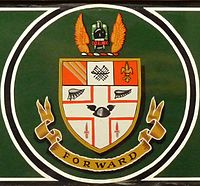 It seems there is something about railways in the genes of gentlemen of our age group which is rather more than nostalgia.  Our speaker this week, Stephen Gay, is a master of this vast subject, coming on his nineteenth visit.  Having taken us to far flung Cornwall only a few weeks ago, this time our excursion  was to be rather nearer to home and a journey of rather shorter distance- about ten miles.
It is easy to focus on the western side of our city with its obvious attractions; Stephen invited us look east where there is much of overlooked interest.  Opening up his usual cornucopia of slides we were to be treated to scenes largely forgotten or neglected during a photoghrapic tour of a short part of the old Great Central Railway (GCR): Sheffield Victoria to Kiverton Park.  Most of the 36 slides came from unused material from his book "Through Kirton Tunnel", published in 2004.  We were reminded that there was no 'direct' route into Sheffield until the Midland Railway provided this in 1870.  The GCR and its predecessors  originally ran services into King's Cross via Retford but added, from 1899 Marylebone, the year it opened it's 'London extension' via Aylesbury and the Metropolitan line.  The Company sprang from the ambitious Manchester, Sheffield and Lincoln Railway which aspired not only to rival the Midland and Great Northern but to run services to Paris.  Hence its construction to 'Berne' gauge and strict  alignment and grading standards allowing, from 1903, a three-hour timing non-stop from Sheffield to London (163 miles).  Direct services were offered to several destinations to the East and South, including Bournemouth (via Banbury) and Harwich and Immingham/New Holland to connect with Continental boats.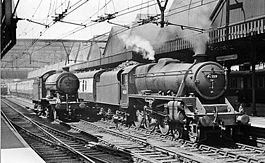 The GCR system was to reach peak traffic in the 1950s, which at one point was so intensive (over 400 train movements per day) that electrification via a new Woodhead Tunnel was undertaken between Wath and Manchester.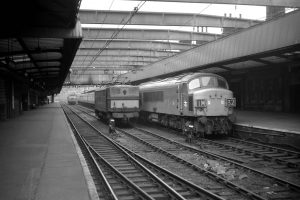 A vast automatic marshalling yard was built at Tinsley.  Much of the track was quadrupled and given multi aspect signalling.  But the impact of the private car, lorries and motorways in the early 1960s rapidly took their toll and this, with the later demise of the steel and coal industries, removed its raison d'etre.  The later was serviced at Annersley, which provided a collection hub for collieries in South Yorkshire and North Derbyshire and Nottinghamshire. Now only the stretch between Sheffield, Lincoln and Cleethorpes survives Dr Beeching's rationalisations.
So what remains of this once busy and modernised route?  We started our journey eastwards at Sheffield Victoria and the Wicker viaduct with its penny lift (opened 1851, finally closed 1983 when services to Huddersfield were diverted to start at Midland).  Engineered by Sir John Fowler of Forth Bridge fame, we proceeded to view shots of the line and its adjoining environment.  These included the modern Nunnery Supertram depot, a June only weed-killing train in action, Bernard Road and Woodburn Road depots.  Parkway market sidings came next with a photo of the last rail delivery van in 1983.  Then a shot of the now demolished Craven's Engineering works which produced everything from military equipment to the city's original trams.  Next stop was to inspect the unsightly and, at night, unsafe bus shelter at Darnall which replaced the original four canopied platform premises that more than once won the "best kept station" award.  A pit stop followed, where we were shown the remains of a signalmans' toilet block –last flushed in 1971!
The lineside post-industrial countryside was now beginning to open out. Slag heaps had now been removed and 'greened', interspersed with fields of yellow rapeseed.  We proceeded via Orgreave of miners' strike infame (1983).  We were pleased to learn that one of the few 'double Pavilion' style GCR stations at Woodhouse has been restored, a survival in a sea of destruction. We continued past the site of Beighton station (opened 1849 closed 1954) and its level crossing, the scene of a bad accident involving a military train in 1942, when steel sheets, dislodged from wagon, caused derailment. (See poem at end)  Our next stop was the site of the Beighton track maintenance yard built by German POWs in 1942. Stephen worked here as a yardman between 1979 and 1992, when he was made redundant. He was thus able to take and share pictures of when the yard was operational with its steam crane, piles of sleepers and 60ft lengths of track. There was a happy shot of a rotund Polish colleague 'Ted' and a sad one of 1920s wooden carriages being destroyed –how conservationists would have liked to have acquired those!
We were then shown an aerial photo of the area surrounding what is now the Rother Valley Country Park with its lakes and river diversions.  A whole miss-mash of lines of competing lines squeezed (and frequently crossing over each other) through the valley which in future will also take the HST2 service towards Leeds. The area also hosts Beighton Junction where the GCR divided eastwards towards Worksop and Southwards towards Annersley and the London Extension via Nottingham Victoria. The remaining rival  Midland Railway goods line is still used as a relief route.
Approaching the end of our journey we still had surprises in store.  We were shown the remains of a buried tunnel, which had once provided a time saving short cut for Grimsby fish trains. Next came a recent natural disaster: shots of the railway embankment collapse near Waleswood, due to a combination of rabbit warrens and flood pressure in 2007.  This left an unusual 'suspension' bridge of track over a fifty foot gap which fortunately was reported by an alert driver. The line was out of action for six months.   And so to our final whistle stops: the 'new' (1929) station at Kiverton Bridge and Kiverton Park. By now at risk of running late we regretfully had to call a halt.
Stephen included examples of his own railway poems in  his most interesting and enjoyable presentation including:
 A Soldier Down The Line
(Click on the link to download the poem.)
Like a change from the Peak District?  Kiverton Park Station (with pub opposite) is the start of a delightful three mile flat walk along the Chesterfield Canal to regain the railway at Shireoaks.  There is an hourly service to/from Sheffield which enables you to see many of the sites mentioned in this blog.  It's especially pleasant during the bluebell season.