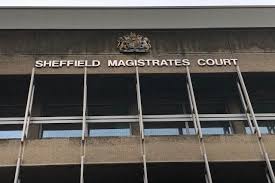 Richard spent 26 years at Sheffield Hallam University, teaching statistics, becoming the Dean of the Faculty. Meanwhile, he spent 25 years as a Lay Magistrate in the Adult Law Courts, based in Sheffield, covering South Yorkshire and Lincolnshire. Lay Magistrates was the topic for today's presentation.
Types of Magistrate :-
A Professional Magistrate, also called a District Judge, who is a stipendiary Magistrate and sits on cases alone.
Lay Magistrates, who are members of the public, and sit in a court in groups of 2 or 3.
Types of Courts
Adult Courts. All Magistrates start in this court, which deals with anything from theft to murder.
Family Courts
Youth Courts, for people up to 17 years of age
Courts 2 and 3 above conflicted with other interests which Richard had, so he never sat on them.
Who can be a Magistrate.
The Lord Chancellor picks Magistrates. Although he/she keeps an eye on a balance of appointments to reflect political persuasion, ethnicity, sex,  etc., Magistrates can be anyone, unless there is a conflict of interest, e.g. the police. They must be between 18 and 70 years of age and of 'good character'. There are not many under 30 years of age. Most are 55 to 70, at which age you must retire. No training in law is required as there is a legal adviser who assists. The main attribute required for being a magistrate is common sense and you have to be available for at least 26 half days in a year, although it is expected of you to do more.
What do Magistrates do?
All criminal cases start in the Magistrates court. Over 90% are dealt with in a   magistrate's court and include cases on e.g. Council Tax, Education, Environmental Agencies, Fishing licences …….
The Magistrates
Hear bail applications – They start with the assumption, that bail is permissible. Deciding whether the defendant should be free or kept in custody then depends on considerations of safety to the public or whether the defendant might not come back for trial. So sometimes, if bail is granted, there are conditions e.g. tags. Or 'unconditional' bail may be granted but, with the condition that they turn up for trial.
Hear court cases – they listen to the circumstances of the offences, and decide the outcome/sentence, or whether it should be referred to the Crown Court. The types of cases are :-
– Summary Only – e.g. a driving offence, which will be dealt with by the Magistrates court
– Each Way – for more serious crimes. This could be heard in a Magistrates court or the Crown court. The defendant can always choose either the Magistrates court, or to be defended by a judge and jury in the Crown court. Some defendants think that the Magistrates may be more lenient.
– Indictable only – e.g. murder, which is sent to the Crown court.
Magistrates can sentence up to 6 months in custody and do it only once more to the same offender, making a maximum of 12 months.
Approve warrants. For example:-
For Statutory Declarations – e.g. those who go to a Magistrates court to alter their names. Permissible as long as they keep the same surname.
If summoned to court – e.g. because they have not paid a fine. If the defendant makes a declaration that they didn't get the summons letter, then the process starts again, until they pay up.
An entry warrant – e.g. if any of the Statutory Undertakers want to enter a building or restaurant.
Search Warrant – e.g. if requested by the police. Sometimes these are out-of-hours requests.
How Does the Court Work
2 or 3 Lay Magistrates sit in a court, with the middle one called the 'Presiding Judge', and who is the only one who talks for the group and who controls any disturbances. The others, sitting to the side are called 'Wingers'.
At the start of a case, the Presiding Judge outlines the offence. The defendant is asked to make a plea. 90% of the time, there is a 'Guilty' plea. The Presiding Judge asks for a full report of the case and then decides whether to sentence, or to send the case to the Crown Court for sentencing.
If the plea is 'Not Guilty' the Prosecution speaks, then the Defense. The Presiding Judge then decides whether there is a case to answer and if there is, he sets a trial date.
If there is 'No Plea', which is rare, the defendant is asked why there is no plea. It may be e.g. that the defendant is waiting for more evidence on the circumstances of the offence. In this case, the principle of 'Newtons Hearings' is applied. This means that the circumstances of the offence are dealt with before the trial and the Magistrates decide which version of the events are to be accepted. If it is the defendants version which is accepted, then there is a plea of 'Guilty', but if the Magistrates decision is not accepted, it is still the version used at the trial in court, but it can be argued at the trial.
Trials
2/3rds usually never occur. Because,
there can be a change of plea from 'Not Guilty' to 'Guilty'.
Witnesses don't turn up, or alter or withdraw their statements.
If there is a trial, both Prosecution and Defense are heard and witnesses can be questioned.
Magistrates then decide on the guilt or otherwise and must give a simple but clear reason for their decision.
If guilty, they are either sentenced there and then, or reports are requested from e.g. the probation service. If the court feels unable to decide, the case can be sent to the Crown Court.
Sentencing
Only 20 years ago, guidelines were given to Magistrates and Crown Courts on sentencing.
Nothing, however, is ever typical, and all circumstances are taken into consideration.
For example :-
If it is their first offence. Sentence is less than the guideline
Plea of 'Not Guilty' but found 'Guilty'. Sentence possibly more than the guideline
Assault where incitement was involved and there was only one punch. Sentence is less than the guideline.
Assault where there were lots of punches, with a record of violence. Sentence more than the guideline.
Some people ask to go to prison, to give structure to their lives or to help them to overcome an addiction.
Richard finished his presentation illustrating the process of sentencing with a historical car crash case, where the 2 equally bad drivers approached their court cases in a different way, and were given different sentences.
An absorbing and very interesting talk which was enjoyed by all.