Our Speaker this week was, before retirement, an international Sales and Marketing manager with Wiggins Teape Paper, Alcan and Unilever. His business commitments took him to over 30 countries, especially to India and the Middle and Far East.  Expenses often exceeded his salary!  An early grounding in Christianity and a degree that included Philosophy and Physics sparked off an interest in the metaphysical. His travels more than broadened his mind, encouraging a comparison of east-west philosophies and the correlation between the physical and spiritual world -especially with Buddhism and Taoism.   "A lifetime of being in awe of nature, a love of the world's great landscapes and my passion for gardening led me to create a four-acre meditation garden, built on the  overgrown site of an old cornmill and limestone quarry, Cascades, in Bonsall."
 But it was  a moment of tragedy when he lost his first wife after childbirth from cancer, and a  meeting with the Dalai Lama in Dharamsala  (northern India) in 1992, who challenged Alan to consider "what is the meaning of life" that were to shape his future life -and garden- paths. In this Alan found common ground with others, not least Prince Charles, who once said "from my experience of Highgrove, the garden is of far greater significance than gardening itself".
Our speaker then treated us to a beautifully illustrated tour of some of the many places – especially their gardens- he had visited.  He explained how gardens, their layout, infrastructure and plant life had been the subject of, or cause of, religious influences. Gardens featured prominently in Ancient Egypt, Rome and Babylon's Hanging Gardens. The Persian word 'pari daeza' meant paradise, as garden oases often were in hot climates.  In Christianity, the Gardens of Eden, Gethsemane and the 'Garden' Tomb with its rolling stone in Jerusalem come to mind.  In the Muslim world there are many fine examples of architecture set within magnificent gardens: the Alhambra in Southern Spain,  Fin garden in Kashan Iran, the Taj Mahal in Agra, India, amongst others. All are characterised by cooling water features, shade giving trees and often perfumed plants.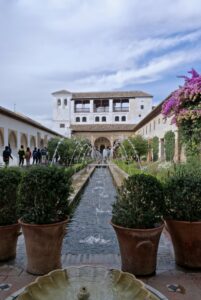 The Alhambra Gardens, Spain
China and Japan have, over the centuries, developed mutual religious common ground –especially the Buddist and Taoist faiths.  There are also many other shared influences, not least in plant cultivators: Himalayan azaleas and Rhododendrons, and Japanese bamboo have become equally at home in each others' landscape or gardens.  Many plants we think as typically 'British' trace their roots to these two countries. They were introduced by Victorian or earlier traders and found their way to our stately and then via  commercial nurseries, to suburban homes. These also included: Acers, flowering Cherry, Chrysanthemums, Hydrangeas and Peonies.
Our Speaker continued by outlining the Buddist-Taoist influences on garden design.  The religion emphasises the influence of balance and harmony in life, which can come through meditation.  What better place to find safety, peace and harmony in a garden designed for such purposes, the more so in big cities?  We were shown examples of numerous Chinese and Japanese gardens, ranging from dry rock and (raked daily) gravel Karesansul  to the more lush and water dominated, where moss, ferns and bamboo predominated. Flagstone paths led to secret places and seats.  Some gardens had small clipped shrubs, perfectly balanced by taller trees or mountain scenery in the background.  Many plants have a symbolic meaning: bamboo is an old man!  Many had Buddhas in various sizes together with small statue depicting ancestors.
Alan described in some detail the visit he had made to the Daisen-in temple near Kyoto and his meeting with its gardens  benefactor, the Chairman of Japanese Railways, and             the Ehei-Ji monastery in the Japanese 'Alps'.  He was to take tea with the Abbott at another Monastry, below.
[INSERT PHOTO BUDDIST Priest in JAPANESE GARDEN see Photo on www.cascadesgardens.com]
Caption: The Abbott at Daitohn-ji Monastry
But Chinese Buddhist influences are not confined to gardens, but to buildings and architecture too.  On a visit to Hong Kong in 1976, Alan stayed in a Hotel overlooking Victoria Harbour. It was in financial trouble.  A Feng Sui expert was called in.  He found that the building was blocking the path of dragons, who wished to drink from the harbour.  Subsequently the complex was realigned and a massive window put in;  The hotel is now one of the most prominent in HK!
Feng Sui requires the balance of 'Ying' and 'Yang'  feature in buildings and gardens, so that the elements of fire, water, earth, metal and wood complement each other.  It was with these influences in mind that Alan set out to create a new garden in 1996.  Wishing to move to a more rural environment, he purchased and old, run-down Victorian house with four acres at Bonsall near Matlock.  The overgrown property included a stream, a small copse, a disused quarry with lots of rock faces and wild plants and even an old lead mine dating from c1800.  There were the remains of an old corn mill: the broken water courses lead to Cascades everywhere –hence the name.
[INSERT PHOTO CASCADES GARDEN BONSALL Seat 2 Best.jpg]
A garden transformed: The Cascades Bonsall
This was the ideal location with its rocks, water and natural vegetation to create Alan's paradise: a place for peace and reflection, of tranquillity and calm.  Members would be very welcome to come to see nature and hear the sound of water for themselves!