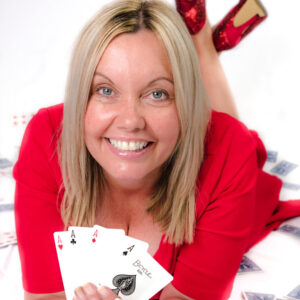 Kerry told us that she has been doing 'magic' for about 21 years.
She started her talk by choosing assistants from our audience because she does 'close-up magic' and needs help when using Zoom.
Kerry started with 'card magic'.
Kerry showed us a special pack of cards that were all jokers and asked if we knew that jokers are acrobatic.
She held four joker cards face-up, close to the camera, and spread them in her hands. She closed the four cards together and spread them again.
One joker had turned a somersault and was now face-down!
She closed them again, opened them out – now two were face-down!
She turned one card over, but now four were face-down!
She turned them face-up and the jokers had turned into aces!
She did two more 'close-up magic' card tricks.
Kerry the mind reader.
She showed an open book two assistants and asked them to scan the text from the pages and choose a longish word each, but not tell her.
She asked what the initial letter was of each of the words, wrote two words on a pad, then asked what words they had chosen.
She showed the pad and had correctly 'read' both minds and got the words right!
Don't ask me how she did it because I was completely shocked and baffled! Magic!
Kerry the magician.
Two assistants chose a number each, 7 and 9. A third assistant was asked if he wanted to change either number. He chose to change both, to 3 and 5. Kerry's phone had a list of 100 celebrities and number 35 was Tom Cruise. Kerry showed us a envelope that had been in plain sight since the start of her show. Inside it was a photo of…..Tom Cruise!
( I could explain this one by collusion by the third assistant, but I don't believe it!)
Kerry and 'magic' and the Magic Circle.
Kerry was working in an office when a 'magician' friend of a colleague asked her if she would help him. He needed an assistant at a show for 'magicians' that he was giving and her friend did not want to do it.
At the show he put a box over her head and face then thrust swords through the box. When the box was opened and she was not injured the audience cheered and clapped. (Apparently they clapped and cheered because usually his act went terribly wrong and they were clapping because he got it right for once!)
Kerry began to take 'magic' seriously.
She wanted to go to the Magic Circle.
There is only one in the world. It is in London, near Euston Station down a narrow cobbled road..
Kerry thinks that the most famous member of the Magic Circle is Prince Charles.
He did the "cups and balls" trick extremely well at his audition.
You have to be proposed and seconded by members then you can have an interview.
Then you have an exam – either a performance or a written exam, which displays work from a book or thesis that you writing.
If you satisfy the 'jury' you become MMC ( Member of the Magic Circle)
You can progress over time as you become more experience and famous to AIMC with a silver star, or even further to MIMC with a gold star.
There are only 300 MIMCs in the world.
Kerry was awarded her MMIC and star two years ago. (There are only 20 Female MIMCs)!
Originally women were not allowed to join Circle because the members thought that women could not keep a secret! They were allowed in only 30 years ago.
Now, of the 2000 members in the world, only 88 are women.
However, now the president is Megan Swan and the vice president is Catherine Rose.
This was a super talk when you consider that Kerry usually works close to her audience and has had to look at her style and tricks and modify her performance to make it work on Zoom. Well Done!