Returning for the fourth time, Dave Moylan once again kept the assembled members of Stumperlowe Probus entertained and amused with his variety act of songs, magic and humour, old jokes and new.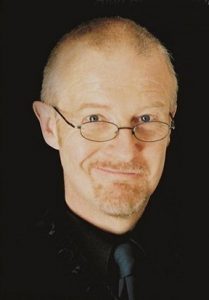 Dave gave an introduction to his long life in the entertainment industry predominantly as a drummer supporting many well known acts and comedians touring around the country from his home in Derby. Dave's life as a drummer really took off however when, as he said, he realised he had a voice like a lark a pillark (boom boom).
To warm up his audience Dave sang his first ditty with audience participation a real tongue teaser though the audience's part was limited to Oi Oi thankfully. This was followed by a cunning rope trick ably assisted by David. There then followed a reading from newspaper reports or so we were told including the following  …
A man from Leicester who had recently had a ground breaking pig's ear transplant was asked if everything was now much improved who responded that all was fine apart from a little crackling.
A Bradford man was found having eaten 12 packs of curry powder. He was not however dead but was in a korma.
Reports of a shooting with a starting pistol were being investigated by the police, who thought it may have been related to a race crime.
A boat was found crashed into the Thames barrier police believed it may have been the start of ram a dam.
Dave then reminisced over long established comedians Max Millar, Al Reid, Bob Monkhouse, Mike and Bernie Winters and others, including a tale of when the Winters brothers were performing at the Glasgow Empire. Mike had just finished his clarinet solo and was followed on stage by Bernie only to hear from the back if the auditorium: "Jesus Christ, there are two of them."  The Glasgow Empire was the death of many a performer.
Following this, Dave asked Glynn to help with a mind reading trick and to think of a number. When asked if he had a number he replied to much amusement round the room:  "Yes, 88," at which point Dave had to explain the nature of a mind reading trick. Glynn then thought of another number which Dave then guessed correctly.
Dave then wound up his show with a barrage of jokes, one liners and anecdotes too many to recall but including …
Rabbithole Johnson: His parents wanted to call him Warren, but were too drunk to remember this at the Registry Office.
Lorry being flashed at for over two miles down the road eventually stopped to be told by a following Norwegian driver that he was shedding his load, to which the lorry driver replied: "No I am gritting the road."
Man who watches his wedding video backwards so it has a happy ending.
Man knocks at door. I've come from Everest you have not paid anything for three years, to which the householder replied: "You said they would pay for themselves in eighteen months."
Then with a final flourish Dave did an amazing torn tissue trick finishing his act in grand style and to much applause.