This talk has little to do with John Guest's background in Biochemistry and much to do with the secret world of Bletchley Park during WW2.  He structured his talk as a journey of discovery beginning with his later school days in Belfast in 1952 where he was friends with Tony Banham.
Around 1952-53 John was in the RAF Section of his school's C.C.F. and became involved with gliding and he obtained a Gliding Certificate.  He would travel past a suburb of Belfast called Gilnahirk on his way to the Ulster Flying Club at Newtonards by Strangford Lough.  He obtained a scholarship to read Biochemistry at Leeds University and left Belfast for Yorkshire.
John was intrigued by a book entitled "Gilnahirk's best kept secret" by Benvista and first published in 2006.  John had been totally unaware that a radio listening station had been operating in Gilnahirk since the late 1930's and this was upgraded to a full RSS (Radio Security Service) Station in 1942.  He was even more surprised to discover the Officer in charge was Colonel Joe Banham his old school friend's father.  He set about finding his friend who was now Lt. Commander A Banham RN Retired and a photo shows John with Tony together again in 2015.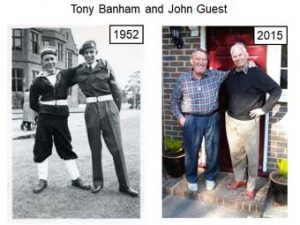 He discovered that Tony's father had told him very little about his wartime activities and his connection to Bletchley Park and GCHQ.  John was intrigued and set about trying to find more about this national secret for himself.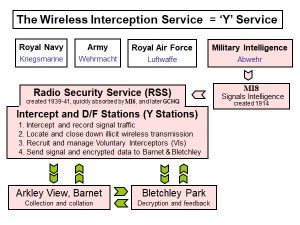 The Wireless Interception Service or "Y" Service were working for four services: Navy; Army; Air Force and most importantly Military Intelligence and M18. As the RSS its function was: to intercept and record signal traffic; to locate and close down illicit wireless transmission; to recruit and manage Voluntary Interceptors and to send signal and data to Bletchley Park.  At the start of the war radio hams all over the country were invited to volunteer as Interceptors.  Those selected gave at least 2 hours a day listening and logging radio signals.  The logged messages were entered onto a standard RSS Log Sheet that was posted to an address in Barnet.  As soon as a Post Office received a letter with this address it was either telegraphed or sent by despatch rider to Bletchley Park/GCHQ.  Besides intercepting foreign radio signals, local messages were also monitored to detect possible spy infiltration.  An important part of the activities at Gilnahirk was probably to intercept radio traffic in the Atlantic and especially submarine signals.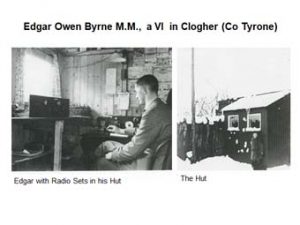 These voluntary Interceptors operated from home, often in roof spaces or garden sheds.  In the early 1940's there were over a thousand listeners.
Gilnahirk was involved with intelligence relating to the sinking of the Bismark and locating the Scharnhorst.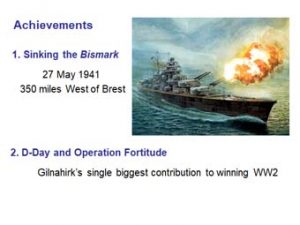 AfterWW2, Gilnahirk continued as a wireless station throughout the Cold War.  In 1951, it was rebuilt as a brick two storey building that accommodated hundreds of personnel.  In the late 1970's it was closed down and demolished in 2009.  The site has now a block of flats called Gilly Court Manor.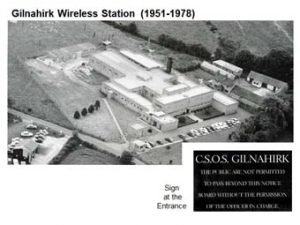 John's talk is not only fascinating especially to an audience born during the lifetime of Gilly wireless station but is a reminder of how such things might be recorded for the public before memories die out.