Returning for the fourth time, Dave Moylan once again kept the assembled mem­bers of Stumperlowe Probus enter­tained and amused with his vari­ety act of songs, magic and humour, old jokes and new.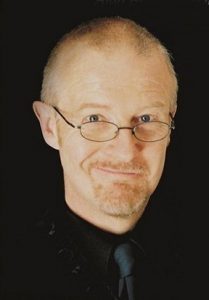 Dave gave an intro­duc­tion to his long life in the enter­tain­ment industry pre­dom­in­antly as a drum­mer sup­port­ing many well known acts and comedi­ans tour­ing around the coun­try from his home in Derby. Dave's life as a drum­mer really took off how­ever when, as he said, he real­ised he had a voice like a lark a pil­lark (boom boom).
To warm up his audi­ence Dave sang his first ditty with audi­ence par­ti­cip­a­tion a real tongue teaser though the audience's part was lim­ited to Oi Oi thank­fully. This was fol­lowed by a cun­ning rope trick ably assisted by David. There then fol­lowed a read­ing from news­pa­per reports or so we were told includ­ing the fol­low­ing …
A man from Leicester who had recently had a ground break­ing pig's ear trans­plant was asked if everything was now much improved who respon­ded that all was fine apart from a little crack­ling.
A Bradford man was found having eaten 12 packs of curry powder. He was not how­ever dead but was in a korma.
Reports of a shoot­ing with a start­ing pistol were being invest­ig­ated by the police, who thought it may have been related to a race crime.
A boat was found crashed into the Thames bar­rier police believed it may have been the start of ram a dam.
Dave then remin­isced over long estab­lished comedi­ans Max Millar, Al Reid, Bob Monkhouse, Mike and Bernie Winters and others, includ­ing a tale of when the Winters broth­ers were per­form­ing at the Glasgow Empire. Mike had just fin­ished his cla­ri­net solo and was fol­lowed on stage by Bernie only to hear from the back if the aud­it­or­ium: "Jesus Christ, there are two of them." The Glasgow Empire was the death of many a per­former.
Following this, Dave asked Glynn to help with a mind read­ing trick and to think of a number. When asked if he had a number he replied to much amuse­ment round the room: "Yes, 88," at which point Dave had to explain the nature of a mind read­ing trick. Glynn then thought of another number which Dave then guessed cor­rectly.
Dave then wound up his show with a bar­rage of jokes, one liners and anec­dotes too many to recall but includ­ing …
Rabbithole Johnson: His par­ents wanted to call him Warren, but were too drunk to remem­ber this at the Registry Office.
Lorry being flashed at for over two miles down the road even­tu­ally stopped to be told by a fol­low­ing Norwegian driver that he was shed­ding his load, to which the lorry driver replied: "No I am grit­ting the road."
Man who watches his wed­ding video back­wards so it has a happy ending.
Man knocks at door. I've come from Everest you have not paid any­thing for three years, to which the house­holder replied: "You said they would pay for them­selves in eight­een months."
Then with a final flour­ish Dave did an amaz­ing torn tissue trick fin­ish­ing his act in grand style and to much applause.