The title of this talk was in the form of a question which I could have partly answered before the meeting, having watched our Lib Dem councillor Cliff Woodcraft trudging round the neighbourhood in all weathers, at all hours, delivering party political flyers and newsletters.
Whatever your political persuasion, there could be no doubting this man's dogged determination, but of course there is much more to being a councillor than doing leaflet drops.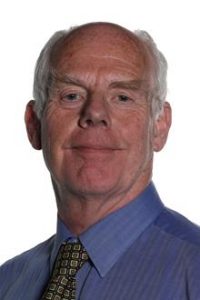 Cliff has been one of our three Fulwood councillors since 2013. With 28 wards, Sheffield City Council is made up of 84 representatives – 53 Labour, 22 Liberal Democrats, six Green Party and three UKIP members. He is deputy chair of the Children, Young People and Family Support Scrutiny and Policy Development Committee, and also a member of the Licensing Committee, Overview and Scrutiny Management Committee, and Planning and Highways Committee. He has an attendance record of 88.5 per cent.
Cliff showed us a photo shoot of him and a group of Lib Dem colleagues outside the threatened Broomhill Library, where a passing local voter asked: "Why aren't you at the council, debating this?" Cliff explained that only around one day a month was spent in the council chamber at the Town Hall, and most of his time – for which he receives a stipend of £11,000 a year – is spent dealing with issues in the local community.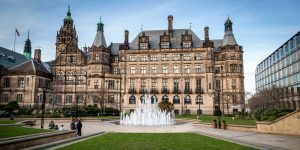 A full meeting of the council can be split into four categories – petitions from the public, questions from the public, questions from councillors and debates. If a petition regarding a local issue receives 5,000 signatures or more, it automatically qualifies for a half-hour debate. If the business of the meeting overruns, items coming towards the end of the meeting are voted on without being debated.
Sheffield City Council is a big business, with a budget for 2018-19 of £1,344 million. Education accounts for £319 million and adult social care for £229 million, while the cost of borrowing alone is a staggering £43 million a year, part of that down to the fact that we are still paying for the 1991 World Student Games.
Cliff did not pull his punches when it came to the city's financial affairs, describing the Town Hall extension which was built in 1977 and demolished 25 years later as "a waste of money and resources."
He is proud of Sheffield's record in keeping families together through the efforts of the Children, Young People and Family Support committee. "We have a better record than most councils," he said.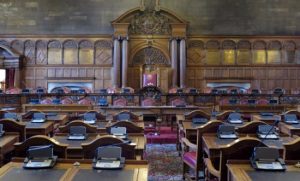 Day to day matters which the Licensing Committee has to oversee include taxis, alcohol and late-night entertainment, street trading, food registration, animal welfare, charity, gambling and sexual entertainment. "If there is no objection to a proposal, then it will be handled by a case officer, but if there is an objection there would be a council debate," he explained.
On Planning and Highways, reasons for turning down planning applications include overdevelopment, lack of parking, privacy and potential disturbance.
Cliff engages with his local voters through meetings, canvassing, surveys, letters and leaflets. He is not a fan of surgeries – "If people have an issue, they will contact us," he says. "There is no need to wait for a monthly surgery. I aim to see people within a couple of days."
If you take that as an invitation, Cliff's contact details (and these are all in the public domain) are Cllr Cliff Woodcraft, Sheffield City Council, Town Hall, Pinstone Street, Sheffield S1 2HH. E-mail: cliff.woodcraft@sheffield.gov.uk. Phone: 0114 230 3627.