Tim Hollis, res­id­ent of this parish, is a man of many parts and could have spoken to us on many sub­jects.
He could have told us about his teen­age exper­i­ences with Voluntary Service Overseas in Ghana before attend­ing Bristol University, or about his early career in the army as an officer in the Parachute Regiment. He could have regaled us with stor­ies of his 14-year ser­vice in the Met Police, reach­ing the rank of Chief Inspector (Operations) at Notting Hill before trans­fer­ring to Sussex Police and rising to Chief Superintendent.
He could have told us how he returned to his home patch as Assistant Chief Constable (Crime and Operations) of South Yorkshire Police in 1994, and was awar­ded the Queen's Police Medal in 2000 before being appoin­ted Assistant Inspector (Crime and Operations) of HM Inspectorate of Constabulary in 2002, and then taking on per­haps the biggest chal­lenge of his career when he became Chief Constable of the ailing Humberside Police in 2005.
During his eight years with the Humberside force, Tim was appoin­ted vice-president and then acting pres­id­ent of the Association of Chief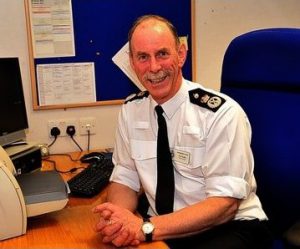 Police Officers, with spe­cial respons­ib­il­ity for drugs, and he retired as Chief Constable in 2013 having been widely cred­ited with turn­ing the Humberside force round. He was repor­ted as saying at the time: "I feel that I have helped put the pride back into the force both loc­ally and nation­ally, restored con­fid­ence and left the force in fine fettle."
Tim was appoin­ted Commander of the Order of the British Empire (CBE) in the 2010 New Year Honours.
So, more than enough there to make an excel­lent present­a­tion to Stumperlowe Probus Club. But what he actu­ally came to talk to us about was his totally unre­lated role as a 'listen­ing volun­teer' for the Samaritans, the char­ity which provides sup­port — usu­ally through their tele­phone helplines — to anyone in emo­tional stress, strug­gling to cope or at risk of sui­cide.
These two aspects of Tim's life could not be more dif­fer­ent, and in fact he was able to volun­teer for his role with the Samaritans only after his retire­ment from the police.
"A serving police officer, who has a duty to deal with any sug­ges­tion of crim­inal activ­ity in an appro­pri­ate way, cannot become a volun­teer because, as a Samaritan, you must be totally non-judgemental and com­mit­ted to abso­lute con­fid­en­ti­al­ity," he explained.
Making an ana­logy with the play Six Degrees of Separation, which explored the premise that every­one in the world is con­nec­ted to every­body else on the planet by a chain of no more than six acquaint­ances, Tim said that his exper­i­ence with regard to sui­cide has nar­rowed this down to two degrees of sep­ar­a­tion.
"Most people will know some­body, or will know some­body who knows some­body, who has com­mit­ted sui­cide," he explained.
Sadly, in Tim's case, he was among the former group, although he did not real­ise it at the time. "My mater­nal grand­mother com­mit­ted sui­cide when I was a young child. She had clearly suffered from long-term clin­ical depres­sion, but I didn't know the cir­cum­stances of her death until years later. All I knew was that she had died.
"This was at the time when it was still a crim­inal offence to attempt to commit sui­cide. If you didn't suc­ceed, you were sent to prison to die there instead," Tim added with more than a hint of irony.
Taking their name from the par­able of the Good Samaritan in the Bible (though they are a sec­u­lar organ­isa­tion), the Samaritans took their first call in 1953 and now receive more than five mil­lion calls a year (or one every six seconds) handled by 20,000 volun­teers in 201 branches such as the one in Queens Road, Sheffield. Lines are open 365 days a year, seven days a week, 24 hours a day.
The Sheffield branch has 135 volun­teers, the major­ity of them female, and ran­ging in age from the early 20s to the early 80s.
More than 6,500 lives are lost to sui­cide every year, and two third of those are men, mainly in the age group from the late 20s to the late 40s.
However, Tim told us: "The major­ity of people who ring us are not sui­cidal, but people who are going through dif­fi­cult times and want to talk. We get a lot of what I call Eleanor Rigby calls from lonely people.
"The major­ity of people who are having prob­lems do not ring us, because they have some­body to talk to. But some people are socially isol­ated — they don't have family or friends who they can talk to, and we are there to meet that need."
Three years ago when Tim star­ted his volun­teer­ing, the Sheffield branch answered calls from local people and it was not uncom­mon to recog­nise a reg­u­lar caller's voice. Today, the lines are on a national plat­form and the caller goes through to the first avail­able listener.
All con­ver­sa­tions are totally anonym­ous, and the listener must not develop a per­sonal rela­tion­ship with the caller.
"When you pick up the phone and say 'Hello, Samaritans,' you have no idea what is going to come next . The caller wants some­body to walk along­side them and listen to their prob­lems for the dur­a­tion of the call, which could last for 20 minutes or could last for two hours.
"When you put the phone down, you have no idea what happened next. We are not actu­ally there to pre­vent some­body com­mit­ting sui­cide. We try and talk them out of it, but if some­body says that they are going to commit sui­cide that is their choice.
"We are not trained coun­sel­lors, we are trained listen­ers. We do not give advice."
One thing a caller to the Samaritans will def­in­itely never hear is the mes­sage 'Calls are recor­ded for secur­ity and train­ing pur­poses.' Conversations between the caller and trained listener are strictly con­fid­en­tial, and the only time that any­body else might be privy to what was said is when a newly qual­i­fied listener is being ment­ored by a more exper­i­enced col­league.
Of the people who express an interest in join­ing the Samaritans, only ten per cent actu­ally become listen­ing volun­teers. "There is a selec­tion pro­cess, because you are asking people to do a job which can be quite emo­tion­ally and psy­cho­lo­gic­ally chal­len­ging," Tim explained.
Tim is also respons­ible for the Sheffield branch's out­reach activ­it­ies, liais­ing with local uni­ver­sit­ies and schools as well as talk­ing to com­munity groups such as our own.
"Being away from home for the first time can be a prob­lem for stu­dents," he added. "Not every­body is an extro­vert, and some finish up spend­ing most even­ings in their very com­fort­able en-suite accom­mod­a­tion, effect­ively in sol­it­ary con­fine­ment."
It was a very enlight­en­ing talk, and well received, which promp­ted Tim to praise 'some really inter­est­ing ques­tions' from the floor. I am sure we will be invit­ing him back, per­haps to tell us about his dis­tin­guished police career.