Tim Hollis, resident of this parish, is a man of many parts and could have spoken to us on many subjects.
He could have told us about his teenage experiences with Voluntary Service Overseas in Ghana before attending Bristol University, or about his early career in the army as an officer in the Parachute Regiment. He could have regaled us with stories of his 14-year service in the Met Police, reaching the rank of Chief Inspector (Operations) at Notting Hill before transferring to Sussex Police and rising to Chief Superintendent.
He could have told us how he returned to his home patch as Assistant Chief Constable (Crime and Operations) of South Yorkshire Police in 1994, and was awarded the Queen's Police Medal in 2000 before being appointed Assistant Inspector (Crime and Operations) of HM Inspectorate of Constabulary in 2002, and then taking on perhaps the biggest challenge of his career when he became Chief Constable of the ailing Humberside Police in 2005.
During his eight years with the Humberside force, Tim was appointed vice-president and then acting president of the Association of Chief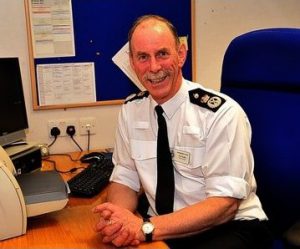 Police Officers, with special responsibility for drugs, and he retired as Chief Constable in 2013 having been widely credited with turning the Humberside force round. He was reported as saying at the time: "I feel that I have helped put the pride back into the force both locally and nationally, restored confidence and left the force in fine fettle."
Tim was appointed Commander of the Order of the British Empire (CBE) in the 2010 New Year Honours.
So, more than enough there to make an excellent presentation to Stumperlowe Probus Club. But what he actually came to talk to us about was his totally unrelated role as a 'listening volunteer' for the Samaritans, the charity which provides support – usually through their telephone helplines – to anyone in emotional stress, struggling to cope or at risk of suicide.
These two aspects of Tim's life could not be more different, and in fact he was able to volunteer for his role with the Samaritans only after his retirement from the police.
"A serving police officer, who has a duty to deal with any suggestion of criminal activity in an appropriate way, cannot become a volunteer because, as a Samaritan, you must be totally non-judgemental and committed to absolute confidentiality," he explained.
Making an analogy with the play Six Degrees of Separation, which explored the premise that everyone in the world is connected to everybody else on the planet by a chain of no more than six acquaintances, Tim said that his experience with regard to suicide has narrowed this down to two degrees of separation.
"Most people will know somebody, or will know somebody who knows somebody, who has committed suicide," he explained.
Sadly, in Tim's case, he was among the former group, although he did not realise it at the time. "My maternal grandmother committed suicide when I was a young child. She had clearly suffered from long-term clinical depression, but I didn't know the circumstances of her death until years later. All I knew was that she had died.
"This was at the time when it was still a criminal offence to attempt to commit suicide. If you didn't succeed, you were sent to prison to die there instead," Tim added with more than a hint of irony.
Taking their name from the parable of the Good Samaritan in the Bible (though they are a secular organisation), the Samaritans took their first call in 1953 and now receive more than five million calls a year (or one every six seconds) handled by 20,000 volunteers in 201 branches such as the one in Queens Road, Sheffield. Lines are open 365 days a year, seven days a week, 24 hours a day.
The Sheffield branch has 135 volunteers, the majority of them female, and ranging in age from the early 20s to the early 80s.
More than 6,500 lives are lost to suicide every year, and two third of those are men, mainly in the age group from the late 20s to the late 40s.
However, Tim told us: "The majority of people who ring us are not suicidal, but people who are going through difficult times and want to talk. We get a lot of what I call Eleanor Rigby calls from lonely people.
"The majority of people who are having problems do not ring us, because they have somebody to talk to. But some people are socially isolated – they don't have family or friends who they can talk to, and we are there to meet that need."
Three years ago when Tim started his volunteering, the Sheffield branch answered calls from local people and it was not uncommon to recognise a regular caller's voice. Today, the lines are on a national platform and the caller goes through to the first available listener.
All conversations are totally anonymous, and the listener must not develop a personal relationship with the caller.
"When you pick up the phone and say 'Hello, Samaritans,' you have no idea what is going to come next . The caller wants somebody to walk alongside them and listen to their problems for the duration of the call, which could last for 20 minutes or could last for two hours.
"When you put the phone down, you have no idea what happened next. We are not actually there to prevent somebody committing suicide. We try and talk them out of it, but if somebody says that they are going to commit suicide that is their choice.
"We are not trained counsellors, we are trained listeners. We do not give advice."
One thing a caller to the Samaritans will definitely never hear is the message 'Calls are recorded for security and training purposes.' Conversations between the caller and trained listener are strictly confidential, and the only time that anybody else might be privy to what was said is when a newly qualified listener is being mentored by a more experienced colleague.
Of the people who express an interest in joining the Samaritans, only ten per cent actually become listening volunteers. "There is a selection process, because you are asking people to do a job which can be quite emotionally and psychologically challenging," Tim explained.
Tim is also responsible for the Sheffield branch's outreach activities, liaising with local universities and schools as well as talking to community groups such as our own.
"Being away from home for the first time can be a problem for students," he added. "Not everybody is an extrovert, and some finish up spending most evenings in their very comfortable en-suite accommodation, effectively in solitary confinement."
It was a very enlightening talk, and well received, which prompted Tim to praise 'some really interesting questions' from the floor. I am sure we will be inviting him back, perhaps to tell us about his distinguished police career.