Anna Badcock is the Cultural Heritage Manager at the Peak District National Park Authority.
The impact of fires on the her­it­age of the moors is often neg­lected and Anna high­lighted the effect of a spate of wild­fires during the summer of 2018 and spring of 2019 in par­tic­u­lar ones at Stalybridge and Big Moor on the edge of the Longshaw Estate.
Rich Heritage Resource
The uplands con­tain a large vari­ety of rich her­it­age resources, which can be found on top, within and under the peat soil. Some examples of this are:
Foxholes or weapon pits cre­ated as a result of mil­it­ary train­ing in the twen­ti­eth cen­tury
Starburst shapes on rock faces caused by explod­ing mortar shells used in firing prac­tice (this par­tic­u­lar one is situ­ated near Higger Tor)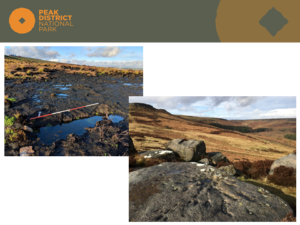 An Iron age hill­fort near Burbage Edge which also shows traces of bullet holes where the rocks were used for target prac­tice in the last cen­tury
Ventilation shafts used by rail­way tun­nels (as seen from Stony Ridge Road)
Millstones quar­ried in medi­eval and post-medieval times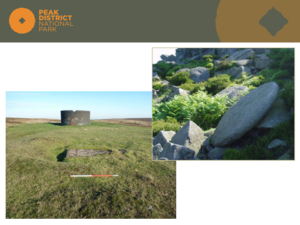 Coalmining shafts which were dug by hand par­tic­u­larly in the Goyt Valley
Administrative bound­ar­ies between par­ishes or local author­it­ies marked by carvings and graf­fiti in the rocks or the estab­lish­ment of land­marks such as Stanage Pole
Ancient ways that form hollow ways – deeply worn route ways, includ­ing those caused by sledge runs used to trans­port peat from higher plat­eaus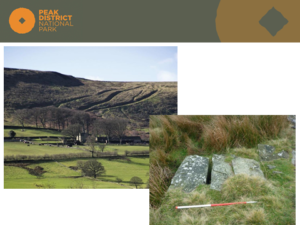 Bronze age rock art, burial mounds, cairns, stone circles and ancient set­tle­ment sites
Stone tools and flint blades used by Mesolithic and Neolithic people moving through the area revealed by the erosion of peat soils on upland edges.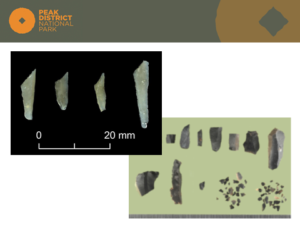 Wild Fire Incidents
In 2018 there were more than thirty fires in the National Park alone. They are gen­er­ally caused by acci­dents, care­less­ness, dis­pos­able bar­be­cues or in some cases being star­ted delib­er­ately.
Many of the her­it­age rich uplands are close to urban pop­u­la­tions and easily access­ible — this has an obvi­ous impact when con­sid­er­ing the incid­ence of wild fires
The main impacts of fire are a danger to life, dev­ast­at­ing effect on veget­a­tion and hab­itat, loss of air and water qual­ity and reduc­tion in carbon cap­ture.
In June 2018 the fire at Stalybridge caused over ten square kilo­metres of damage and left burnt and exposed peat over the land­scape. As a result, his­toric items were exposed such as bronze age cairns and even aero­plane wreck­age.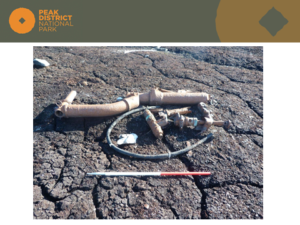 At Big Moor a large fire star­ted in summer 2018. This area con­tains a Bronze Age land­scape of great sig­ni­fic­ance and many of the fea­tures were exposed as a result of the fire. Photos taken at the time show the fire's impact.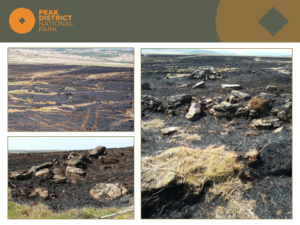 In addi­tion, there were major fires that year at Merryton Low and on the Roaches in the south of the Peak District. The latter res­ul­ted in the loss of a five cen­ti­metre depth of peat and released eleven thou­sand tons of carbon diox­ide into the air.
Lessons to be learnt from Fire Incidents
Documentation and shar­ing of data to help pre­pare for future events
Importance of sta­bil­isa­tion of the dynamic land­scape par­tic­u­larly peat and veget­a­tion
Co ordin­a­tion of inter­ested parties includ­ing uni­ver­sit­ies
Establishment of volun­teer organ­isa­tions to carry out sur­veys of areas after fires
Highlighting the pos­it­ive bene­fits of moor­land res­tor­a­tion
Awareness of poten­tial damage caused by fire fight­ers and the map­ping of sched­uled monu­ments which need to be pro­tec­ted
In con­clu­sion Anna stressed that uplands are com­plex, fra­gile places and are not just wild and unin­hab­ited envir­on­ments. In addi­tion, the import­ance of recog­nising the mul­tiple interests in the land­scapes be they nat­ural, envir­on­mental, recre­ational or her­it­age so that the rel­ev­ant bodies can be better pre­pared for any future incid­ents.