It was the 11th March 1864 when the Dale Dyke dam burst on a dark and stormy night and the results still remain as the "Worst British Dam Burst Disaster" in history.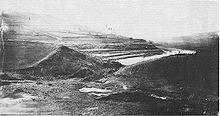 Originally intended to provide water for the many mills in the Loxley valley, rather than drinking water, it was built at the same time as the Agden which lies in the valley to the north of the Loxley valley.The destruction caused, as the huge torrent of water rushed down towards Malin Bridge, was complete and anything in its way was totally destroyed.
The dam wall burst around midnight so many people were in bed but some – as young as 11 – were still at work in the many mills in the valley.
Peter's enthusiasm for local history shone through and his delivery created the air of drama that comes from years of being a primary teacher. Beautifully illustrated with slides and pictures taken at the time for photography was just coming in to being. Interestingly and rather macabrely, the scenes of devastation became an attraction for visitors and transport was organised to see the site of the disaster and people had their pictures taken as mementos.
So why did the dam burst for the design is one still used today – well no one is really sure though it appears that poor workmanship in building the core of the dam wall on land which was unstable may well have been the cause.
Whilst most know of the Tay bridge disaster, Dale Dyke remains almost unknown by those outside the local area largely because the death toll in Sheffield was mainly confined to working class folk who had no vote.
The current dam was built some hundred yards downstream and the area is a fine place for lovely walks.
For more information see – http://www.bradfield-walkers.org.uk/PDF/Dale%20Dyke%20panel1.pdf