Jim Nicholson, a Cumbrian by birth, came to Sheffield to study Glass Technology, married and stayed.  The rest is history and makes a very interesting story of his time at James Chesterman and his detailed knowledge of the measuring tools industry.
James Chesterman was born in 1792 and came to Sheffield in 1820 where he initially worked for Dixons as a powder flask maker.  He was very inventive and during this early period, he formed the  James Chesterman company with a business partner.  His inventions ranged across such diverse subjects as supports for crinolines, corsets and hangers for top hats: no doubt vital in those bygone times. Patents were taken out for tape measures, door springs and door bells .  The company, which was based on Kelham island went from strength to strength but was severely damaged by the Sheffield flood of 1864. Rumor had it that James and his son took the remains of their business, in a hand cart to their new premises off Ecclesall road, but this was not so.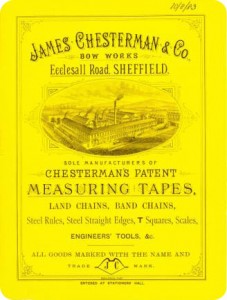 The new company premises, Bow Works on Pomona Street, adjacent to Ecclesall Road was well underway but the flood probably hastened their exit from the Kelham Island area.  James died in 1867 and the business was taken over by his son William and a cousin: further success followed.  The business continued to expand and build up a world-wide reputation for measuring tools and high precision equipment. In the 1990s the company was bought out by Stanley Tools but they were not interested in developing the precision side .  James Chesterman and its successors celebrated over 200 hundred years of design and manufacturing in Sheffield.
Jim Nicholson brought with him a veritable treasure chest of measuring instruments , including , micrometers, vernier callipers, height gauges, boiler plate gauges, steel tapes, steel rules, a blind man's rule , dip tapes , feeler gauges wedge and wire gauges. Jim had collected these over his career in engineering and was still using many of them well into his retirement.
Jim's enthusiasm was infectious and Stumperlowe responded by having many questions and showed great interest in the measuring tools.