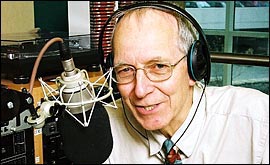 Gerry Kersey is as entertaining in the flesh as he is on the radio. He was born and brought up at 415 Bell House Road, Shiregreen, Sheffield. He had two older sisters, the elder one, Vi (Violet ) was twenty-one years older than him and was the one he used to confess all his misdeeds to. On one occasion a willow tree close by their house attracted hundreds of ladybirds which intrigued young Gerry who promptly decided to collect them in a flour bag. However after a while he got bored with this and left the flour bag in the house and went out to play. Needless to say that when he returned the house was full of ladybirds and who was to blame!
Gerrey's first job was at Hadfields Foundry, Sheffield, working in the wages department. He had to go round the various departments collecting in the clock cards which helped him to develop his communications skills. At eighteen he was called up for National Service and was recruited into the RAF as a telephonist. Little did he know but this was excellent training for him for his future in radio.
He was very keen on amateur dramatics, first playing with the Shiregreen and District Community Players, followed by the Sheffield Play Goers and finally the South Yorkshire Operatic Society.
In his radio career Gerry played the part of Frank Forthright and did Saturday night theatre on Radio 4. He went to work for Radio Hallam and took over Bill Crozier's programme and later took over from the presenter, Roger Moffat.
Gerry can be regularly heard on Radio Sheffield at 4:00 pm on Sunday afternoons in his programme, "Musical nostalgia and chat."
Gerry's presentation was both interesting and exceedingly entertaining and was met at the end with a resounding applause.