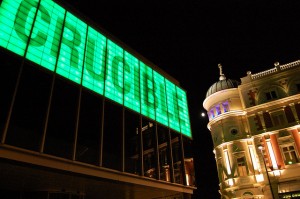 Kathy Gillibrand gave us a fascinating insight into the Sheffield theatres reminding us what gems we have on our doorstep.  Their refurbishment over the last decade has certainly added to Sheffield's regeneration and appeal. The theatres offer over 800 performances per year and annual ticket sales exceed £360,000.  Besides excellent productions, we mustn't forget the Crucible is the home of world snooker and venue for squash and badminton events. The accompanying  photograph showing the Crucible and Lyceum theatres in Sheffield was taken by Adam Bright.
Kathy described the history of The Crucible, its refurbishment, and the range of facilities available. No story would be complete without its ghosts, fires and mysteries.  Sheffield theatres have plenty. Funding and income comes from many sources with the box office accounting for 64% in 2011/12, and production costs accounting 52% of outgoings. The theatres reach out to the local community with workshops for local schools, open events and fund raising dinners. Kathy described the stages a production goes through, from concept right up to the opening night on stage. There is no doubt that the chopping and changing that goes on behind the scenes, as the production evolves, makes for very interesting times. Finally, she gave us a taster of productions to come.
You can always judge the success or otherwise of the Monday morning presentation by the interest shown and number of questions asked — Monday was a success!