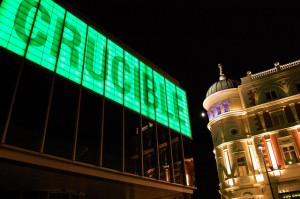 Kathy Gillibrand gave us a fas­cin­at­ing insight into the Sheffield theatres remind­ing us what gems we have on our door­step. Their refur­bish­ment over the last decade has cer­tainly added to Sheffield's regen­er­a­tion and appeal. The theatres offer over 800 per­form­ances per year and annual ticket sales exceed £360,000. Besides excel­lent pro­duc­tions, we mustn't forget the Crucible is the home of world snooker and venue for squash and bad­min­ton events. The accom­pa­ny­ing pho­to­graph show­ing the Crucible and Lyceum theatres in Sheffield was taken by Adam Bright.
Kathy described the his­tory of The Crucible, its refur­bish­ment, and the range of facil­it­ies avail­able. No story would be com­plete without its ghosts, fires and mys­ter­ies. Sheffield theatres have plenty. Funding and income comes from many sources with the box office account­ing for 64% in 2011/12, and pro­duc­tion costs account­ing 52% of out­go­ings. The theatres reach out to the local com­munity with work­shops for local schools, open events and fund rais­ing din­ners. Kathy described the stages a pro­duc­tion goes through, from concept right up to the open­ing night on stage. There is no doubt that the chop­ping and chan­ging that goes on behind the scenes, as the pro­duc­tion evolves, makes for very inter­est­ing times. Finally, she gave us a taster of pro­duc­tions to come.
You can always judge the suc­cess or oth­er­wise of the Monday morn­ing present­a­tion by the interest shown and number of ques­tions asked — Monday was a suc­cess!