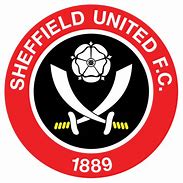 "Football is 60% ability and 40% survival"  –  Derek Dooley
 Earlier this season I tried to get tickets for a 'Blades' match to treat my eldest grandson.  Not having the required vouchers, my attempt was declined.   So instead, we went to Chesterfield to watch the 'Spirites' play 'my' team Woking: a highly competitive 1-2 result in the National League played in front of 4000 (OAP ticket £12, child £5).  As far as I know, United have never played Woking, but they do have common bonds: by coincidence both clubs celebrate their 131st birthdays this year, both were 'community' clubs and both share red, white and black as their team colours.
 Even if we rarely go to live football, it is funny how many of us retain our boyhood interest in our 'home' team, even if circumstances have taken us elsewhere. By contrast, our speaker this week, John Garrett, has stayed proudly put in his native city supporting 'The Blades' all his life.   He has worked for this famous club in various roles over 24 years and visited 148 grounds in the process.  He is currently working as Heritage Manager , writing regular contribution to match programmes.  He has been the driving force for setting up the 'Blades' Museum.  To attract visitors, he thought the Council should be much more imaginative in promoting the City's football history.  Starting on a "low salary but with free admission to matches", John had seen the club from many angles: its downs and recent ups and these, in the form of facts, folklore and fables, he was to share in abundance.
John began his talk by recounting how football had been a tread in his family life over four generations.  Anyone coming to Sheffield soon becomes aware of the strong rivalries between avian owls and sharpened swords. Loyalties within workplaces and families are often strained.  When, as a young lady, his mother's family supported the other city team, she hesitated to fulfil a date. John's father was kept waiting outside 'Cole's corner' for three hours! His family's experiences reflect that rivalry.  But over the years there has, in fact, been much interchange –players, managers, nicknames and even owners -and cooperation between the clubs in such areas as sharing a ground and avoiding clashes of match dates.
Having written two books on the subject, our speaker went on to outline the City's and Club's footballing history. The game has deep roots locally and Sheffield can boast a number of soccer 'firsts'.  Recognised as the oldest football club in the world Sheffield FC (who now play in Dronfield) was founded in 1857, while Hallam FC, founded in 1860, still play at the same ground in Crosspool.  It was sponsored by the now defunct "The Plough" Inn opposite who provided changing facilities.  Sheffield Wednesday began in 1867 and Sheffield United followed in 1889.   Both teams were to go on to be founder members of the Football league, United being a pioneer in such areas as the provision of toilets, refreshment facilities, pneumatic turnstiles, fixed crossbars, whistles and even floodlighting! (A 'night' match attracted 20,000 in 1878, receipts £890).   Their record recorded attendance is 68000 in 1936 when Leeds United were the visitors. The ground has hosted cricket Test matches, the first football international and major non-sporting  events over the years ranging from  ' pop' concerts to Billy Graham. The Club was a leader in the formulation of the universally accepted rules of today, which had one time varied between cities and countries.
As the city industrialised – especially from about 1860 onwards- there was a growing need for recreation and fresh air.  Both major clubs had their roots in attempts to remedy this. , As so often in Victorian times, it was Church and Temperance influences, wealthy benefactors coupled with community self- help that got things moving.  Another factor was the wish of the cricketing fraternity to have a winter sport.  It followed that Sheffield United had its origins in the Cricket club (founded 1854) of the same name.  The inaugural meeting was at the Adelphi Hotel (on the site of the present Crucible Theatre) on 22nd March 1889, presided over by local solicitor and former player Sir William Clegg (who is buried in Fulwood Churchyard). He was also President of 'Wednesday FC', the prefix 'Sheffield' being added in 1929.
In the earliest years, United played their matches at nearby Sheaf House and Wednesday closeby at Olive Grove (now a Council Depot).  This is across the railway and almost opposite the Earl of Arundel and Surrey pub on Queen's Road (now a bike shop), where teams changed. The site, then on the southern edge of the town, was leased from the Duke of Norfolk but in the late 1890s was sold to provide space for the Midland Railway 'widenings', which quadrupled tracks to Totley junction after the tunnel was built.  For a time, the two clubs shared United's ground at Bramhall Lane (also shared with the Cricket club) but fell out over gate receipts and rent.  Wednesday moved to their present Hillsborough ground in 1899.  'Derby' matches, as now, sometimes caused much friction and on at least on one occasion troops had to be summoned to restore order!
John moved on to sketch through United's playing history. He reminded us that Blades, have not won a major trophy since 1925.  He thought that the club's heyday was between 1895 and 1925 under manager John Nicholson.  They were League Champions 1897-8 and won the FA cup four times in 1899, 1902, 1915 and 1925, plus twice runners up. Since then, and despite producing the likes of Tony Currie and Derek Dooley, the club had played in all four leagues and experienced a yo-yo of promotions and relegations under various managers, the nadir period being 1975 to 1981.
Bringing us up to date, things began to change for the better around 2013. On September 13th of that year Saudi Prince Abdullah Bin Musa'ad bought a 50%  stake in United's parent company, Blade's Leisure Ltd, for £1. The Prince has kept his promise to provide 'substantial new capital' with a view to returning the club to the Premier League. There followed a series of legal disputes with past owners, now hopefully resolved as success has begun to flow.  Since Chris Wilder was appointed manager in 2016 the dream has been realised: the club has come back to life by securing promotion to the Premier League on 28th April 2019.  As I write, the 'Blades' sit in sixth position above the like of Spurs, Arsenal and Manchester United and may qualify for European competition next  season.
In football, the last ten minutes can be frenetic as teams fight to seal the match.  As our speaker kept to exactly 45 minutes there was no need for the Chairman's final whistle.   We were treated to ten minutes of extra time in the form of questions stimulated by an excellent presentation given without notes or visual aids.  These ranged from the future of womens' football (excellent, support and media interest growing rapidly), why teams were made up of eleven players (even number plus goalkeeper), Derek Dooley's leg amputation, and how did Kevin Macabe compare with Alan Sugar?  There was no pitch invasion but it was quite a match and members left the ground buzzing.
It was suggested afterwards that a visit might be arranged 'behind the scenes' at Bramhall Lane and to the Sheffield United Museum which John had done so much to develop.  All followed by lunch at the Blades Restaurant. I can vouch for the excellent roast beef!