This was the first time that I had heard our own member Murray Wilson give a talk, and as I took my seat I wondered whether we would be learning about the long-running BBC children's radio programme Listen With Mother ("Are you sitting comfortably? Then I'll begin"), the 1969 single recorded by the Moody Blues or the 1989 album by the rock band IQ.
I was wrong on all three counts, and I was quickly reminded of the huge depth of knowledge and experience within our own membership, often undiscovered and unacknowledged.
Murray, a medical practioner and an anaesthetist by profession, has also had a lifelong interest in transport of all types, and for 16 years served as a medical consultant to the Air Transport Users' Council which now comes under the wing (excuse the pun) of the Civil Aviation Authority.
He has a particular interest in passenger aircraft seating – thus the title of his presentation – and talked us through the history of air transport, from the earliest days when aircraft had just a few wicker chairs and tables in surroundings more akin to a cocktail lounge, to today's sardine tin jumbo jets, or aluminium tubes as Murray described them, capable of carrying well over 500 passengers in cramped conditions (unless you can afford Business Class).
From this …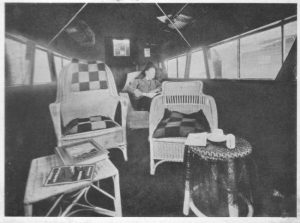 … to this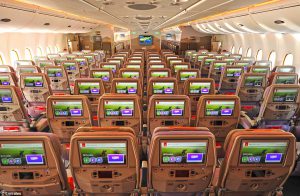 The double-decker Airbus A380-800 is certified for up to 853 passengers (538 on the main deck and 315 on the upper), achievable with a one-class configuration, although Airbus themselves refer in their marketing material to a "comfortable three-class" 544-passenger configuration. However, the Emirates airline have squeezed in a further 71 seats to carry 615 passengers in two classes.
By comparison, the Boeing 247, produced from 1933 and regarded as the first modern airliner, carried just ten passengers and a flight attendant. Even the early de Haviland Comet 1 aircraft, the world's first commercial jetliner which came into service in 1952, carried only 43 passengers,
Today it is, as Murray explained, a huge global business with around 5,000 aircraft carrying a staggering 700,000 passengers in the skies around the world at any one time. It is all about bums on seats, quite literally, and between 2018 and 2020 Boeing and Airbus between them are expected to purchase 3.4 million seats for new aircraft coming off the production line.
And from this (the last airworthy Boeing 247) …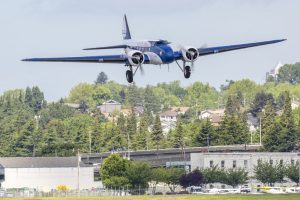 … to this (BA Airbus A380-800)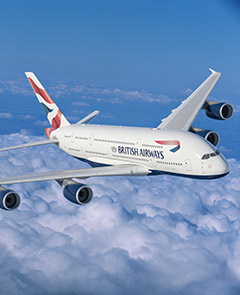 It is also a one-sided money making operation. As Murray said when he gave evidence to the House of Lords report on Air Travel and Health in 2002: "The passenger approaches the check-in desk more as a supplicant, rather than as a partner to an equal-sided contract."
On the same theme, he told us: "Airlines want to pack as many people in as possible. The more people they can get on the aircraft, the more money they make, and by producing seats for the latest A380s which are 30 per cent lighter, they can save two tons in weight and thus make big savings on fuel."
But seats also have to be built to a required safety standard and must be able to withstand 16 g (gravitational force) horizontally and vertically, which would have the effect of converting a weight of 10 stones into one ton.
There are also strict rules imposed by the CAA on the spacing of seats, with a minimum of 26 inches of knee to buttock length (British Airways currently allow 29 inches in Economy Class) and seven inches between the seat squab and the back of the seat in front.
There is no minimum width, though even a relatively generous size can have problems in these days of mounting obesity among passengers. Virgin Atlantic agreed a £13,000 settlement with a lady passenger who claimed she had been crushed and injured by an obese passenger in the adjacent seat.
Samoa has one of the world's highest obesity rates at 74.6 per cent of the adult population, and Murray explained how their national airline, Samoa Air, became the first to charge passengers by weight, introducing an XL class – and a row of wider seats – for passengers weighing more than 20.4 stones.
A question and answer session at the end of the presentation brought the inevitable question: "Where is the safest place to sit on a plane?" Murray's dry humour revealed itself when he replied: "There is no simple answer to that. But aircraft don't usually back into things."
I'll remember that next time I am checking in.