This was the first time that I had heard our own member Murray Wilson give a talk, and as I took my seat I wondered whether we would be learn­ing about the long-running BBC children's radio pro­gramme Listen With Mother ("Are you sit­ting com­fort­ably? Then I'll begin"), the 1969 single recor­ded by the Moody Blues or the 1989 album by the rock band IQ.
I was wrong on all three counts, and I was quickly reminded of the huge depth of know­ledge and exper­i­ence within our own mem­ber­ship, often undis­covered and unac­know­ledged.
Murray, a med­ical prac­tioner and an anaes­thet­ist by pro­fes­sion, has also had a lifelong interest in trans­port of all types, and for 16 years served as a med­ical con­sult­ant to the Air Transport Users' Council which now comes under the wing (excuse the pun) of the Civil Aviation Authority.
He has a par­tic­u­lar interest in pas­sen­ger air­craft seat­ing — thus the title of his present­a­tion — and talked us through the his­tory of air trans­port, from the earli­est days when air­craft had just a few wicker chairs and tables in sur­round­ings more akin to a cock­tail lounge, to today's sardine tin jumbo jets, or alu­minium tubes as Murray described them, cap­able of car­ry­ing well over 500 pas­sen­gers in cramped con­di­tions (unless you can afford Business Class).
From this …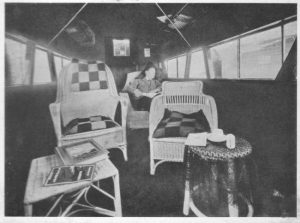 … to this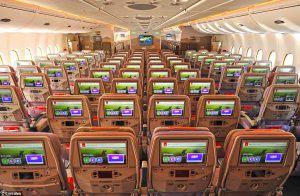 The double-decker Airbus A380-800 is cer­ti­fied for up to 853 pas­sen­gers (538 on the main deck and 315 on the upper), achiev­able with a one-class con­fig­ur­a­tion, although Airbus them­selves refer in their mar­ket­ing mater­ial to a "com­fort­able three-class" 544-passenger con­fig­ur­a­tion. However, the Emirates air­line have squeezed in a fur­ther 71 seats to carry 615 pas­sen­gers in two classes.
By com­par­ison, the Boeing 247, pro­duced from 1933 and regarded as the first modern air­liner, car­ried just ten pas­sen­gers and a flight attend­ant. Even the early de Haviland Comet 1 air­craft, the world's first com­mer­cial jet­liner which came into ser­vice in 1952, car­ried only 43 pas­sen­gers,
Today it is, as Murray explained, a huge global busi­ness with around 5,000 air­craft car­ry­ing a stag­ger­ing 700,000 pas­sen­gers in the skies around the world at any one time. It is all about bums on seats, quite lit­er­ally, and between 2018 and 2020 Boeing and Airbus between them are expec­ted to pur­chase 3.4 mil­lion seats for new air­craft coming off the pro­duc­tion line.
And from this (the last air­worthy Boeing 247) …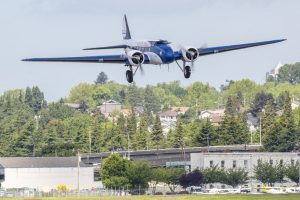 … to this (BA Airbus A380-800)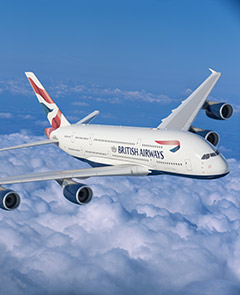 It is also a one-sided money making oper­a­tion. As Murray said when he gave evid­ence to the House of Lords report on Air Travel and Health in 2002: "The pas­sen­ger approaches the check-in desk more as a sup­plic­ant, rather than as a part­ner to an equal-sided con­tract."
On the same theme, he told us: "Airlines want to pack as many people in as pos­sible. The more people they can get on the air­craft, the more money they make, and by pro­du­cing seats for the latest A380s which are 30 per cent lighter, they can save two tons in weight and thus make big sav­ings on fuel."
But seats also have to be built to a required safety stand­ard and must be able to with­stand 16 g (grav­it­a­tional force) hori­zont­ally and ver­tic­ally, which would have the effect of con­vert­ing a weight of 10 stones into one ton.
There are also strict rules imposed by the CAA on the spa­cing of seats, with a min­imum of 26 inches of knee to but­tock length (British Airways cur­rently allow 29 inches in Economy Class) and seven inches between the seat squab and the back of the seat in front.
There is no min­imum width, though even a rel­at­ively gen­er­ous size can have prob­lems in these days of mount­ing obesity among pas­sen­gers. Virgin Atlantic agreed a £13,000 set­tle­ment with a lady pas­sen­ger who claimed she had been crushed and injured by an obese pas­sen­ger in the adja­cent seat.
Samoa has one of the world's highest obesity rates at 74.6 per cent of the adult pop­u­la­tion, and Murray explained how their national air­line, Samoa Air, became the first to charge pas­sen­gers by weight, intro­du­cing an XL class — and a row of wider seats — for pas­sen­gers weigh­ing more than 20.4 stones.
A ques­tion and answer ses­sion at the end of the present­a­tion brought the inev­it­able ques­tion: "Where is the safest place to sit on a plane?" Murray's dry humour revealed itself when he replied: "There is no simple answer to that. But air­craft don't usu­ally back into things."
I'll remem­ber that next time I am check­ing in.