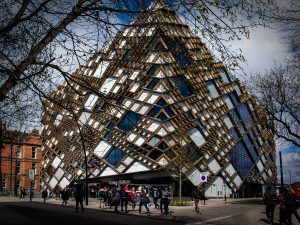 Thanks to Graham Snowdon, our secretary, eleven members enjoyed a very educational visit to the Sheffield University's latest and most expensive building, the Diamond Building. It gets its name from the outside facade which is decorated with diamond patterns. Some people hate it and others love it. At least it makes a statement. It is a science and engineering, teaching and research facility, with the emphasis on Research.
It has four floors and a basement which house:
Student-Led learning spaces.
4 computer laboratories.
9 lecture theatres.
3 work rooms.
17 engineering laboratories.
The whole interior is designed to have an open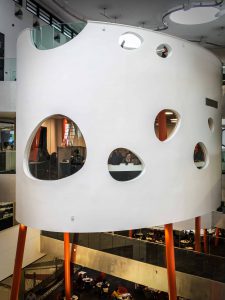 spacious feel about it and maximum use is made of natural light. The central section of the building is open with study pods on stilts to allow the natural light to come down from the ceiling.
Each study  pod has two levels, an inner level for quiet study, and an open top study area.
Most of the laboratories are around the central space and on several floors, whilst the lecture theatres are confined to the basement.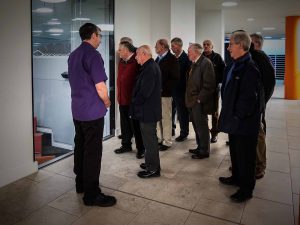 The building is open for student study 24 hours a day,  7 days a week and it has the capacity to cater for 4,300 students.
The visit lasted approximately 2 to 2.1/2 hours with some members trying their hand at flying on the flight simulators.
It was an excellent morning for the members that attended and our grateful thanks must go to the university staff who were so accommodating.