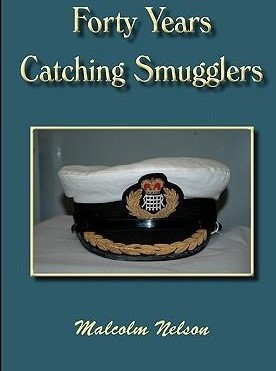 We've all been there, haven't we? You're coming home from a fortnight's holiday on the Costa Packet with nothing more sinister in your suitcase than a kiss-me-quick sombrero or a doll in traditional costume, and as you walk through the green channel you are struck by a feeling of unease. Do you look the customs officer straight in the eye? Or do you try to look nonchalant, to the extent of pretending that you haven't even noticed him? If you do happen to make eye contact, do you nod and smile or do you try and keep a deadpan face, mimicking that dodgy photo in your soon-to-expire passport?
Don't worry, Malcolm Nelson isn't after the likes of you and me. He's looking for something rather more serious – the drug smugglers, the couriers, the two-legged mules, call them what you will.
Malcolm worked for 40 years for HM Customs and Excise and worked on every aspect of catching drug smugglers. He was mainly based at London Heathrow airport but also spent time at London Port, Dover, St Petersburg, Malta and most major airports throughout the EU. He rose through the ranks from the lowest to almost the most senior before retiring in 2005, and is credited with the largest quantity of drugs by weight ever found in a single suitcase. I would like to be able to add that the culprit asked the court to take four other cases into consideration, but this is no joking matter.
Forty years condensed into one hour made for a fascinating talk, which Malcolm delivered impeccably, having been trained in advanced presentational skills. Prior to the pandemic he regularly gave 80 face-to-face talks a year to clubs and societies, mainly in the south of England (he is based on the south coast), so his Zoom talk to us was another example of how we are turning technology to our advantage.
The basic theme of Malcolm's talk – and he has plenty more up his sleeve, apparently – was how customs officers select passengers they think might be carrying drugs. Just what is it they are looking for? What are the tell-tale signs, and how do the guilty ones give themselves away?
He asked the rhetorical question: "Why do some people get stopped all the time, and some never?"
It is mainly instinct. "We stop people just by looking at them, because to start with that's all we've got to go on," he said. When a plane has landed at Heathrow with perhaps 400 passengers on board, as they come through the green channel you are watching a sea of faces. But you don't stop somebody just for the sake of it, because that would be wasting resources."
Giveaways are sometimes ladies with extra large handbags or male passengers dressed as businessmen who, on closer inspection, are actually rather grubby and haven't tied their tie properly. Drugs can be concealed almost anywhere, either on the body or in hidden places in adapted suitcases. They can be found under wigs, in fruit, inside cosmetics or inside adapted footwear. This is where sniffer dogs come in, and they are involved with up to 45 per cent of drug finds.
The customs officers are often acting on information from the public and agencies such as MI5, as well as staff in terminals, on the tarmac and in baggage handling areas. Intuition plays a big part, "If somebody has flown out direct to Bogota, why is he coming back via Brussels? Especially if the weight of his baggage has increased by 20 kilograms. Then we find out that whoever bought the ticket paid cash, which is unusual in this day and age."
Body language is also often a giveaway. "We're looking for somebody who looks as though they are acting a part," Malcolm explained.
Not every obvious 'find' brings a result. Malcolm related the amusing story of a husband and wife travelling from India who were struggling through customs with a poor quality wardrobe, chest of drawers and two bedside tables. "We could find no false compartments where they might be concealing drugs, and we wondered if drugs might have been infused into the wood or a thin sheet of heroin concealed between the layers of the plywood."
The man remained very calm, even when customs started dismantling the furniture and sawing through the parts. It transpired that the couple had been given the items by their family, who would have been offended if they had turned the gift down. The outcome was that, even though they had paid excess baggage, they received compensation from Customs and Excise for something they did not want in the first place.
It was all in a day's work for Malcolm and his colleagues