American student Amanda Knox spent almost four years in an Italian prison following her wrongful conviction for the murder of fellow student Meredith Kercher. But was she really wrongly convicted?
Stumperlowe Probus Club members made up a 32-strong jury which was asked to cast judgement after an enlightening hour-long examination of the facts by their own member Tim Stephenson, a retired professor of pathology. And on a show of hands, they overwhelmingly came to the conclusion that 'Foxy Knoxy' – as she became known in the world's media – was indeed guilty of murder in the Italian university city of Perugia in November 2007.
Knox, who was born in Seattle in 1987 and is now described as an author, activist and journalist, was convicted of the murder of her English fellow exchange student with whom she shared a flat. Knox, 20 at the time of the murder, had called police after returning to the apartment following a night spent with her boyfriend Raffaele Sollecito, and finding Kercher's bedroom door locked and blood in the bathroom. The victim was partially clothed, with her throat cut.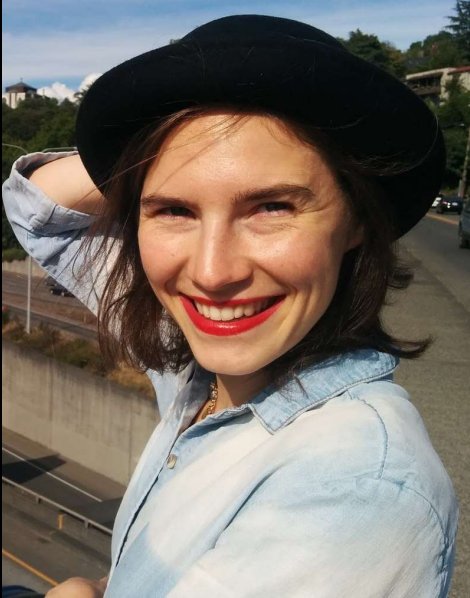 During the previous evening, Meredith Kercher had spent time with three of her English friends, preparing and eating pizzas and an apple crumble, and looking at Halloween photos. They drank only water. Shortly before 9pm Meredith and one of the friends left. They parted company, and made the short walk home. She was not seen alive again, except by her killers.
Knox and Sollecito were detained for questioning, Knox allegedly confessing to being at home when Kercher was murdered and implicating Patrick Lumumba, the owner of a bar where she worked. During police interrogations, the conduct of which was a matter of some dispute, Knox allegedly implicated both herself and Lumumba. Initially, Knox, Sollecito and Lumumba were arrested for Kercher's murder, but Lumumba was released after two weeks in prison when his alibi that he was in his pub talking to customers was corroborated. He later sued Knox for libel, winning 40,000 Euros in damages.
In the initial trial, Knox and Sollecito were convicted and sentenced to 26 and 25 years in prison respectively. A known burglar, Rudy Guede, who had been an illegal immigrant from the Ivory Coast, was arrested a short time later following the discovery of his bloodstained fingerprints on Kercher's possessions. Guede asked for a separate fast-track trial, fearing that Knox and Sollecito had formed a pact against him. He was sentenced to 30 years, reduced to 16 on appeal.
Guede admitted to having sex with Kercher, seeking to label it consensual, but claimed that another black man broke in through her bedroom window and killed her while he was in the bathroom. He had tried to help her, panicked and fled as he was 'sure to be blamed, being black.'
Worldwide media publicity portrayed Knox in a negative light, leading to complaints that the prosecution was using character assassination tractics, and her conviction caused international controversy. A lengthy legal process, including a successful prosecution appeal against her acquittal in a second-level trial, continued after Knox was freed in 2011. In March 2015, Italy's highest court definitively exonerated Knox and Sollecito. However, Knox's conviction for committing defamation against Lumumba was upheld. In January 2016, Knox was acquitted of defamation for saying she had been struck by policewomen during the interrogation.
Knox testified that during police interrogations she was confused, sleep-deprived and assaulted (she would later be tried for slander over this), and was told (incorrectly) that she was HIV+ and would die of AIDS,
Court-appointed experts testified that police forensic scientists involved in the murder case made a series of glaring errors during their investigation. In a point-by-point deconstruction, the experts said that because of the errors made by police during the original investigation, the evidence against Knox and Sollecito should be considered "inadmissible."
However, this was not a view shared by a large majority of Stumperlowe Probus members, who were asked to vote at the end of Tim's presentation in our latest meeting at Fulwood Sports Club. And guilty, they were reminded, meant guilty beyond all reasonable doubt.