Dr Jenny Stephenson is an active GP prac­tising at Stannington and author of three local his­tory books cov­er­ing med­ical his­tory, phar­macy and now water gave us a most inter­est­ing talk this week.
The talk was based on a book writ­ten by Dr Jenny Stephenson, (see pic­ture) recently pub­lished, which is an easily read­able account of the above and many other issues, fully illus­trated in colour with her own pho­to­graphs and paint­ings. This book is sold entirely for WaterAid and Cavendish Cancer Care. Twenty books at £13 each would, for example, raise enough money to build a toilet in a school in Ghana. It can be obtained dir­ectly from Jenny at jenny@the-stephensons.demon.co.uk or from Waterstones in Orchard Square as well as sev­eral out­lets in the city; also from Amazon on the link below: https://www.amazon.in/History-Water-Sheffield-Reflection-civilisation/dp/1905278918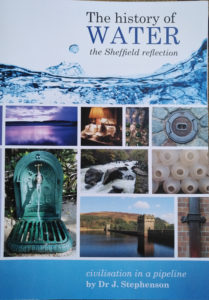 Jenny star­ted her present­a­tion with a declar­a­tion of interest given that water forms approx­im­ately 70 % of an adult body which needs con­stant replen­ish­ing, chil­dren about 1.75 litres per day at 7years and up to 3.3 litres by age 18. Jenny's interest is also enhanced by her runs around many of the reser­voirs that sur­round the city and provide fresh clean water not just for Sheffield but a much wider geo­graph­ical area includ­ing Manchester, Derby,Nottingham together with parts of South and West Yorkshire. Runs which whilst nor­mally a great enjoy­ment occa­sion­ally did not end well such as the time she fell at the water's edge whilst watch­ing a sand­piper, a moment now marked by a stone cairn to act as a memorial.
Sheffield, Escafeld in old English,became famous from the early 12th cen­tury for its cut­lery and later steel indus­tries and developed over time due in large part to the avail­ab­il­ity of a good supply of run­ning water for mills, the seven rivers and springs also sup­ply­ing a source of drink­ing water. The expan­sion of the city, espe­cially during the indus­trial revolu­tion, put pres­sure on drink­ing water pro­vi­sion and the lack of proper san­it­a­tion almost inev­it­ably led to infect­ive con­sequences that were not at the time anti­cip­ated or acted upon. Cholera first struck in 1832 and again in 1849 with over 400 deaths includ­ing the Master Cutler John Blake. This was des­pite the earlier pro­vi­sion of clean water from dams con­struc­ted in the 18th cen­tury in Crookes and else­where with water being dis­trib­uted, around what was a small town of 40,000 in 1737, via hol­lowed out oak trees. The pop­u­la­tion remained fairly static until 1800 but over the next 100 years bal­looned to 400,000+ with par­tic­u­larly sewage treatment/disposal not keep­ing pace with the increased demand.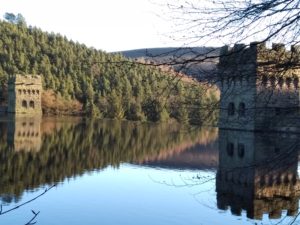 The build­ing of reser­voirs was a time con­sum­ing busi­ness with each requir­ing a sep­ar­ate Act of Parliament the reser­voirs at Redmires and Hatfield being con­struc­ted in 1833 and 1836. The Sheffield flood dis­aster fol­low­ing the col­lapse of Dale Dyke dam in 1864 which killed 264 local res­id­ents and dam­aged over 600 build­ings caused con­sid­er­able delay in improv­ing the city's water infra­struc­ture whilst repar­a­tion works were com­pleted.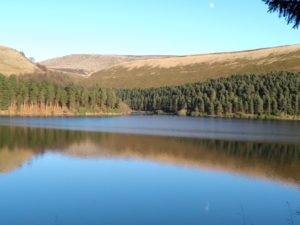 It took more than 22 years for the author­it­ies to react to the prob­lems fol­low­ing the enact­ment of the Public Health Act 1848 and research under­taken by John Snow who iden­ti­fied water as being the trans­mit­ter of chol­era and Robert Koch who estab­lished the pres­ence of the chol­era bac­teria in con­tam­in­ated water. It was not until 1886 that the first efflu­ent treat­ment plants were con­struc­ted in the Sheffield area des­pite the fact that sewer sys­tems were in place in 1840 in Liverpool thanks to James Newlands and in London cour­tesy of Joseph Bazelgette.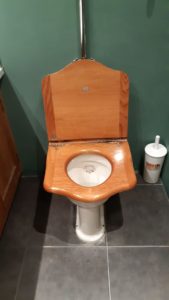 Jenny then gave us an insight into the devel­op­ment of san­it­ary ware as we know it today start­ing with the first valve flush toilet inven­ted by Joseph Bramah, a toilet which can be seen at Butcher Works on Arundel Street, though this is in private hands and not gen­er­ally open to the public. Jenny also was able to show us a pic­ture of the toilet in Westminster Abbey installed for Queen Victoria and designed by the ever famous Thomas Crapper and one of the first taps on a public water foun­tain in Nottingham designed by Thomas Hawksley.
Jenny then took a look to the future with ques­tions as to how do we main­tain clean sup­plies for an ever grow­ing and demand­ing pop­u­la­tion world­wide, what do we do regard­ing what seems to be a rising tide of micro­plastics and what are the pos­sible impacts or cli­mate change on water and sewage pro­vi­sion? As food for thought one litre of water in a plastic bottle res­ults in the same emis­sions as a car driv­ing one mile and the estim­ated emis­sion of CO2 in the pro­duc­tion and trans­port of bottled water is some three mil­lion tons annu­ally.
Jenny then fin­ished on a dis­turb­ing stat­istic that even today 790 chil­dren die every day from the effects of dirty water and it is there­fore incum­bent on the respons­ible author­it­ies around the world to do as much as they can to alle­vi­ate this issue.
Following ques­tions Jenny received a very warm round of appre­ci­ation for what was an illu­min­at­ing and enter­tain­ing present­a­tion.