This morning's talk was presen­ted by George Clark a retired anaes­thet­ist and covered the Anglo Zulu con­flict of 1879. The war has been described as an ill-conceived, incom­pet­ently executed and fruit­less cam­paign. 20,000 British troops faced 40,000 Zulus, more than 10,000 Zulus were killed and 2,000 British troops died. Not the British Empire's finest hour.
The Zulu nation was foun­ded in about 1816 and the first king was called Shaka who instig­ated the buf­falo horns form­a­tion when attack­ing the enemy which proved to be very effect­ive par­tic­u­larly when com­bined with shorter spears and larger shields.
f
By 1872 Cetshwayo kaMpande had become king of the Zulus and in 1873 the king­dom was described as the most polit­ic­ally soph­ist­ic­ated, admin­is­trat­ively integ­rated and mil­it­ar­ily power­ful black state in sub-Saharan Africa. The pop­u­la­tion numbered 250,000 and the army 40,000.
The British Government had neg­li­gible interest in South African ter­rit­or­ies until the dis­cov­ery of dia­monds there in the 1860's and it became British policy to try to estab­lish a con­fed­er­a­tion of South Africa to include the Boer states and to annexe the Zulu king­dom.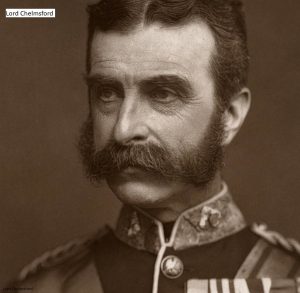 In 1877 Sir Bartle Frere was appoin­ted High Commissioner for Southern Africa to achieve this aim. He decided to instig­ate a con­flict with the Zulus by exag­ger­at­ing recent border incid­ents and issued an ulti­matum to King Cetshwayo which included the dis­band­ing of the Zulu army. When Bartle Frere received no response to his demands a British force under the com­mand of Lord Chelmsford invaded Zululand in January 1879 with about 17,000 troops des­pite the fact the British Government had not author­ised any such action.
The ini­tial inva­sion in three columns was largely unop­posed and Chelmsford set up camp with the cent­ral column at Isandlwana but failed to estab­lish proper defens­ive pos­i­tions. Chelmsford decided to split his forces to sup­port a recon­noitring party and left the camp in the charge of Colonel Pulleine. The British force was out­man­oeuvred by the nearly 20,000 strong Zulu army and of the 1,700 troops in camp over 1,300 were killed with about 1,000 Zulus per­ish­ing. Messages sent to Chelmsford implor­ing him to send rein­force­ments were ignored. Of the other British forces, the right flank column advanced as far as Eshowe but was cut off and the left flank retreated on hear­ing of the dis­aster at Isandlwana.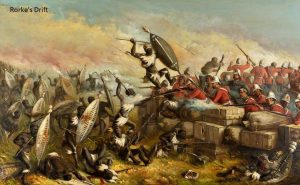 Meanwhile a small force under Lieutenants Bromhead and Chard (about 100 sol­diers) was gar­risoned at Rorke's Drift when they came under attack from a force of approx­im­ately 3,000 Zulu. This was the sub­ject of the famous film "Zulu". Over the next six hours the gar­rison was sub­jec­ted to wave after wave of Zulu attacks which were repelled by gun­fire and bay­on­ets. The enemy tired and without food, even­tu­ally aban­doned their attack after mid­night. Over 600 Zulus were killed com­pared to 15 British dead and 12 wounded. 11 VC's were awar­ded.
The British Government decided to com­plete the inva­sion of Zululand and sent rein­force­ments over the next two months to help Chelmsford achieve this. He had suc­cesses at Khambula and in the relief of Eshowe. He then moun­ted a second inva­sion with 9,000 infantry and 1,000 cav­alry and cannon. At the battle of Ulundi, Cetshwayo's army of 20,000 was decis­ively defeated.
Chelmsford was never given a com­mand again and the British Government decided they no longer wanted Zululand annex­ing or form­ing part of a con­fed­er­a­tion. Instead the land was divided into thir­teen chief­doms.
This was a fas­cin­at­ing and detailed talk thor­oughly enjoyed by all.