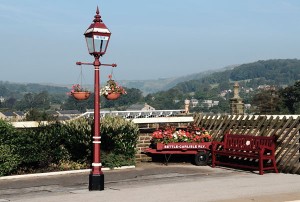 Stephen began his 13th present­a­tion to us since 2001 where he fin­ished off in Part 1 of the talk on the 28/1/13, near Leeds. The exact loc­a­tion being Kirkstall Abbey, built in the 11th cen­tury, which is situ­ated on the Midland Railway line, Leeds to Carlisle sec­tion, opened in 1876. The line closed in the 1960s fol­low­ing the pub­lic­a­tion of the Beeching report, just 50 years ago, but it re-opened in 1971.
With his faith­ful German shep­herd dog Wrawby for com­pany, and occa­sional pro­tec­tion, we were taken on an absorb­ing trip, won­der­fully illus­trated with genu­ine unen­hanced slides and accom­pa­ny­ing nar­rat­ive. We jour­neyed through Shipley, along­side the Leeds to Liverpool canal, Keighley, Skipton, Gargrave, Hellifield (the gate­way to the Dales), Ingleton, Hawes, Settle, and Ribblehead, up to Dent sta­tion. This is the highest main­line sta­tion in England at 1150 feet above sea level, just across the Yorkshire border, in Cumbria.
We heard tales of Victorian tea rooms, a must to visit, and a Light Railway which had to be closed due to van­dal­ism. There was the Worth Valley Railway spur to Oxenhope from the main­line sta­tion at Keighley, with Demems signal box, that is gas lit and has a pot­bel­lied stove, at a request stop. The occa­sional steam engine passes by in front of the sta­tion­mas­ters house along­side the track which Stephen drooled over owning, and we saw Oakworth tunnel of 'Railway Children' fame.
Once out onto the bleak Moors, the slides became even more stun­ning, fur­ther appre­ci­ated when we heard tales of long treks in dif­fer­ent sea­sons, to get the right pic­ture. Trudging through snow, or walk­ing at night to get the sun­rise. There were pic­tures of the river Ribble, Ellwith Bridge, Ribblehead via­duct, the '3 Peaks', Artengill via­duct and Dent Head via­duct. We heard a tale of a warm wel­come he received at the Blea Moor signal box near Ribblehead, where the water for the sig­nal­man was still delivered daily on the first train.
The engin­eer­ing feats and human sac­ri­fices made during the con­struc­tion of the line, coupled with Stephen's ded­ic­a­tion, enthu­si­asm and love of rail­ways and great Yorkshire out­doors, were reflec­ted in the talk. We also heard examples of his poems which he read to us and were very much appre­ci­ated.
He knows we can't resist invit­ing him again, as he left us in sus­pense part way through the next jour­ney. Watch this space!