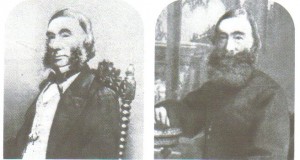 Dr Susan Deal told the extraordinary story linking the 5th Duke of Portland to one Thomas Charles Druce. It was claimed that they were the same person by the daughter in law of Thomas Charles Druce and that her son was the rightful heir to the Portland fortune. It was a Victorian mystery full of twists, claims, counter claims, and lies. In the photograph the Duke of Portland is on the left and Thomas Charles Druce is on the right.
In brief the 5th Duke of Portland was an exceedingly eccentric man; who lived from the 12th September 1800 to the 6th December 1879. He was  christened William John Cavendish Cavendish-Scott-Bentinck and lived at Welbeck Abbey, in the Dukeries, Nottinghamshire.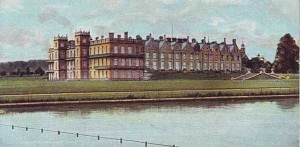 He never married and preferred to live in seclusion and was not seen for long periods of time. During his lifetime he built several underground chambers and halls, linked together by approximately 15 miles of tunnels.
Thomas Charles Druce was supposed to have been born in 1784 and died in 1864. He lived in London, was very wealthy and was the co-owner of a London upholstery business called the Baker Street Bazaar. He looked very much like the Duke of Portland and his daughter in law claimed, after the death of the Duke that the death of Charles Druce had been faked by putting lead weights in his coffin so that the Duke could return to his estate in Nottinghamshire. When the claim became public various other relatives showed up on the scene each claiming their right to inheritance.
Eventually on the 30th December 1907, amid tight security, the grave of Thomas Charles Druce was opened and his body exhumed, proving that the Duke had not lived a double life.
There are references to the case in Wikipedia, UK Campus, Leftlion and many more websites. They all make interesting reading.
Dr Susan Deal's account kept us spell bound and would have been classed as an unbelievable story if it were not true.