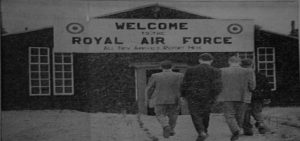 Our Treasurer, who spoke in Part 1 about his National Service days in an RAF band, agreed at short notice, to enter­tain us with fur­ther yarns of his time in the Service, because the sched­uled speaker had become inca­pa­cit­ated. Geoff poin­ted out that he had obvi­ously not been first choice, as the Chairman admit­ted he had made sev­eral tele­phone calls before con­tact­ing Geoff.
Not fond of school, Geoff left at 16 with 5 'O' levels and ended up in Local Authority employ­ment, which didn't suit him.
National Service called, and as he had been in the Boys Brigade play­ing and win­ning accol­ades in the band from ages 11 to 19, he found him­self in the RAF band.
Advised to apply for a com­mis­sion, he went to Uxbridge for a week­ends activ­it­ies and inter­view. Imagining him­self as a pilot when issued with new kit, he had to solve prob­lems and give a talk. He was unsuc­cess­ful, so, gave up fur­ther applic­a­tions.
Reflecting on times in his billet, shared with many others, espe­cially the first 6 weeks, when they were not allowed off the camp, there were:-
'Bull' nights when the Sergeant came to inspect the clean­li­ness of the billet and layout of each per­sons equip­ment, which had to be in a pre­scribed order.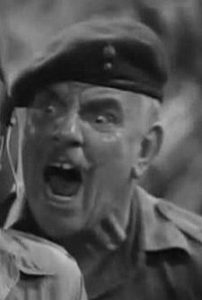 Some were verbally sav­aged, and had their belong­ings strewn around the billet. The rest thanked their lucky stars that they hadn't been treated the same way.
'Beret' nights. The troops were instruc­ted to wear wel­ling­ton boots and beret over their pyja­mas, in bed, for a pos­sible fire drill at mid­night. This, of course, was a hoax, to much amuse­ment from the older troops return­ing from the pub, to see a line of men scrab­bling out of a billet and lining up in their pyja­mas, boots and beret, in the response to the fire alarm. Geoff missed this indig­nity by sleep­ing through the alarm.
Applying to swap his post­ing from Helmsley to Gainsborough, and although warned, he ended up being posted abroad to Omaha, Nebraska, for 6 weeks. This was a con­tinu­ally busy air­port with big planes coming and going on their way to and from N.Canada. The bil­lets were sited at the end of the runway, with con­stant noise and vibra­tion. Sleep depriva­tion meant on one occa­sion he slept through 4 films until 6am, at an all-night movie in a car park.
On his return, Geoff worked in Bomber Command as an Accountant at RAF Honnington, near Thetford. Managing to 'wangle' his work to allow each week­end to be a long one, he recoun­ted tales of how he got to Sheffield from East Anglia before Motorways, by hitch­ing, cadging lifts, in dodgy cars, and some­times in much dis­com­fort.
Eventually posted to Germany, with his wife, he bought an old Ford Popular, traded his cigar­ette coupons for petrol coupons, put 4 large full petrol cans in the boot, bought at 1/6d per gallon, and toured Europe, includ­ing a stay under the 1925 Olympic ski jump at Innsbruck. The cour­age of those who jumped off, remains with him.
A final remin­isce was of a Squadron Leader with a severe limp lead­ing the troops not in a straight line, but with a bit of 'left hand down' because of his dis­ab­il­ity.
A nat­ural racon­teur, Geoff kept us well enter­tained with this and other yarns. A very worthy replace­ment for the sched­uled speaker, he was warmly thanked.