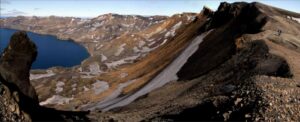 The men­tion of Icelandic vol­ca­noes takes most people back to the 2010 erup­tion, when fine ash caused wide­spread dis­rup­tion to air flights over north­ern and west­ern Europe from April to July.
But the erup­tions of Eyjafjallajökull in the south of the coun­try were but a drop in the ocean – prob­ably lit­er­ally for most of the ash – when com­pared with earlier recor­ded erup­tions and poten­tially even greater ones to come.
Dr Dave McGarvie, a Scot who has worked in Yorkshire in the past but is cur­rently an hon­or­ary research fellow at Lancaster University, spe­cial­ising in vol­can­ism, kept 45 of our mem­bers and guests enthralled during a one-hour illus­trated talk on Iceland and its vol­ca­noes.
This was an addi­tion to our cur­rent pro­gramme of twice-monthly Zoom present­a­tions during lock­down, brought for­ward because Dave, after being groun­ded not by vol­canic ash but by Covid-19 in 2020, is hoping to get the green light to carry out another six weeks' research in Iceland during the coming summer.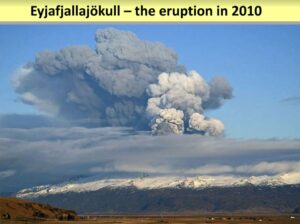 The 2010 Eyjafjallajökul ash cloud caused so much dis­rup­tion because it was, as Dave explained, a 'per­fect erup­tion.' It was unusual on four counts – it occurred during a pro­longed spell of dry weather, a higher pro­por­tion than normal of the ash was very fine, the winds at the time car­ried the ash dir­ectly towards the UK and the rest of Europe, and it was unusu­ally long-lived for its size, pro­du­cing ash for 39 days.
In addi­tion, all air­craft were groun­ded because of inflex­ible flight rules.
By com­par­ison, the Grímsvötn erup­tion to the north east of Eyjafjallajökull in 2011 — known as the for­got­ten erup­tion – res­ul­ted in a 20-kilometre high plume, com­pared with Eyjafjallajökull's plume of around eight kilo­metres, and pro­duced as much ash in two days as Eyjafjallajökull did in 39 days.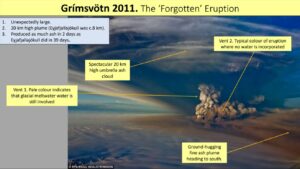 In July 2011, a few weeks after the erup­tion ended, Dave trav­elled on the first exped­i­tion to the erup­tion site to study it and col­lect samples before snow covered the evid­ence.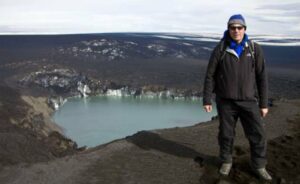 Our next port of call during Dave's talk was Askja, a vol­cano in the cent­ral east of the coun­try which last erup­ted in 1961 but which, he assured us, would def­in­itely erupt again. In 2014 there was a large land­slide and a 'tsunami' which exceeded 50 metres in height and washed a great deal of pumice from an earlier (1875) erup­tion into the water-filled cal­dera (Spanish for boil­ing pot — GS) formed by that erup­tion and, at around 257 metres, the deep­est fresh­wa­ter lake in Iceland.
Dave then took us to the espe­cially scenic Eastern Fjords, and on to Hvalsnes, which means 'Whale Point' where lookouts used to watch, and which has a repu­ta­tion as one of the win­di­est places in Iceland, as he found out in 2003 when the win­dows on the sea­ward side of his parked minibus were smashed by flying sand and pebbles driven by a wind of around 140mph.
Öraefajökull, in the south east of the coun­try, is Iceland's largest and tallest vol­cano, with a dia­meter of 25 kilo­metres at its base and a height of 2,000 metres. Öraefajökull had a huge erup­tion in 1362 and its last was in 1727–28. But in June 2017, there star­ted what Dave omin­ously described as a 'period of unrest.'
If any­body is plan­ning a hol­i­day to Iceland, that might be a good place to avoid. Or at least wear a hard hat.
All images via Dr Dave McGarvie