Alan Zinober gave us a most inter­est­ing talk mainly on apartheid in South Africa but touched on examples of racial segreg­a­tion through­out the world. Alan was born in South Africa but emig­rated to England in the early 70's so exper­i­enced the apartheid regime first hand and was well qual­i­fied to give us his thoughts.
Apartheid was a polit­ical and social system in South Africa during the era of white minor­ity rule under pinned by legis­la­tion intro­duced by the National Party in 1948. It enforced dis­crim­in­a­tion against non-whites mainly focus­sing on colour and facial fea­tures. The word apartheid means 'sep­ar­ate­ness' in the Afrikaans lan­guage. South Africa was not alone in having segreg­a­tion. The USA has a long his­tory of segreg­a­tion with the Ku Klux Klan ( KKK) inflict­ing many thou­sands of lynch­ings and beat­ings on black cit­izens. The Civil Rights Act – 1964 was passed to see the end of racial segreg­a­tion, although sadly it is still common in the USA. Today segreg­a­tion is still common through­out the world in one form or another whether it be through slavery, the caste system, reli­gion, racial pre­ju­dice or simply the master/servant rela­tion­ship.#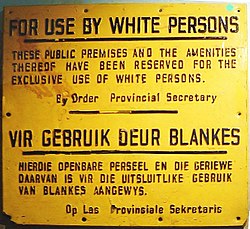 The National Party took over in 1948 and imme­di­ately passed a whole host of ' Apartheid Segregation Acts' which were aimed at for­cing dif­fer­ent races to live sep­ar­ately from each other. The system was used to deny many basic rights to non-white people., mainly black in South Africa. People were defined by colour – white, black, col­oured and Indian , being Chinese caused con­fu­sion it appears ! Your colour defined where you lived , where you worked, whether you needed a pass to access cer­tain areas, whether you could vote, where you sat on the bus, which beaches you could visit, whether you could vote. etc, etc.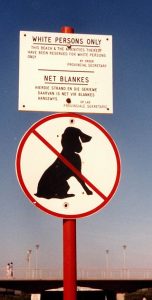 Interracial mar­riage was banned. Often it was dif­fi­cult to decide who was black, white, col­oured and all shades in between which res­ul­ted in at least one hardly sci­entific test being used called the 'pencil test ' where a pencil is run through Afro tex­tured hair to decide on the eth­ni­city . The Acts and their enforce­ment were extremely com­plic­ated and often ludicrous caus­ing misery and hard­ship. People rebelled with protests in Sharpeville (1960) and Soweto ( 1976) but were aggress­ively put down. There was grow­ing inter­na­tional cri­ti­cism of the regime and coun­tries boy­cot­ted South Africa in terms of trade, sport­ing and music events in order to isol­ate South Africa and bring apartheid to an end.
In 1989, F.W.de Klerk became President of South Africa and set out to reform the system.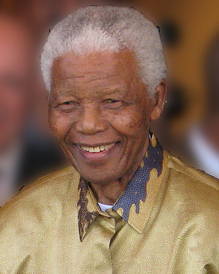 Nelson Mandela
Nelson Mandela was released from prison and the ban on the African National Congress (ANC) was lifted. The first mul­tiracial elec­tion was held on 27th April 1994 when all races could vote. ANC was vic­tori­ous and Nelson Mandela was elec­ted President of South Africa. This date is con­sidered the end of apartheid. Today, black cit­izens are in pos­i­tions of power, in the pro­fes­sions and have wealth but there is still a large major­ity of them who live in poverty. Apartheid lasted for over 40 years and it will take fur­ther dec­ades for the soci­ety to change and have a better dis­tri­bu­tion of wealth.