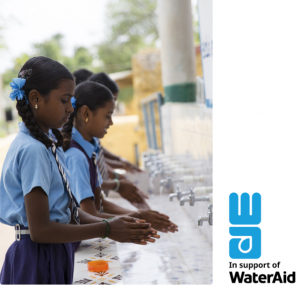 " Clean Water, Decent Toilets, Good Hygiene"
 In the Gents' toilet at our venue, Christ Church Fulwood, there is a notice showing the facility we use is 'Twinned' with a rather charming thatched latrine in Zambia.  It is a reminder that we tend to take our cleanwater supply for washing and cooking, sanitation, and sewage disposal for granted. All is provided conveniently and reliably to our households at probably-if metered and paid by Direct Debit- less daily cost than the price of Costa Coffee.
Our Speaker this week, Peter Watson, graduated in Ecology from Bristol University in 1973.   He worked as a water and sanitation engineer for number of Water Authorities and companies including Edinburgh, Yorkshire and Anglia.  For the last ten years of his career Peter delivered water and waste water training courses, and the National Hygiene training and assessment requirements to water companies' and allied staff. 
After retirement, Peter wondered how he might put his working lifetimes experience to benefit others. He went on to share how his interest was aroused and how he in turn now volunteers as a speaker to arouse, inform and update others.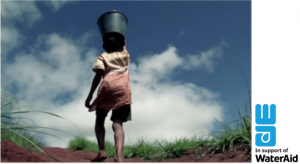 "Lala and her waterbucket" 
Peter contrasted our lives in the UK –where we use an average of 138 litres of water per head each day- with communities  in the third world. Our speaker gained our attention with a number of harrowing photos of urban slum and rural privation. People using primitive latrines or earth holes which frequently foul water sources spreading such conditions as Cholera and Dysentery.  On the encouraging side, we were shown what a difference the installation of decent sustainable if sometimes low tech facilities can make (see photo at top, taken in Nigeria).  We were amused by the picture of a bicycle adapted to pump water!   But it was the photo and story of Lala  in Zambia  which I will always recall. This young child was only four years old and one of seven siblings.  She had to walk four miles twice a day to carry twenty litres of water that her family needs every day. Think of the impact of all that weight, borne for perhaps two hours or more per day, on her young body. And the time wasted that could have been put to more productive use such as early education and when older, economic activities and skills.
While a number of agencies such as Oxfam had earlier involvement in handling emergency situations there was, by the 1980s, a growing need for a more coordinated international approach with a strategy and resources to deal and find solutions to matters on a long term basis.  It was clear that the world's population was growing and urbanising rapidly: 3 Billion in 1980 has grown to 7 Billion today. Growth for the remainder of this century was likely to be greatest in parts of Asia, Latin America and especially, Africa.  Water usage was growing as living standards rise together with irrigation/agricultural output to feed the expanding population. Even today one in nine of the world's population has no clean water, one in three has no decent toilet and one child in two dies because of unhygienic conditions.
Poverty and lack of food and basic facilities can, of course, affect both men and women: but it's the latter that seem to come off worse. Peter emphasised that menstruation is a key area where projects by his charity assist girls and women.  Privacy provided by a decent toilet, along with education and raised awareness. Both can make the difference to encourage a girl to stay at school.
These concerns about water supply and its impact on health and economic growth in an increasing number of third world countries were the subject of the 'Thirsty World' London Conference in 1981. WaterAid was set up as a charity shortly afterwards involving several UK water companies who offered both resources and expertise to provide sustainable projects in needy nations such as Ethiopia, Zambia, Nicaragua, Bangladesh, and others. While many projects are small, some are large, such as the Dolaka enterprise in Nepal which benefits 30000 people.  The landscape is mountainous.  It might be good for sightseeing but not so good if you have to climb a difficult terrain and the carry it back to your house!
 Under the Presidency of Prince Charles, the 'Wateraid' concept has spread to several other 'giving 'countries including Australia, Canada Sweden and USA.  In 2010 the organisation became a federation working with 34 'receiving' countries. WaterAid receives its funding from Water Companies' (in response to a question voluntary levies from customers), donations, fundraising events (including Glastonbury) and government aid grants.
Looking to the future, WaterAid is one of the partners with the United Nations Millennium Development initiative which is seeking to improve the lives for disadvantaged peoples by 2030. While it is estimated that 1.4 billion have benefited to date from there are many challenges ahead.