I wasn't cut out to be a marqueteur. I even failed my GCE 'O' level in woodwork. So I could only marvel at the intricate skill with wood veneers, knives, scalpels and fretsaws displayed not only by master furniture maker Thomas Chippendale but also by our speaker Jack Metcalfe.
It was not until the last decade of his working life that Chippendale, the great cabinet maker, turned to producing marquetry decorated furniture, but his creations set him apart from his rivals and he produced a group of commissions that stand out as worldwide masterpieces of their time.
And Jack Metcalfe has devoted the last 25 years to uncovering and mastering the techniques of marquetry as practised by Chippendale and his skilled artisans – he had a labour force of around 50 people – in the 18th century. Using equipment, materials, dyes and techniques as close to the original as possible, Jack has built replicas of several of Chippendale's most striking pieces of furniture.
He has researched, taught, lectured and written about marquetry-decorated furniture. He wrote his first book in 2003, and The Marquetry Course became an international success, topping the best sellers list in marquetry books. It has been translated into Dutch, German and Hungarian.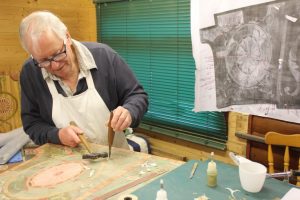 "Spurred on with this response," he explained. "I started researching Thomas Chippendale's marquetry furniture and closely examining the techniques used by the marqueteurs of the day."
Jack, who lives in North Leeds and recently celebrated his 80th birthday, took up marquetry as a retirement project after taking a golden handshake at the age of 50 following a career with BT which culminated in London.
"I worked all over the place," Jack remembers. "My dear wife ran the home and family. I would leave on a Monday morning and not be back until Friday." And, post-retirement, it was his wife's uncle who suggested that Jack now needed a hobby to fill his time.
"Uncle Tommy took me under his wing and gave me the greatest lesson of my life," explains Jack. "The 'lesson' lasted eight years! During that time, he passed on a lifetime's skill and even more personal wisdom."
Jack went on to teach marquetry at Leeds College of Art and Design, for three years, and then at York College for a further five years.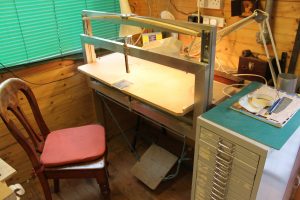 Thomas Chippendale, the only son of a carpenter, was baptised in 1718 in the market town of Otley, five miles away from Jack's own home. He was apprenticed to Richard Wood, a cabinet maker and wood carver based in York, and in 1748 he married Catherine Redshaw in fashionable Mayfair, London.
In 1754, two events were to change Chippendale's life forever. He moved into premises in St Martin's Lane, London, where the dwelling offered enough space for the many workshops he would need to run his business, as well as accommodation for both himself and his family. He also produced a portfolio of all his furniture designs, a manuscript he called The Gentleman and Cabinet Maker's Director. It was an instant success, since all his commissions emanated from that publication and took him into the world of the aristocracy and wealth. It transformed his reputation overnight.
Most of his commissions are held in Yorkshire houses, showing how loyal he was to his home county. Harewood House, where the great master collaborated with renowned architect Robert Adam, has the most prominent collection. In addition Nostell Priory, Newby Hall and Temple Newsam House hold valuable items of Chippendale furniture.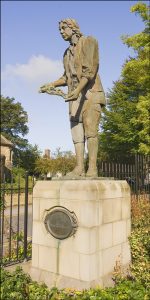 Jack Metcalfe is in the process of moving home, forsaking the impressive workshop at the back of his present house and hanging up his collection of tools for the last time. "With my books I think I've done as much as I can to record Chippendale's work, and I had eight years teaching Chippendale's marquetry, so I've been able to pass something on to the next generation," he told us.
Sadly, Jack's beloved wife Gloria died of motor neurone disease in 2012, and he asked for his speaker's fee from Stumperlowe Probus Club to be donated instead to the Motor Neurone Disease Association: https://www.mndassociation.org/