Peter Stubbs is a retired Sheffield solicitor with a lifelong interest in history.  His talk takes us back to a very different time.  Our royalty was closely allied to the House of Hanover and the Holy Roman Empire.
George III (born 1738) was King of Great Britain and Ireland from 25 October 1760 until the union of the two kingdoms on 1 January 1801, after which he was King of the United Kingdom of Great Britain and Ireland until his death in 1820. He was concurrently Duke and Prince-elector of Brunswick-Lüneburg in the Holy Roman Empire before becoming King of Hanover on 12 October 1814. He was a monarch of the House of Hanover, but unlike his two predecessors, he was born in Great Britain, spoke English as his first language, and never visited Hanover.
In 1761, George married Charlotte of Mecklenburg-Strelitz and they enjoyed a happy marriage, with 15 children.  After serious bouts of illness in 1788 – 1789 and 1801, thought now to be caused by porphyria, he became permanently deranged in 1810. The Prince of Wales (later George IV) became regent.
George remained ill until his death at Windsor Castle on 29 January 1820.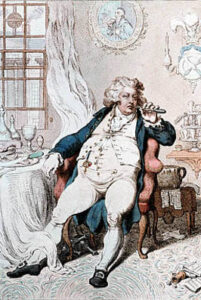 His first son became George IV of the UK. Born in 1762, he was very accomplished youth interested in art, music, literature and architecture.  He was continually at logger heads with his father.  At the age of 18 the Prince of Wales was given a separate establishment. He threw himself into a life of dissipation and wild extravagance.  When 21 he was given an annual income of over £6m plus a grant of £7m in today's equivalence.  This was totally inadequate for his lifestyle.  He was illegally married to Maria Fitzherbert who he adored and then was forced in 1795 to marry Princess Caroline of Brunswick who he hated. After the birth of their only child Princess Charlotte, they separated and divorced.  His debts in 1795 reached the equivalent of £65m.  His lifestyle made him very unpopular with the populace.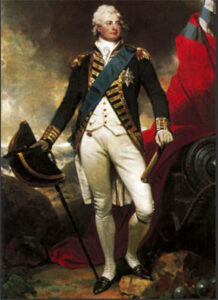 In 1763 Frederick (Duke of York) was born, followed in 1765 by Wilhelm.  Most of George's sons served in the Army but Wilhelm was regarded as of little importance and served as a midshipman in the Navy with no privileges.  He loved the life and became a very competent lieutenant and then a captain of warships. In 1791 he began a relationship with Mrs Jordan.  She was an actress and they were always short of money. In 1818 he married Princess Adelaide of Saxe-Meiningen.  He rose to become Lord High Admiral.  In 1830 he became King William IV to the great approval of the populace and the Duke of Wellington.  He restored the popularity of the Crown.
Space does not permit even a brief resume of the other 12 children nor the link to Queen Victoria.