Steven Gay has an encyclopaedic knowledge of the English railway system and is a regular speaker at the Club.  His talk about the Woodhead Tunnels is the 19th journey he has taken the Club on.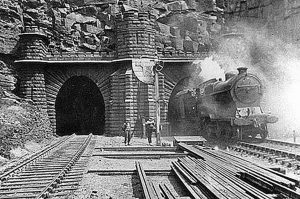 This was a photographic journey that started on the Trans Pennine Trail to the east of Hatfield.  The Trail is on the bed of the old Manchester, Sheffield and Lincolnshire Railway.  In 1837 work began on the Woodhead 1 tunnel.  This was a difficult tunnel to construct using hundreds of navvies and was only wide enough for a single track.  In 1845 the tunnel was opened for passenger traffic and was the main link between Manchester and Sheffield.  It brought coal from the South Yorkshire Coal Fields to the Lancashire industrial belt and was soon found to be inadequate for the traffic.  It was always thought that a second tunnel might be needed.  A second tunnel running alongside Woodhead 1 was cut and in 1853 Woodhead 2 was opened allowing trains to flow in both directions without delay.
The Trail takes the public to the station at the western end of the tunnels and then diverts over the top of the tunnels through glorious scenery looking down on the reservoirs along the Woodhead Pass.  Steven always adds many interesting asides often prompted by the photographs.  One such was when he noticed smoke rising from a chimney at the end of what he thought was a row of derelict railway men's cottages in a very isolated part of the moor above the tunnels.  He went up to the door and gave it a knock.  The occupant had worked on the railways for over 50 years and a friendship started that lasted for years.
The tunnels were overused with 250 trains each way using them each day.  In 1953 a new tunnel was opened.  Woodhead 3 was designed for the first electric railway in the UK and the other tunnels were closed.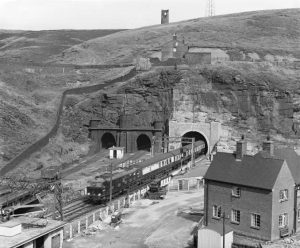 In 1970 this line was closed to passenger traffic and in 1981 the line was closed completely.  Woodhead 1 was then used to accommodate electric cables.  Woodhead 1 & 2 were finally sealed and new cables were laid in Woodhead 3.
It is a moot point whether any of the tunnels might find a use as a part of the regions transport system in the future.  As always the photographs and the dialogue were excellent.