Gareth introduced his excellent talk by outlining his admiration for Ken Hawley whose Sheffield tool collection rests at Kelham Island. Ken's main interest was not just the finished Sheffield product but more the manufacturing process, which eventually led to a massive collection of more than 100,000 artefacts.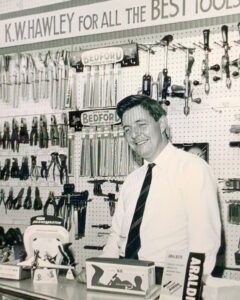 Ken Hawley's family were in the tool business and, after national service, he moved into power tool sales and eventually owned his own shop, with the slogan "we sell nowt but tools". He was renowned for giving personal advice to his customers about the right tools needed for the job. He was also quite adept at wheedling from his contacts any item he fancied for the collection; he once spotted a brace at an undertaker's; "You'll not be needing that now?" He got the brace!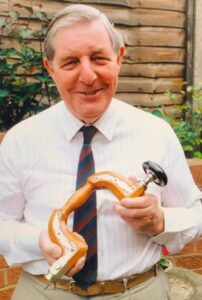 His fame spread further when he was featured on a saucy seaside postcard .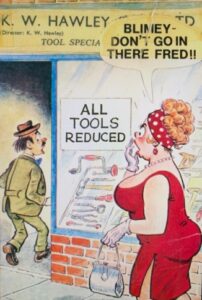 He became interested specifically in Sheffield tool manufacture, as many firms were already going out of business, and he wanted to keep the expertise alive. He had already amassed memorabilia filling three sheds and an overloaded attic, before the Hawley Collection was eventually housed in a refurbished saw factory at Kelham Island Museum following the 2007 floods. Thousands of unsorted items were also stored separately in another local warehouse. An extreme example would be the entire contents of a forge, ash samples and all, when it went out of business.
He was awarded an MBE in 1998 as the "driving force" behind the restoration of Wortley Forge Top.
Ken Hawley's family then donated his huge collection of industrial photographs to the Hawley Collection when he died.
Gareth Morgen had first met Ken Hawley at Stanley Tools and their lasting friendship led to Gareth becoming a volunteer curator at the Hawley Tool Collection in retirement, and becoming its official archive photographer. He was very well qualified, having been president of the long-established Sheffield Photographic Society.
He set about archiving the entire photographic collection from a miscellaneous mass of 5000 images. It covered not only the tools but also the sites, manufacturing processes and the people involved.
Sites
The collection has many paintings, drawings and etchings of works all over Sheffield, now mostly gone. An example is Thomas Turton's Sheaf Works .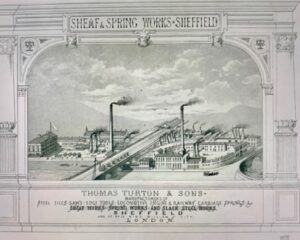 The Stanley Works archives are comprehensive, as both Ken and Gareth had worked there .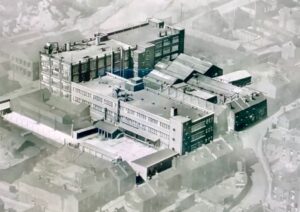 A box had been gradually filled with Stanley photos over time, the most recent at the bottom. Gareth was suddenly gazing at himself, now arriving full circle as a museum artefact in his own right.
There is a large ongoing project on knives. Gareth confessed he always wrote to the papers whenever there was a report of someone being slashed at a football match – it was always with a Stanley knife .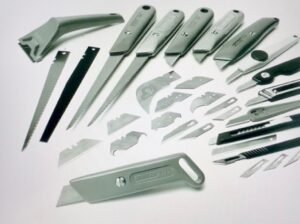 Your blogger also remembered his time as a junior doctor when he was called out to casualty at St James Hospital Balham, gateway to the south. A chap had attempted to murder his wife with a Stanley knife and had to change the blade half way through. Thankfully he missed all the vital structures in the neck and she survived. The problem was the photos taken at the time for the benefit of the court. Sadly, they got mixed up with the holiday snaps and Boots called the police. They saw the funny side of it, but certainly wouldn't do now!
We were shocked to discover that there had been a huge ivory store at Joseph Rogers Cutlery Works in Norfolk Street and it's poignant to reflect that Sheffield was responsible for the death of more African elephants than from any other source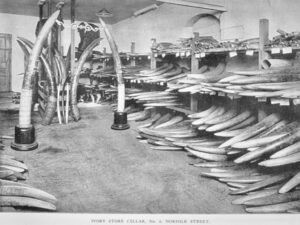 The centre of Sheffield was full of industry until a short time ago, and its famous Walker and Hall factory was demolished to make way for the redevelopments we now recognise in and around the Winter Gardens.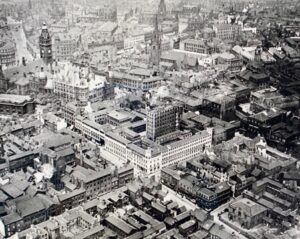 Many tiny buildings in Sheffield were out-houses and needing natural light They were not well constructed, and now mostly demolished. An example is one in Stannington,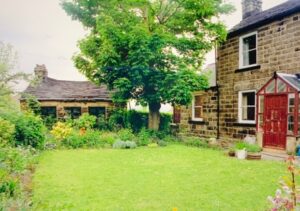 One of numerous small Sheffield forges at Stannington
Some of the most famous names started in a very small way, for example Firths. This is in contrast to industrial establishments in Leeds and Bradford, many of which were well built and well preserved.
Process and People
The most interesting photographs in the collection are the people involved in manufacturing. Examples are shown below .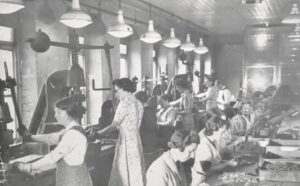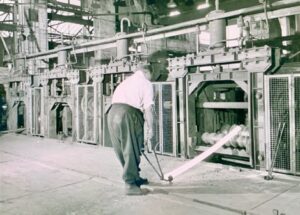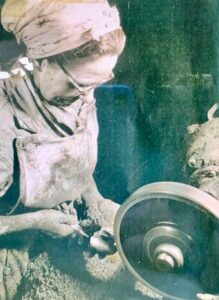 Notable are images of women and, in the 1890s, children at work, in very poor unsanitary conditions. It was often piece rate work, for instance jobbing grinders. There were no contracts, time off sick, holidays or pensions. Latterly women were employed as office workers or packers. Women took over from men during the wars.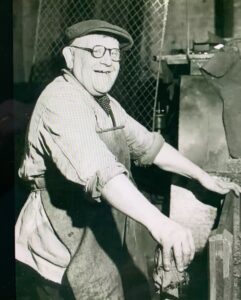 Albert Cook at Stanley must have been a fascinating guy to meet at a dinner party. He was a saw-tuner with perfect pitch and used no tuning fork. He was also an expert saw sharpener, a very difficult job to do apparently.
We saw photos of handle turners, buffers, grinders, apprentices and men steel rolling.
Sandersons were seen proudly showing off their magnificent steam engine and their delegation to Shanghai, enjoying goodness knows what .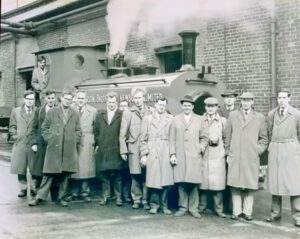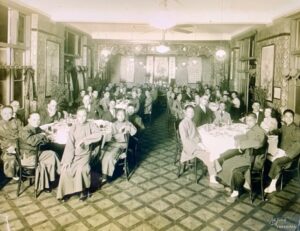 Famous people visiting Sheffield Works
There were examples including Princess Anne visiting James Neill, the Princess Royal, Edward Heath and Harold Wilson at George Wolstenholme's Cutlery works. Honor Blackman was spotted taking time off from the Avengers at H Housley.
Conclusion
A brilliant talk!