These days John Stubbs is a volun­teer with Hardwick Hall; before retir­ing he was much involved with spe­cial needs chil­dren. To give a back­ground to the build­ing of the hall, he gave a descrip­tion of Bess of Hardwick's life. In 1522 Bess was born to John and Elizabeth Hardwick, who lived in a modest manor house on the site of the Old Hardwick Hall. They were sheep farm­ers around Hardwick and mod­er­ately pros­per­ous. John died at about this time while in his forties. Elizabeth was obliged to sell off much of the estate to sur­vive while Bess grew up. At the age of 12 Bess left home to serve at the nearby Codnor Castle. There she met and mar­ried Robert Barlow, who was heir to a gentry family. She was 15 years old. Eighteen months later, Robert died and she gained an inher­it­ance.
Bess then went into ser­vice with the Grey family and found her­self at court in London as Lady in Waiting. Here she caught the eye of an older courtier, William Cavendish, Treasurer of the King's Chamber. They mar­ried in 1547. Six of their chil­dren reached adult­hood and they bought land that became the Chatsworth Estate before William died in 1557.
Two years later Bess mar­ried again, this time to Sir William St Loe, Captain of the Queen's Guard and Grand Butler of England. The mar­riage to St Loe was short-lived as he died in 1565, but again Bess man­aged to secure most of his great wealth for her­self. Secure at Chatsworth and very wealthy, Bess mar­ried for a final time, this time to George Talbot, sixth Earl of Shrewsbury, in 1567. He was a states­man high in royal favour, and Bess added the title of Countess to her great wealth.
Shrewsbury was made cus­todian of Mary Queen of Scots, who remained in his charge for the next 15 years, moving from one another of his many man­sions, includ­ing Chatsworth. The strains of the royal 'guest' put pres­sures on Bess's mar­riage and after sev­eral years of bitter quar­rel­ling Bess left Chatsworth and came back to her child­hood home at Hardwick. For the next few years Bess star­ted to con­struct a new house around her old family home — the build­ing we now know as Hardwick Old Hall.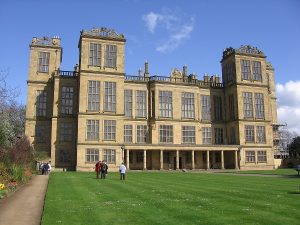 In 1590 Shrewsbury died, and work star­ted on Hardwick New Hall. A prom­in­ent archi­tect called Robert Smythson was com­mis­sioned and he intro­duced new ideas of sym­metry and of using vast areas of glass. The heights of each storey increased from the ground upwards with ser­vants at ground level, the family rooms on the first floor and the state rooms above. The archi­tect re-introduced the use of 50mm thick lime-ash floors over green tim­bers that hadn't been used since Roman times.
A £25m refur­bish­ment of Hardwick Hall has recently been under­taken with large areas of glaz­ing replaced with east­ern European glass. The Hall has a full-time team of masons work­ing on the wall fabric. As vis­itor num­bers stead­ily grow there is a need to increase and improve the vis­itor facil­it­ies. The Stable Yard provides much of this area.
The smithy and cart shed now provides a build­ing to enter­tain school­chil­dren. The East Stables house the garden­ing depart­ment where there are plants for sale. The Coach House and the Ox House provide an exten­sion to the shop and offices. The West Cottages that pred­ate the Old Hall are used to accom­mod­ate a brew­ery, a dairy, a bakery and a chand­lery, and a slaughter­house now has a res­taur­ant at mezzan­ine level.
Hardwick Hall was taken by the State in 1956 in lieu of death duties and given to the National Trust, but is man­aged by English Heritage.