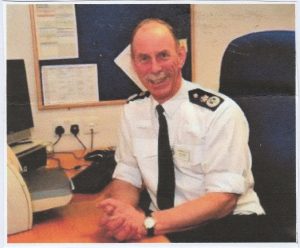 Tim Hollis on his 2005 appointment as Chief Constable of Humberside Police  
(Photo courtesy of Scunthorpe Telegraph)
Tim Hollis, the son of a Rotherham Clergyman and now a local Fulwood resident, is a man of many parts and possessing more than a story or three.  He has preciously spoken to us on the work of the local Samaritans (2017) and on the "Police or Fascists?" (2018).
Tim began his talk -given without visual aids- with a brief resume of his career.  Before going to Bristol University in 1073 he 'cut his teeth' as a late teenager with a 'gap' year's Voluntary Service Overseas in Ghana.  After graduation, Tim took a Short Service Commission with the Parachute Regiment.  He then joined the Metropolitan Police in 1979 and was to steadily rise up the ranks to Chief Inspector (Operations) at Notting Hill.  In 1993 he transferred briefly to Sussex Police, becoming Chief Superintendent.  In 1994, an opportunity occurred to return to his Yorkshire roots as Assistant Chief Constable (Crime and Operations) of South Yorkshire Police.  He was awarded the Queen's Police Medal in 2000 before being appointed Assistant Inspector (Crime and Operations) of HM Inspectorate of Constabulary in 2002, based at the Home Office.
In 2005 Tim was ready to take on the biggest challenge of his career.  Following the 'Bichard' Enquiry (examining the police handling of the Soham murder of 12 year olds Jessica Chapman and Holly Wells), Humberside Force was in need of a new Chief Constable, a post he held until retirement in 2013. (Tim is widely credited with turning that ailing Force around). During this time He retained national responsibilities with involvment in policing the 2012 London Olympics and various football competitions.  He was appointed Vice President and then acting President of the Association of Chief Police Officers with special responsibility for drug crime.
Our speaker went on to engage us with stories and anecdotes of an outstanding career.  Although he had been a police officer for thirty-five years, that was as nothing compared to the long history of policing in this country.  Most people regard Robert Peel of 'Bobby' fame as the founder of the first publically funded (Metropolitan) Police Force. In fact, local constabularies have roots going back to medieval times and even warrant a mention in Shakespeare. 
Tim considered there had been, and always will be, the need for a publicly accountable non- military organisation to manage civilian crime and high levels of risks in society.  Even at basic street level, call centres, beat officers and patrol cars have to assess risk and what to do about it; sometimes 'split-second' decisions have to be made.  Even deciding to put on the blue light or siren might have safety implications for officers and the public.  Publicity given to bomb outrages and to such incidents as the Westminster Bridge murders (in this example the Police were left to deal with and urgent medical situation while Paramedics were kept back out of danger) and Parliament Square demonstrations show how fine a line has to be trod: you are either a hero or a suppressor of someone's rights.
Tim thought that the role of Chief Constable was partly leader and tone setter, partly Chief Executive and partly Finance and Resources manage.  He, or increasingly she, has to answer to and satisfy three main stakeholders: the public, politicians and the press.  The public want, and expect, protection.  The politicians want to make their mark and expect results from an unrealistic budget within-for Police Ministers-an average tenure of eleven months. Tim served fifteen Home Secretaries.  The press want someone to blame when things go wrong.  Two words sum this up: Hillsborough and the hapless David Duckenfield.  And there were other pressures.  While bodies such as the independent Police Complaints Commission ensure fair play the advent of Police and Crime Commissioners (South Yorkshire's was elected on an 11% turnout) absorb leadership time while the imposition of 'league tables' has not noticeably added to detection rates.
Our speaker concluded his talk with a quick look into the future.  He thought that the present number of Police forces in England, 41, was probably too many.  But any new arrangements would need to recognise such factors as distance, rurality and urban requirements.  Crimes by the mentally disturbed, and Cyber crimes were likely to increase together with illegal immigration and drug trafficking.  The law on drug usage needs to be reviewed.  Stresses caused by rising population such as homelessness and climate change will require sensitive  handling.  And dilemmas will continue: what can the police do about thousands of  'extinction rebellion' protesters who glue themselves to concrete blocks in Oxford Street and who want to be arrested? And how to prevent them disrupting  commuters' buses and trains and who want to get to and from work?
As might be expected, Tim's talk stimulated a wide range of questions.  These ranged from the length of Jail sentences, prison versus community service, bail requirements to dealing with troublesome dogs!  These, and more were all answered in a direct but courteous way  resulted in warm applause as our Chairman closed play.
 MICHAEL CLARKE