This was local historian Ian Morgan's third visit to us in consecutive years and, as somebody who was born and raised virtually on the Great North Road, I had a certain affinity with his latest offering.
Ian specialises in crimes and punishments from times past – most of us will remember his talk entitled Inspector Hopkinson's Discovery – and Footpads, Kings and Highwaymen gave us an insight into darker times on the Great North Road over its 34-mile journey through Nottinghamshire.
The first question Ian had anticipated was, what was a footpad? It was, simply, a highwayman operating on foot rather than on horseback.
The basic problem facing travellers on what has become the A1 – Britain's longest trunk road from London to Edinburgh – was one of navigation. Ian showed us a fine John Speed map of the county of Nottinghamshire dated 1610, which would look attractive enough in a frame but was of limited use for somebody trying to make their way from one town to another. The idea of joining up these places with lines of varying thickness to portray roads or even dirt tracks as they would have been at the time had not struck Britain's leading cartographer of the day as important, apart from a few street plan inserts of major towns.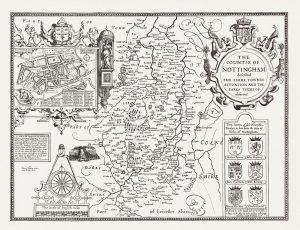 Next came the so-called strip map – we were shown one from London to Dover – in which consecutive stretches of the road one was travelling would be laid out vertically, across a page, with various villages and local features illustrated – not unlike an RAC route planner of more recent times.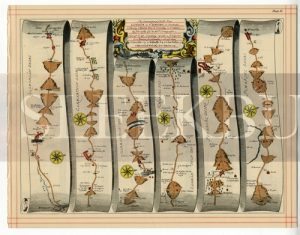 In stage coach days, just venturing out even on what was to become Britain's best known trunk road, then often axle deep in mud, was a hazardous occupation, and an alternative route apparently took travellers by way of Nottingham during the winter months. But Grantham, though in Lincolnshire, established itself as the main East Midlands town on the road and, from the south, Nottinghamshire is entered just after Long Bennington, and a couple of miles before the start of the Newark-on-Trent bypass.
Although the Great North Road continues through the centre of Newark, it is nowadays designated the A6065. Newark remained Royalist throughout the Civil War, and the town was often dubbed 'the key of the North' because of its strategic position. To this day, Newark is perhaps best known for its castle, the Civil War and its market.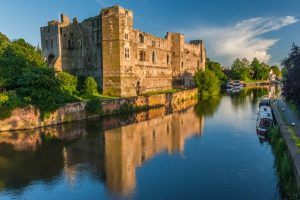 King John breathed his last in the castle in 1216. It was suspected at the time that his food or drink had been poisoned, but dysentery seems the most likely cause and, after suffering for two or three days, he died. A tower still standing at one end of the castle ruins is where his death was affirmed, and this is still known as King John's Tower.
Just north of Newark, Smeaton's Viaduct carries the A616, part of the original Great North Road, over the River Trent in 125 arches near South Muskham. John Smeaton, often regarded as the father of civil engineering, is better known as the designer of the third Eddystone Lighthouse.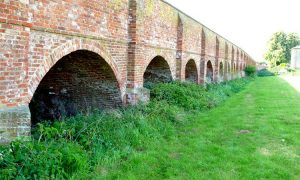 Toilet waste from Newark castle would drain straight into the River Trent, which is why most people in those days would drink beer rather than water, and our next stop-off of Tuxford seems to have had a similar reputation, having once been described as a 'stinking, rancid hole.'
Tuxford was at one time known as Tuxford in the Clays, One traveller speaks of the 'clayey grounds' in this vicinity, over which his steed could not travel more than two miles an hour. '
At West Markham we passed The Milton Mausoleum, a Grade I listed redundant Anglican church built by the fourth Duke of Newcastle in memory of his wife and two daughters. It was consecrated by the Archbishop of York in 1833 and closed as a parish church in the 1950s.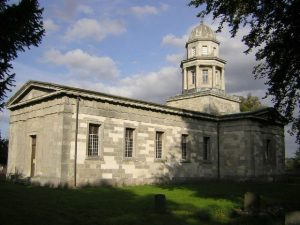 The A1 now takes a route to the west of Retford, but we followed the Great North Road straight through the town which takes its name from the sandstone on which it is built – Red Ford.
The Scrooby congregation were Protestant separatists who lived in the village of Scrooby, close to where we end our journey. In 1607-08 the congregation emigrated to Leiden, in the Netherlands, to seek the freedom to worship as they chose. William Brewster Jnr, one of the leaders of the movement, eventually sailed to New England on the Mayflower as one of the so-called Pilgrim Fathers.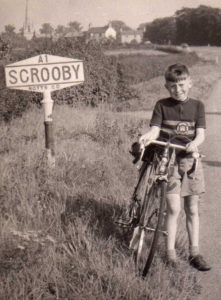 Just north of Scrooby is Gibbet Hill Lane, named after a brutal murder that took place in July 1779 when John Spencer killed the Scrooby toll-bar keeper William Yeadon and his mother. He was executed after a trial at Nottingham Assizes and his body hung in a gibbet cage on a slope south of the River Ryton.
Continuing north into Bawtry it is clear to see we have left Nottinghamshire behind us because the first house on the right hand side as one enters the town, which is officially 1 South Parade, Bawtry, has long been known simply as "No 1 Yorkshire."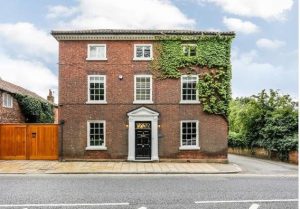 So our journey was over, and so was another entertaining presentation by Ian Morgan.