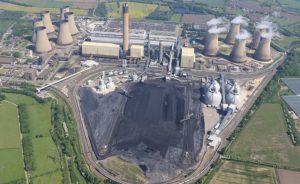 On a good day, the 12 cool­ing towers and 851-foot main chim­ney of Drax Power Station are a famil­iar site on the hori­zon from the uplands to the west of Sheffield, 35 miles away as the crow flies.
But 28 mem­bers and guests of Stumperlowe Probus Club were afforded a much closer look at Britain's largest power gen­er­at­ing facil­ity with a three-hour visit during which we learnt much about Drax's trans­ition from a coal-powered sta­tion, when it was the UK's largest emit­ter of carbon diox­ide, to a much greener future which could even­tu­ally see it pro­du­cing 'carbon neg­at­ive' elec­tri­city, taking more carbon diox­ide from the atmo­sphere than it pro­duces.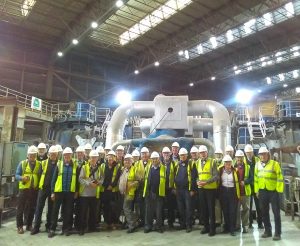 In 2003, Drax took its first steps away from fossil fuel, which had defined elec­tri­city gen­er­a­tion for more than a cen­tury, and began the trans­fer to bio­mass fuel as a renew­able altern­at­ive to coal.
Fifteen years later, three of the station's six gen­er­at­ing units now run entirely on com­pressed wood pel­lets, mostly impor­ted from respons­ibly man­aged work­ing forests in the United States and Canada, while coal has been releg­ated to a sup­port­ing role to cover spikes in demand and main­tain the sta­bil­ity of the system.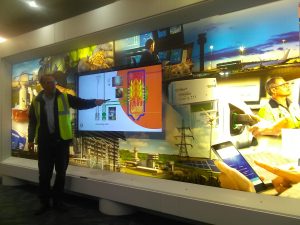 Now Drax has con­ver­ted a fourth unit from coal to bio­mass, which rep­res­ents the passing of a two thirds marker for the power station's coal-free ambi­tions and rep­res­ents more than 600 mega­watts of renew­able elec­tri­city going into Britain's national trans­mis­sion system. It is the largest decar­bon­isa­tion pro­ject in Europe. Drax sup­plies six per cent of the country's elec­tri­city and 11 per cent of its renew­able power.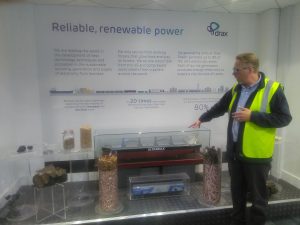 As well as being an import­ant stra­tegic asset nation­ally, Drax is also vital to the local eco­nomy, employ­ing more than 700 people at the plant and sup­port­ing 3,650 jobs through­out Yorkshire and the Humber. The eco­nomic con­tri­bu­tion to the region stood at £419.2 mil­lion in 2016.
Drax dis­tri­bu­tion ter­min­als are loc­ated at four ports on the east and west coasts of north­ern England – Hull, Newcastle, Immingham and Liverpool — rout­ing fuel from ships for onward deliv­ery into the heart of the sta­tion by rail. A 12,500-ton ship­load of wood pel­lets will keep Drax's tur­bines oper­at­ing for two and a half days.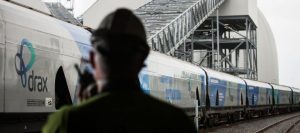 Each of the station's six tur­bines actu­ally con­sist of five sep­ar­ate tur­bines, namely one high pres­sure (HP), one inter­me­di­ate pres­sure (IP) and three low pres­sure (LP). To pro­duce steam, Drax has six boil­ers each weigh­ing 4,000 tonnes. They con­vert energy from bio­mass or coal into steam at the rate of more than four mil­lions pounds in weight per hour inside 300 miles of steel tubing.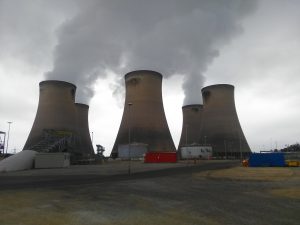 The steam tem­per­at­ure of raised to 568 deg C and the pres­sure to 166 bar. The boil­ers oper­ate either con­tinu­ously or on a daily cycle of morn­ing start-up and night shut­down as required by demand, known as 'two-shifting.' Exhaust steam from the 140-megawatt high pres­sure tur­bine is returned to the boiler for reheat­ing before being used in the 250mw inter­me­di­ate pres­sure tur­bine at 565 deg C and 40.2 bar. It then passes to the three 90mw low pres­sure tur­bines at 308 deg C and 6.32 bar.
The steam strikes and lifts a series of angled blades moun­ted on the tur­bine shaft, making it rotate at 3,000 rpm (50 cycles a second). The steam then passes to two con­dens­ers and is taken to the 12 cool­ing towers, two for each of the six gen­er­at­ing units.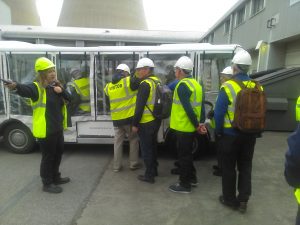 To gen­er­ate the elec­tri­city, an elec­tro­mag­net on the rotor spins inside a stator (the sta­tion­ary sec­tion) of copper wind­ings, gen­er­at­ing 19,000 amps at 23,500 volts. A trans­former increases the voltage to a mind bog­gling 400,000 volts before send­ing it via cables to the adja­cent National Grid sub-station for dis­tri­bu­tion into our homes, offices and factor­ies.
After an intro­duc­tion in the 'learn­ing centre' where our party was split into three groups and the work­ings of the power gen­er­at­ing pro­cess were explained with sev­eral scale models, we were kitted out in in hi-vis jack­ets, plastic hel­mets and pro­tect­ive eye­wear for an out­door tour of the vast site in elec­tric bug­gies. Inside the build­ings, with the 1,400-foot tur­bine hall as the centrepiece, we were given head­phones to allow us to hear the inform­at­ive com­ment­ary by our guides in the very noisy sur­round­ings.
Our heads were buzz­ing not only with noise but a slight over­load of facts and fig­ures as we peeled off our pro­tect­ive layers and climbed back into the com­fort of our coach for the jour­ney home to Sheffield via a lunch­time stop at the Brewer's Arms in Snaith to round off a most enjoy­able day.