As a Senior Coroner, our speaker this week, Christopher Dorries, was well qual­i­fied to exam­ine the trial of Dr Crippen. In a fas­cin­at­ing present­a­tion we were invited, like a jury, to con­sider the evid­ence for a case that for over one hun­dred years had become more legend than fact.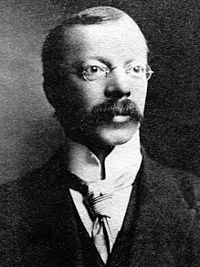 Henry Harvey Crippen was born in Michigan in 1862. Doctor Crippen was an American Homeopath, ear and eye spe­cial­ist and dis­penser of medi­cine. He was hanged in 1910 in Pentonville prison for the murder of his second wife, Cora, and was the first sus­pect to be cap­tured and con­victed with the aid of wire­less tele­graphy and forensic tech­niques. Nearly one hun­dred years later DNA evid­ence was to ques­tion the iden­ti­fic­a­tion of the body, which was found to be male.
Crippen was an insig­ni­fic­ant little man, slight in stature and mild in manner, who per­haps sur­pris­ingly owned a fire arm, then legal in GB as in USA. In 1887 he mar­ried Charlotte Bell, who died in preg­nancy in 1892 aged only 33 appar­ently from a stroke. Within eight months he had mar­ried Cora Turner (alias Kunigarde Mackamotski), a 'would be' singer who openly had affairs. They lived vari­ously in St Louis and New York, where Cora had sur­gery to remove her womb and over­ies, the scar from that oper­a­tion later being cent­ral to the iden­ti­fic­a­tion of her body.
In 1895 Crippen's work for Munyon's, a homeo­pathic phar­ma­ceut­ical com­pany sent him to Philadelphia but Cora remained in New York to train in Opera. 1897 saw Crippen trans­ferred to a post in London where he was not qual­i­fied to prac­tice as a Doctor. Cora soon joined him but her tal­ents and earn­ings did not match her determ­in­a­tion to spare the pen­nies while scat­ter­ing the pounds on cos­tumes and finery. During a brief visit home to America Cora struck up a rela­tion­ship with Bruce Millar, a music hall actor, send­ing her mar­riage to Crippen on a down­ward spiral. In 1905 the Crippens moved to a new address in Camden where they slept in sep­ar­ate bed­rooms. Lodgers were taken to aug­ment Crippen's meagre income. To make mat­ters worse, Crippen was sacked by Munyon's for spend­ing too much time on man­aging Cora's unfruit­ful stage career but he found work as Superintendent of a deaf insti­tu­tion. It was here that he met Ethel Le Neve, a young typist who enjoyed bad health but endured bad teeth. Crippen was to take her as his mis­tress in 1908. Meanwhile, per­haps to com­pensate for her fail­ures on stage, Cora became Secretary to the Music Hall Guild.
By December 1909 Cora had become tired of with her love­less mar­riage and resolved to leave Crippen. She had inten­ded to take their sav­ings of £600 but the bank col­lapsed before she could with­draw. On 19th January 1910 Crippen obtained a large quant­ity of
the poison, Hyoscin Hydrobromide (found in sea sick­ness tab­lets). Crippen later claimed in Court that this was for use in homeo­pathic pre­scrip­tions but he was unable to name a single patient. Less than two weeks later on 31st January, Cora was seen alive for the last time by guests at a dinner party held at their home. Crippen was to claim that Cora had dis­ap­peared the fol­low­ing day while he was at work, sug­gest­ing that his fund­less wife had returned to America. With inde­cent speed his lover Ethel moved in and she was soon to be noticed wear­ing sev­eral of Cora's out­fits, jew­ellery and furs. Cora's sudden dis­ap­pear­ance and the couples's beha­viour began to raise sus­pi­cions among her artistic friends who star­ted to check the ever chan­ging story which cumu­lated in her appar­ent death in USA from pneu­mo­nia. One, a Mr Nash, even vis­ited America to con­firm that she had not con­tac­ted her two sis­ters living in New York. Having made a fruit­less search Nash con­tac­ted Scotland Yard on his return.
Chief Inspector Dew (with exper­i­ence from 'Jack the Ripper') was given the enquiry. A super­fi­cial search of Crippen's house was made with noth­ing found and a state­ment writ­ten over a steak lunch with the sus­pect. But it was enough to make Crippen panic and he left for Antwerp with Ethel dis­guised as a boy. Within a couple of days Dew returned to check a few details but found the house empty. Once the alarm raised, descrip­tions were cir­cu­lated, ports aler­ted the house was now thor­oughly searched. This time a dis­membered body was found under the cellar floor, buried in lime.
A few days later (20th July) the flee­ing couple embarked on the SS Montrose, bound for Canada. The Captain, Henry Kendall, observing this odd couple on deck, became sus­pi­cious. Using the new wire­less tele­graphy Kendall con­tac­ted London on 22nd July while still in range off the Lizard: "Have strong sus­pi­cion that Crippen, London cellar mur­derer and accom­plice are among salon pas­sen­gers…."
Drew now raced to Liverpool and boarded a faster ship, the SS Laurentic, which was to over­take the SS Montrose en route to Montreal where the couple were arres­ted on 31st July. Dew had come aboard dis­guised as a pilot. The trio were to return to London on 19th August.
And so to the trial. The massive press cov­er­age on both sides of the Atlantic would ensure that Crippen could not expect a fair hear­ing. There was little left of the body but the pro­sec­u­tion claimed that Cora had been iden­ti­fied by a piece of skin with an abdom­inal scar con­sist­ent with her hys­ter­ec­tomy and the high level of Hyoscin found in the body.
This had been buried in a pair of Jones Brothers Ltd pyja­mas match­ing a pair of the same make found in a bed­room. With the evid­ence stacked up against Crippen the Jury took just 27 minutes to con­vict him. (Ethel was sub­sequently found not guilty of being an access­ory). Crippen was sen­tenced to death by no less than the Lord Chief Justice.
Henry Crippen was hanged on 23rd November 1910 only one mile from the scene. Two weeks before he died he wrote "I am inno­cent and some day evid­ence will be found to prove it"
And the story did not end there. As recently as October 2007 micro­scopic slides used by the well known patho­lo­gist Sir Bernard Spilsbury, were ana­lyised. The DNA did not match Cora's living family and in any event was the wrong sex. If the body was not Cora's, whose was it? The victim of a botched abor­tion? The cir­cum­stan­tial evid­ence at the time strongly poin­ted to a guilty ver­dict. But if the trial took place today could we say that such a ver­dict would be given beyond all reas­on­able doubt?